New Noise: Cry of the Afflicted & More
Andrew Schwab

CCM Magazine

2007

13 Nov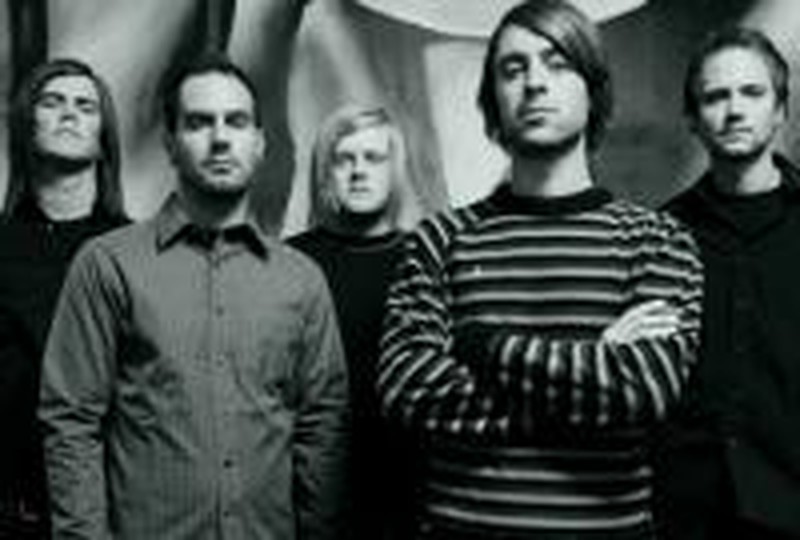 CRY OF THE AFFLICTED
I was pleasantly surprised when I heard tracks off this band's new release, The Unveiling—rather than palm-muting and breakdowns, I heard driving rock beats and soaring harmonies (which sets them apart from their other comrades on Solid State Records). Not to say that there is not screaming here, but the yells are tastefully placed amid tonal guitars and structured songwriting on most of the tracks. Their sound sits better with the Anberlins of the world than the Underoaths.
Lead vocalist Garrett Packer tells their story, one of dedication and vision: "We definitely had a purpose in mind when we started this band three-and-a-half years ago. We are all Christian guys, and we all felt very strongly God wanted to use this music for His goals. That is the No. 1 reason we started. I would say a close second is a mutual desire to do music the right way—not just 'waiting to see what happens' or be lazy about our approach. We immediately wrote and recorded an EP and landed a manager and tour. We have been able to achieve all our short-term goals, and are excited to grow our band in the months to come."
Vowing never to tour the U.S. illegally (but lacking the necessary visas), these Canadians had never set foot across the border prior to signing their record deal. As if by divine appointment, word spread to Seattle, home of Solid State. The band makes its first appearance on U.S. soil this fall, when they bring their commitment to excellence and solid work ethic to our unsuspecting ears. myspace.com/cryoftheafflicted
THE WINSTON JAZZ ROUTINE
Looking for something calm and comforting? Enter The Winston Jazz Routine, a collaboration of artists under the production, songwriting, and multi-instrumental direction of Nathan Phillips. Nathan's project began when he was attending a small high school in Mansfield, Ohio, several years ago. Under his leadership, multiple musicians have come together to create piano-driven, soothing sounds at times orchestral and other times reminiscent of a heavenly choir. Phillip's moody piano lines and light, airy vocals will spark your imagination as well as the deepest parts of your innermost being. Their second LP, Sospiri, was just released, and they recently teamed up with none other than Dave Bazan (Pedro the Lion) for a string of dates. myspace.com/thewinstonjazzroutine
WAR OF AGES
Not just another hardcore band hailing from the Facedown Records arsenal, War of Ages seems to rise above the competition. This Erie, Pa., five-piece is metal hardcore at its most positive—and most devastating. Having toured with industry giants Bleeding Through, Throwdown, As I Lay Dying and Terror, WOA is building the type of fan base most only dream of. Its third release just dropped (Fire from the Tomb), and it reigns as the band's most aggressive to date. If you like your hardcore seasoned with technicality, this is it. myspace.com/warofages
ONE REPUBLIC
With over 14,000,000 plays, One Republic has been heralded as one of the top bands on MySpace for over a year—without a record in stores. GRAMMY®-nominated writer Ryan Tedder has achieved an impressive resumé, concocting songs with everyone from Natasha Bedingfield to Paul Oakenfold to Timbaland. Epic and moving, One Republic is more than a rock band, with cello, piano and acoustic guitar highlighting their instrumentation. The songwriting is impeccable. The debut LP is coming late 2007 through Interscope. Recently, the band performed on the hit TV show "So You Think You Can Dance." The sky is the limit for this emotional rock outfit. myspace.com/onerepublic
BUSHWICK BILL
To say that Bushwick Bill was in my "least likely to have a miraculous conversion" category is a vast understatement. In the '90s he was part of the Geto Boys, a Houston group known for some of the most hardened and offensive lyrics of its era. Yet, BB has in fact come to acknowledge his Higher Power and Savior and is now known as a Christian rapper, with a new album on the way late this year. To anyone familiar with his past, this is no small story. Though lacking in stature, Bill has always been known for being high on heart. His mixture of old-school rhyme and storytelling is both tongue-and-cheek and quite entertaining. Whether you are a fan of hip-hop or not, Bushwick Bill is worth investigating. myspace.com/therealbushwickbill
HAMMOCK
If you enjoy atmosphere and ambience a la Explosions in the Sky and Sigur Rós, I can almost guarantee you will devour Hammock. This Nashville duo combines electronic elements with live instruments to produce a billowing cascade of enchanting journeys on Raising your Voice . . . Trying to Stop an Echo. It's been called experimental as well as space rock, but I am just going to go ahead and label it "good." Their music has been praised by the general market press and provided a good portion of the music for NBC's coverage of the 2006 Winter Olympics. It makes me think of the muted sound of human voices speaking amid snowbanks. hammockmusic.com
EDISON GLASS
These Long Island indie-rock stalwarts are prepared to release a brand-new album, Time is Fiction (Credential), November 20. This dual-vocalist fronted crew is noted as a dynamic and potent live act, capturing a dimension of sincerity rare among "emo" circles these days. The new album was produced by Nathan Dantzler (Audio Adrenaline, Kids in the Way). The band's earlier work featured the production skills of Brad Wood (Smashing Pumpkins, Sunny Day Real Estate). For fans of Mae and Number One Gun. edisonglass.com


Andrew Schwab is the lead vocalist and lyricist for the band Project 86. He is also the author of three books, as well as an independent journalist. Visit him online at myCCM.org/andrewschwab, andrewschwab.com and project86.com.


© 2007 CCM Magazine. All rights reserved. Used with permission. Click here to try a free issue.