Newsboys: Stepping Up to the Microphone
Douglas Kaine McKelvey

CCM Magazine

2007

16 Jan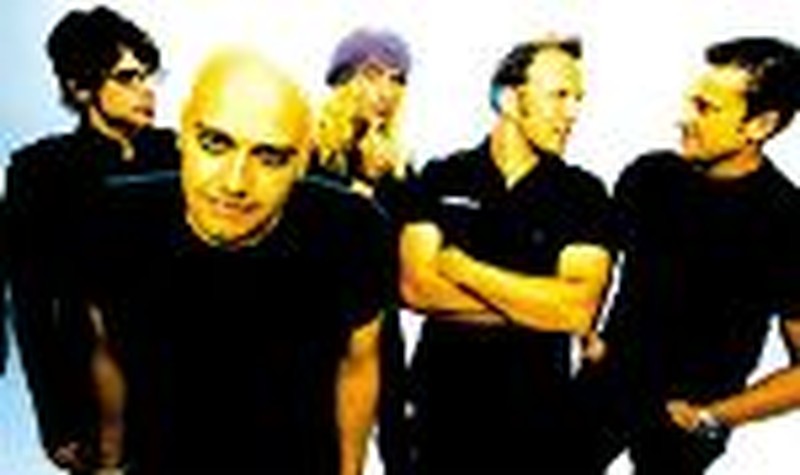 The year 2005 was turbulent for the Newsboys.

At one point the band was down and nearly out. Today, the boys find themselves with a new album, "Go" (Inpop), a fresh mandate and a firm resolve to take this music thing as far as it can go – inside the church or out. And, somehow, it all seems to go back to a little thing called 'the Great Commission.'
"It's become a huge thing in our lives that there's a huge world out there," explains Newsboys' lynchpin Peter Furler, nursing a caffeine refuel in advance of what might be a late night of creative wrangling on the new record. "It's the easiest thing to go out there and sing 'He Reigns' in front of Creation [Festival], but what about when you go in front of a bunch of Muslims? Or you go in front of a new age festival where there's Buddhism, Hinduism, nudism – it's all going on – people smoking pot everywhere? What happens when you go out there and do what you do without changing who you are? There came a point when we had to test ourselves."
A glance in the Newsboys' rearview shows a lot of tests already passed with high marks: Five gold records, six million albums sold, 20-some-odd No. 1 singles and a whole passel of Doves and GRAMMY® nominations to boot. But, in Peter's words, "It's just not enough."
In the Boys' early days down under, the band crisscrossed the sparsely populated expanses of Australia in an old truck full of fuel, extra tires and spare parts, stopping off at every little AM station they could find to try to smooth-talk the manager into playing their songs. There was a sort of restless hunger that drove their artistry.
But this new restlessness is different. It goes back to something more fundamental. It's about recognizing that, while their vocation is centered on making music, their deeper purpose should be centered on making disciples – of all nations. And so the members of the Newsboys find themselves at this stage of career, long after most of their late-'80s peers have either bowed out, burned out or faded away, embracing a new sense of calling that's redefining their music, their relationships and, even, their travel itineraries.
Ironically, this paradigm shift began at a time when the band members had been privately questioning whether they even wanted to continue. For a several months stretch in 2005, they were on the verge of calling it quits. Relationships were strained. Passion was on the wane. It had been a good run of almost two decades, but, frankly, most of the routine just wasn't fun anymore. Elvis had left the building.
"Relationally, it's hard when you've been in a group with someone for 13 or 14 years," Peter explains. "You just take them for granted, or you feel like you're being taken for granted. … I think we all wanted to go to the next level relationally, but it just wasn't happening.
"We pretty much busted up before the start of this record. Maybe six months, eight months before this. ... We would have just dispersed."
Pretty much busted up? As in the band actually broke up at one point?
"We didn't bust up," clarifies Peter. "We were at that point where it was like, 'Is this gonna get not nice now?'"
Before doing anything drastic though, the Newsboys decided to sit down with a handful of pastors and mentors and talk it through. And that talk, combined with the sense that God was perhaps beginning to use the band in a new way as disciplers and as connectors within the body of Christ, compelled them to break through that relational wall.
"That's a tough thing to do," Peter explains, "to sit down with a group of people and try to work things out. Obviously, what the Enemy wants is for relationships to be broken. But, after we opened up and worked through those things, our relationships went to a new level. Truth is, I think it's easier to sell a lot of records than it is to keep a relationship together."
As they did the hard work of strengthening the bonds between them, the band also began to say "yes" to invitations from mainstream festivals. They started booking dates in American venues like the House of Blues. Even more outside the bubble were the shows they played before thousands of Muslims in Marrakech, Morocco, and before 6,000 new age festival attendees beside the Sea of Galilee in Israel. Most recently, they played in Uganda as well.
"We seem to find ourselves in places most bands don't," Peter muses. "There are not many secular bands [that] would be playing a pastor's conference or a youth group event. And there are not many Christian bands [that] would be playing with James Brown at a new age festival just outside Jerusalem. It's made us think, 'What are we doing this for:  just living life and hanging out with other believers?'…[Go] is that mentality of 'There's a hurting world out there, and we so need to reach people that are hurting because they want an ear and some kindness and some help and friendship and all these things that are costly.'"
Reflecting on "Go," the title of their new project, Newsboys' recent addition guitarist/vocalist Paul Colman weighs in with his own sobering perspective on the band's mission. "The thing that takes the romance out of that idea of 'Yeah, let's go' is the phrase 'and make disciples.' That's not something you can do on one evening of a concert. It's gonna cost you. It's gonna take the rest of your life to make a disciple. It's not just making a convert. We're going back to Israel in six or seven weeks. It's about building relationships. Go and make disciples. That's sweat. That's blood."
"You don't even have to speak the language," Furler adds, considering the implications of the band's global missions focus. "You see hearts. You see yearning. It gives you a yearning in your heart and a question of how. How can people be reached with the gospel? But it's just one person at a time. We go there for the ones and twos."
Any band that survives for a decade or more is bound to have weathered a lot of changes. The Newsboys have endured a number of switches in the batting order as well as the inevitable sucker-punches that come from the hard-knocks school of record company politics. And they've also managed to artfully adapt or reinvent their sound several times over the years without losing their musical identity – no small feat in an era when the whole blogosphere is policing for authenticity.
But some of the changes feeding into the Newsboys' new direction are a simple matter of maturity, both as artists and as believers. It's about becoming comfortable enough with who you are as an artist and as a disciple that you're willing to simply be yourself and take the rejection that comes with it.
"A few years ago," Peter says, "if we had played Marrakesh or Israel, we'd have found out what was popular in the mainstream and played some covers. But now we said, 'Let's just go out there and do what we do,' and, at the time, that was a 12- or 15-song worship set. Nobody knew who we were. Right before we played, everybody left. So we got up there and started playing [for the 400 people still watching], and the whole front row is a cigarette in one hand and a beer in the other, looking at us with a stiff upper lip like, 'What is this junk?' But we just put all that aside and started blessing the name of the Lord, which sounds crazy. If you'd told me years ago, I'd have said, 'No way! I've gotta be like 'em to win 'em.'"
Playing that worship set by the Sea of Galilee was a defining moment for the Newsboys. Proclaiming the name of Jesus in a place where most of the crowd's attitude fell somewhere between hostile and indifferent, they focused their attention on eternal things.
"I'm not one to say this much," Peter explains, "but the power of God hit the place. This breeze came off the sea, and everyone's countenance started to change. And people started coming in. It went from 400 to 600 to 1,200 to 3,000 to 5,000. The next minute, the place was packed. All of a sudden, the place was just breaking, and, by the end, it was electric. I'm a skeptic, but I was out there watching stuff happen that I couldn't understand, that I couldn't even describe to you. There was something else in another realm there that I've only seen twice in my life. It was like a battle was going on. It's never happened for me in the Western world, but something happened there. And I think it's just people began to start believing. Not just going through the motions, but really believing."
The Newsboys experienced a similar paradigm when they played for 15,000 Muslims in Marrakesh, Morocco. "We had calls from Morocco after we played there," Peter says, "saying 'I'm not a Muslim anymore. I'm not a Christian, but I'm not a Muslim anymore.' You get a Muslim saying they're not a Muslim anymore, that's not like deciding to go to Starbucks. That's a life decision."
Artist/producer Steve Taylor, the Newsboys' longtime songwriting partner, has observed the band's maturing process firsthand. "Over the last few years, Peter's talked to me at length about the band's role in global missions," he says. "And I've seen them back it up with a growing investment of their time and resources.
"Last week was a good example. They'd agreed to fly to Kampala, Uganda, for a few days to participate in a documentary, but there hadn't been any time to organize a concert while they were in the country. Since our [adopted] daughter Sarah's from Uganda, my wife and I have quite a few friends there, so we made some last minute calls and helped put together an opportunity for Newboys to play at a Ugandan university. What happened next really surprised me. Not only was the band thrilled to perform this gratis gig, they took it on themselves to spend thousands of dollars to rent a good PA system and fly over additional personnel so they could make it a great show for the students."
In addition to their own work, the Newsboys became increasingly excited about the possibilities of using the band as a platform to connect people within the body of Christ. They began to see themselves as a catalyst that could foster relationships cross-denominationally among church leaders and as a tool for getting passionate individuals plugged in with ministry and relief organizations like International Justice Mission and Invisible Children.
"We're getting in these doors because music is such a universal language," observes Colman. "The accountant, the CEO and the janitor all buy the same record. We end up becoming a catalyst to connect people and build relationships, so we can ultimately make disciples. It's not about being rock stars and thinking you're more than you are, but seeing the band as a catalyst that can open up a door."
"The Jesus I believe in," concludes Peter, "His kingdom that He came and established 2,000 years ago is growing. It's not shrinking. It's not waiting with its bags packed for the end times. I believe His plan was the church, and He's given us that job as stewards right now. So, whatever God puts on your heart, if it's the environment, if it's the poor, get with other people who have the same desire and do something. Go. That's what this challenge is."



© 2006 CCM Magazine.  All rights reserved.  Used with permission.   Click here to subscribe.