NewSong's "Christmas Shoes" Inspires CBS Sunday Night Movie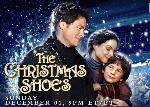 When words like "luck" and "fate" just don't do justice to a string of remarkable uplifting events, Christians have what is called "a God thing."  There is perhaps no better way than that to describe "The Christmas Shoes," the Gospel-truth holiday hit by NewSong that topped mainstream charts out of left field in 2000 and has since inspired a best-selling album, novella, and church musical of the same name. 
Now, the track is behind a new CBS Sunday Movie, also called The Christmas Shoes, that airs December 1 at 9:00 p.m. E.T./P.T., starring Rob Lowe (The West Wing) and Kimberly Williams (Father of the Bride, According to Jim). 
Expanded from the song, and abbreviated from the book, the film casts Lowe as a careering attorney whose work takes precedence over his family.  Across town, Williams is a spiritual, blue-collar wife and mother facing a life-threatening illness.  While shopping on Christmas Eve, Lowe meets Williams' 8-year-old son as he scrambles to buy shoes for his mom to wear in heaven.  It's a moment of epiphany for the burned out lawyer, who learns a much-needed lesson of love when he foots the bill for the boy's poignant purchase.
NewSong founding member Eddie Carswell, who co-wrote the bittersweet tune, traveled with his band mates to picturesque Halifax, Nova Scotia, for a cameo appearance in The Christmas Shoes' outdoor, candlelit snow-filled finale. 
"I think the movie is great," he says.  "It will make you cry.  It's just another extension of this 'God thing….'  God can only get the credit for this becoming as huge as it has."
While on the set, Carswell even got to fulfill a fun request from his own son when he was introduced to leading man Lowe.
"When I met him, my 13-year-old said I had to quote that line from Tommy Boy (the 1995 comedy that Lowe co-starred in with the late Chris Farley).  So when I spoke face to face with Rob, the first thing I said was, 'Brothers don't shake hands; brothers gotta hug!'  He laughed and was very easygoing."
Joking aside, NewSong is humbled by the impact The Christmas Shoes will have on a national television audience as it clearly supports the song's biblical theme.
"The little boy shows us what the true meaning of Christmas is all about," says Carswell.  "He captures the heart of the season because he loves his mother so much.  It helps us get back to the true meaning of what Christ was all about…giving of yourself for the benefit of others, no matter what the cost."
Indeed, this Hollywood film proves to be refreshing, not shying away from themes of redemption, God's goodness, and eternal life.  The hit song, played during the climactic scene, clearly proclaims Jesus' name during prime time, when glorified vices are more often documented.  Discerning viewers may roll eyes at a few heart-ripping scenes, mild obscenities, or too-tidy plot points, but the ultimate message of newfound hope easily survives.  It's a warm work that will bear repeating for Christmases to come.
Likewise, NewSong is ready to perform "The Christmas Shoes" again and again, headlining a 10-city holiday tour with guests Ginny Owens and Mark Schultz that kicks off the same night CBS premieres the movie.  And given its journey to date, there's simply no telling what the versatile song will do next.
"It just keeps growing," marvels Carswell.  "Above and beyond our expectations."
Sounds like a God thing.

For more information about the CBS Sunday Night Movie, The Christmas Shoes, click here.