Norma Jean: What's in a Name?
Dr. Tony Shore

CCM Magazine

2007

22 Feb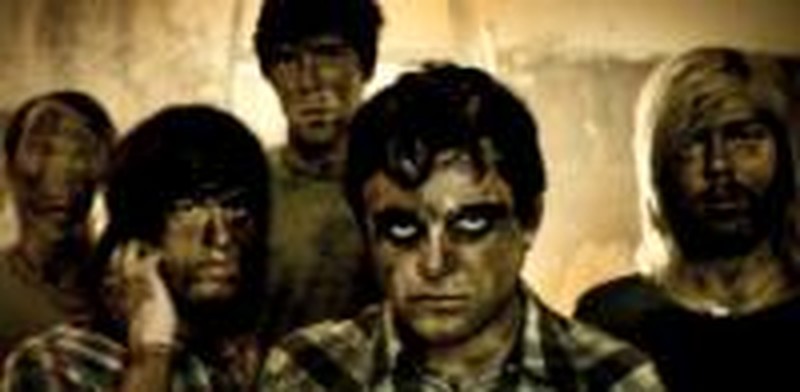 How many names can possibly be associated with a band or a band's sound and style? Southern hardcore giant Norma Jean has had more than its fair share.
The band started out as an extremely hard and brutally intense outfit called Luti-Kriss, but then the rapper with essentially the same name became immensely popular. So it was time to come up with something new. The guys liked the idea of a hard metal band using the real name of famous screen actress Marilyn Monroe, so they settled on Norma Jean.
Since then, the band has put out three critically acclaimed metalcore albums, "Bless the Martyr" and "Kiss the Child"; "O God, the Aftermath"; and "Redeemer," all of which brutally assault your senses. During this period, Norma Jean had name changes within the band line-up as well. Original vocalist Josh Scogin left in 2002 to start the Christian metalcore band The Chariot. Brad Norris then took over vocal duties on tour.
In 2004, Norma Jean hit its stride, however, when Cory Brandan (Living Sacrifice, Eso-Charis) joined on as the permanent vocalist. The current line-up also includes Scottie Henry (guitar), Chris Day (guitar), Jake Schultz (bass) and Daniel Davison (drums). They all hail from the state of Georgia and share a love for Christ, diverse musical styles and, of course, barbeque.
People always want to label bands and place them in a certain niche. These guys refuse to be put in that box. But fans and critics keep trying to define their sound with more names – just do a search for "Norma Jean the band" online and you'll find they've been called "metal," "metalcore," "hardcore," "math metal," "straight edge," "brutal," "disturbing," "chaotic," "dissonant" and on and on and on. Their sound has definitely changed over the past three albums, and that's caused some heated debate among the fans and press. Responds Davison, who is also Norma Jean's principal songwriter, "We don't really care about all the different titles and subgenres people try to put on us. We would probably call ourselves 'hardcore' if pressed."
What started out as a very free form and radically intense vibe on Norma Jean's first record became a bit more melodic by the second. Now, on "Redeemer," there is a much more technical and controlled sound, yet there is still a major intensity there. Says Davison, "We never want to put out the same record twice. We grow, and we write new songs; and that's what naturally comes out. We want to try new things with every record. We want to keep it interesting and fun for us. We feel we're still the same band with the same energy; we just like to try new things."
"Redeemer" debuted at No. 38 on the Billboard 200 sales chart and No. 1 on SoundScan's overall Christian album sales chart. Also, Norma Jean was one of the main bands on this year's "Ozzfest Tour" and headlined the "Radio Rebellion Tour." Even while gaining success and being on the road with these major general market tours and bands, Norma Jean's members remain open about their faith. The one name or label they gladly accept is "Christian."
Davison talks about this purposeful openness saying, "We don't hide from our faith or who we are as Christians. We try to make it as big a part of our personal lives as much as we can, and that comes out in our music. We like to pray before we play and get together to read the Bible. Other Christian bands on the tour will come and have Bible studies with us, and we really enjoy that."
When asked if the other bands, the press or the fans ever give them a hard time about their faith, he says, "It gets brought up a lot, but it's more of a curiosity than a slam. We haven't tried to run from it or hide from it, and I think that, when you're honest about it, people respect that. We welcome people who ask questions about it."
"Redeemer" is receiving rave reviews from critics and fans, including fellow musician Chris Dudley, the keyboardist for Underoath. "I don't think Norma Jean can put out a bad record," he says, "The songs and the new album as a whole are of brutal and intelligent design."
"Redeemer" is catapulting the band to even more success. The legendary Ross Robinson (Limp Bizkit, Korn, Sepultura), one of the most acclaimed producers in hard rock, handled the production of the album. "It was a dream come true for us," states Davison. "If there was one person we could work with and have produce an album, it was Ross. He came to see us at a show about a year ago and stuck around to talk with us afterwards for an hour or two. He really encouraged us to get back to the real reasons why we got into music and got us to think about why we're playing the music we do. He lit our fire, got us stoked to write new songs. He told us to write this record 'like it's your first record and like it's your last record. Give it all you've got.'"
The music on "Redeemer" speaks for itself, but the album cover is also causing a buzz. Front and center is a stark painting of a large black crow biting a girl's head and finger. Says Davison, "We wanted something that speaks loudly. The producer, Ross Robinson, had the picture of the boy with the crow biting his ear in his house. And so we got a hold of the artist, and he had another version with the girl, which is the cover. There are some themes on the record of deception and how we can be deceived, and the paintings are symbolic of that."
And then there are the band's intense music video, live performances and sometimes-dark lyrics. "At face value, it may seem a bit dark. But we play the kind of music we do because it's our way of showing our passion, and we feel it's from God," explains Davison. "It's not all happy, but we try to have some hope in our albums as well. There are bad things that go on, so we don't want to hide from that. But we try to end it on a hopeful message. We discussed lyrics with Ross, and he was very interested to know where we got the lyrics. We would talk about the songs, tell him how they related to each of us and tell him the passages that were taken from the Bible … like Jesus said this or that, and that's what inspires our lyrics. He was blown away by that."
That integrity seems to be what the members of Norma Jean are all about, sharing their faith and their passion through this intense art form. Davison sums it up well, saying, "The one name we won't back down from is 'Christ.'"


© 2006 CCM Magazine. All rights reserved. Used with permission. Click here to subscribe.