Out of Eden: No Turning Back
Andree Farias

CCM Magazine

2007

9 Jan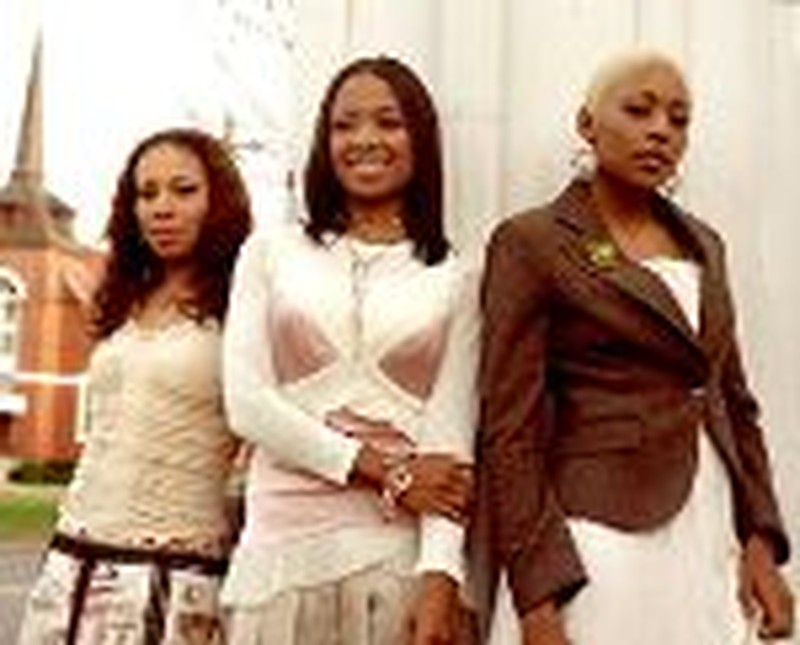 These are all easy options if you're a band marked by burnout, disillusionment and unfulfilled expectations. All of these words have a negative connotation; they're particularly commonplace in the fickle landscape of modern music – including the Christian music business – where it's not unusual to witness groups of young hopefuls disintegrate after they, for whatever reason, fail to make it.
Yet, in the case of Out of Eden – sisters Lisa, Andrea and Danielle Kimmey – there is not one vestige of disenchantment, bitterness or remorse in their decision to retire. Au contraire! If the farewell track "Mighty Mighty Good" – the last-ever song the trio recorded for "The Hits" (Gotee), a career retrospective released last month – is any indication, there's nothing but resolve and a sense of a job well done.
"When I just look back over my life … just think back … I know my God's been mighty mighty good to me," goes the hook of the song, one as jubilant as any other they recorded during their trailblazing, 13-year run in Christian music.
They came at a time when urban pop music was virtually a nonentity within gospel and Christian music, long before Kirk Franklin and Mary Mary eventually tore down the barrier between the two.
Yes, Out of Eden is retiring. And, as the girls themselves would sing in 1999, they've "made it this far and there's no turning back now."
Everybody's sad about it.
"I'm protesting," says longtime collaborator and former tour partner DJ Maj, who owes some of his success to the girls for being frontrunners in the R&B and hip-hop arenas. "Nah, it's kinda sad. Their perseverance was a very influential thing for me. They didn't allow where they were from or any obstacles to get in the way of what they were going to do. They continued to work hard at their craft. That was very admirable. Their work ethic was very inspirational for me."
"I'm completely bummed," adds Joey Elwood, co-founder and president of Gotee Records, the label that first gave the girls a chance. "[Out of Eden] was our cornerstone. Without them, there is a very good chance there would be no Gotee."
Elwood is not exaggerating. Truth be told, the label was created for Out of Eden.
Toby McKeehan – then one-third of dc talk and business partner in Gotee Productions alongside Elwood and producer Todd Collins – first caught a glimpse of the girls when his supergroup was in rehearsals for a tour. It was like love at first sight.
"What drew me to them was the way they communicated. Everything I sensed in them was pure," says McKeehan. "Even the inner talent was obvious. It just needed to be unearthed a little more. They knew exactly what they were doing. They were three young girls who had a vision. They were mature beyond their years. They just needed an on-ramp to the Interstate. Thank God we were able to provide that for them."
Before this providential meeting, OOE didn't really have aspirations to become recording artists. If anything, they sang because their mother made them.
"Our mother is responsible for Out of Eden coming together," says Andrea. "She saw the potential and urged us to practice and practice. Since we were home-schooled, we had lots of time. Pretty much all that we would do is practice."
"Honestly, at first, we hated it because it was something our parents wanted us to do," says Danielle, who was barely 12 at the time the group signed with Gotee. "And then … we were like, 'We're either going to have to start loving this or quit.' So we really spent a lot of time in prayer, saying, 'God, if this is your desire for our lives, then give us the desire, give us a love for it.' And He did."
Gotee was simply a production company then. Their job was to help artists make their music and, then, shop it around to labels to see who was interested in releasing it commercially.
Except nobody was interested in the type of music Out of Eden was making – namely, Christian urban music with a pop flair.
"They'd take us to a 'ccm' label, and they'd respond, 'They're gospel!'" reminisces Danielle. "Then, they'd take us to a gospel [label], and they'd be like, 'They're not gospel … they're "ccm"!' No one really understood us."
"Gotee basically had to start a label so that we could have a home and a place to create music," says Lisa, the eldest of the Kimmey sisters. "One thing that got us through in different environments was that we knew the Word of God, and we knew how to minister even at an early age. I think that's how people relaxed and accepted us a little bit."
"So many girls of all races gravitated to their music because it was very unique to the market at that time," says Elwood. "They filled a huge void. We are talking to a new artist – and I'm even interviewing prospective employees -- who are in this business because they heard that first album by Out of Eden ["Lovin' the Day"]. I'm still not sure the girls even understand their place in history from this perspective."
"Frankly speaking, we were a triple minority," says Lisa of the barriers they had to overcome. "We were young; we were girls; and we were black. We overcame a lot of your basic prejudices. We stood for a sound that wasn't readily accepted, so we had to take a different path and just be persistent."
That perseverance paid off. Since then, Out of Eden has, among other milestones, released six albums, toured the world, performed for Billy Graham's crusades and sold more than 1,200,000 discs – an enviable number considering urban music, until recently, was still largely a niche style within Christian music.
With each subsequent release, their music also got tighter, their harmonies more intricate and the production values more up-to-speed with the quality of mainstream R&B. One listen to their discography sheds light on this artistic growth, which went from the youthful, old-school flavor of their breakout cover of "Lovely Day" to the slightly more progressive sounds of "More Than You Know."
But it was 1999's "No Turning Back" that cemented their place as an urban pop act. "Lookin' for Love," "River" and "Window" were all potent singles in their own right, paving the way for what was to come in years ahead with follow-ups – the ultra-modern "This Is Your Life" and the summer-ready "Love, Peace & Happiness."
With such a solid résumé, why the decision to retire?
"It is puzzling to a lot of people," admits Andrea. "But I guess it starts with the fact that we knew God had us doing this for a certain amount of time. We knew that our impact would be when we were young and for young people."
"Since we began, we were like, 'God, whenever You're ready for us to move on, [that's] totally fine,'" Danielle concurs. "We've never been married to fame or notoriety or any of those things. But we just knew that was how God had us to minister in that time, to minister to our generation. When our generation grew older, [we knew] that it would be someone else's [turn]. So we just felt like God was releasing us."
"I think we got to the point where we just felt it was time to hang it up," says Lisa. "We always said that we didn't want to be hanging on for dear life. While everyone else was moving on, we didn't want to be out there still doing shows. We never wanted to do that. This time, we all felt a sense about ending this chapter of our lives and starting a new chapter. We were all ready."
Andrea continues, "That's not to say that we're old or anything, but we always felt like there was something else we were going to do. We never thought this was going to be lifelong."
Today, everything is different now for the Out of Eden sisters; and they're loving it.
Danielle is a young entrepreneur – she owns an event planning company and a clothing company. Andrea is focusing on motherhood – she just had her second child last summer – and looking forward to finishing her nursing degree. As for Lisa? She's doing theater alongside actor jeff obafemi carr of "The Second Chance" fame.
"I'm enjoying being," Lisa says. "Being in one place. Being in my church choir and actually being there every Sunday. Just being normal. It's fun. It's different. There's a nice peace and stillness about it."



© 2006 CCM Magazine.  All rights reserved.  Used with permission.   Click here to subscribe.