Parents, Tweens Should Welcome pureNRG's Power-Pop Debut
Kevan Breitinger

CMCentral.com

2007

10 May

COMMENTS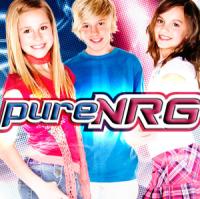 Artist: pureNRG
Title: pureNRG
Label: Fervent Records
I'll start by including pureNRG's mission statement: "to entertain, educate and promote Christian values by using wholesome, uplifting lyrics, along with music and dance, in order to provide a positive role model. Pure, positive energy will be the driving force of our group and our message will help bridge the gap between youth and adults."
pureNRG is made up of Jordan Yates (14), Carolyne Myers (11), and Caroline Williams (12), who have been competing on the national dance circuit since they could walk. pureNRG was formed three years ago, I'm guessing by some managerial team, since Carolyne recalls being "selected." I would have liked to know more about this process, as pureNRG definitely has something of a manufactured feel. But then, what adolescents could actually put together a band and tour apart from adult instruction? So this review is written to all "tweeners" and their parents, who are always looking for appropriate entertainment for their kids, especially in the sexually-charged culture of the day. pureNRG may be just what you're looking for.
PureNRG's debut offers up 12 effervescent power-pop tracks that are unapologetically sugary but unpretentious. Their dancer's orientation shows, as most of these tracks must have been written with the live show in mind. A few feel completely computer-generated (the high-octane "When I Get to Heaven" and the pumping dance track "It's Still Love"), but most offer some degree of freshness. There's very little variety, in terms of tempo or track length, almost every song fitting neatly into the 150-210 second mold.
The kids actually sound the best to me when they're allowed to take the tempos down a notch and have less instrumentation behind them. "Thy Word" is more old school, the familiar refrain opening with simple piano backing before it morphs into the same tightly produced orchestration of the rest of the album. "Pray" also is given a freer hand, and it comes as a relief. But I'm probably showing my age there; actually, I could see where tweens would thoroughly enjoy these infectious Radio Disney-like tracks, and parents will have no complaint with the message.
Some tracks work better than others. When kids sing about summer, their desires are much more believable than ours, giving the bouncy "Summertime" the ring of truth. The guidance of "One Word" is a little harder to take, although the vocals are less amped up over the track's percolating rhythms. It's hard not to like the funk guitars of "What If," and even I enjoyed the guitar-heavy cover of "Footloose," although I saw some irony in its inclusion. Still, your adolescent kids will love pureNRG and as long as you don't let them bring it into the car everyone will be happy.


© 2007 CMCentral.com. All rights reserved. Used with permission.



Visit CMCentral.com now and join the single largest online community of Christian music fans on the internet. CMCentral features daily music news, exclusive interviews, album reviews, weekly devotions and feature articles written by some of your favorite Christian artists, and much more. CMCentral is also the home of the most popular Forum for Christian music fans that you'll find anywhere on the Internet. Come see what all the buzz is about!


Watch pureNRG music videos at Godtube.com.