Paul Colman Trio on ... America
Janet Chismar

Crosswalk.com Contributor

2003

4 Jul

COMMENTS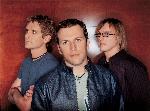 When it came time to see about making a new map of the world, Paul Colman Trio picked up from their native Australia and traveled a gazillion miles to the shores of America – the Christian music mecca of Nashville, Tenn. to be specific.
Thankfully, the musical trio (2000 and 2001 winners of The Rock Across Australia chart's "Artist of the Year") didn't have to bother with figuring out longitudes and latitudes or deciding if the ocean colors should be shades of "Caribbean Blue" or "Reflecting Pool."  But they did need to record their Essential Records debut, call it "New Map of the World," and have it warmly received by new American fans.  All of which they did.  And rather well.
In fact, Paul Colman Trio's Paul Colman (lead singer/guitarist), Grant Norsworthy (bass/vocals), and Phil Gaudion (drums/vocals) made their "New Map of the World" so well, that they quickly received widespread critical acclaim and doors began opening for the trio in their new home continent.
In the past year in a half, PC3 has embarked on two major tours (Third Day's "Come Together" tour and FFH's "Ready to Fly" tour, seen two radio singles hit No. 1 ("Turn" and "Run"), been named one of the "Top 10 Breakthrough Artists of the Year" by Radio & Records, received a GRAMMY nomination for "Best Pop/Contemporary Gospel Album" and a Dove Award nomination for "Pop/Contemporary Album" – plus they walked away with this year's Dove Award for "New Artist of the Year."
Seems as though "coming to America" has been a good thing for the trio from Downunder. Recently, we sat down with all three members of Paul Colman Trio and asked them a little more about their time here in America and how they felt about their new home.

---
Crosswalk.com:  How do you feel America has responded to your first record for Essential Records, "New Map of the World," vs. anywhere else?
Grant Norsworthy: I think we've all been very, very happy with the radio support for "New Map of the World." There were four singles and two of them went to No. 1 and one of them went top 5 on AC radio and the other two on CHR. I think even people within our organization have been like 'wow' … [we've come] from overseas … that's an amazing amount of support.
Paul Colman: We only scanned about 50,000 CDs in the first two months of its current release. Jars of Clay scanned about 250,000 in two months. And they've been recording for 10 years. So it seems that familiarity breeds scannage! So I think that America has responded very warmly to the band. I don't think we've seen that reflected in sales yet. But it seems it takes quite a while to build a brand. And that still – for Australia – that's 15,000 units above gold. So, it's a modest success.

CW: Did you have any preconceived notions of Americans before you moved here or visited for the first time – and if so what were they?
Paul: We're quite familiar as Australians w/ American culture through music, through film…
Phil Gaudion: Sports, too…
Paul: Yeah through sports. And there's a proliferation of it. And I think Australia is like a younger brother looking at an older brother. Maybe a bit of jealousy or maybe a bit of … something.… But there is a lot of love between Australians and Americans. But those are some of my perceptions anyway.
Grant: Australians have a bit of an inferiority complex which probably comes from our colony culture and heritage. I reckon it's exemplified if you have an Aussie Rules Football player who just kicked an incredible score in a game and he's been interviewed after the game - they're going to say "Wow you've kicked 12 goals!" He's going say "Oh well, the team, the coach, oh I was only standing there. People who are much better than me passed me the ball." And that's seen as being 'What a good guy, what a humble and modest man!' But it's not really. You might see an American football player score 17 touchdowns. I think that's impossible, but if he scored a lot of TD's he would say: "Yes, I did great. I'm very happy with my game. I did fantastic. I'll remember this game for the rest of my life." An Australian will watch that and say: "Arrogant American" But actually he's being more truthful. Sometimes the American sports person or other person might go over the top and say: "Yeah, I'm number one, I'm the greatest." Some of that is the hype of America, something that Americans like to chew up. But Aussies can't stand that. I actually think the American position is more honest.

CW: Are you all living in Nashville now?
Paul: Yes. General vibe of us here is like were staying in someone else's home and we may not like all of the decor but we're actually thankful we've got a bed and something to eat.
Phil: And it's a comfy bed.
Paul: Yeah. I think there's something that you can be critical of in every culture and every nation. And I think we have permission to be culturally critical of things in Australia but I don't necessarily think we have permission here. And there is enough people here that's far critical of things. I think what were wanting to do in this nation is encourage Americans we are here to serve the people of this nation. You send out lots of missionaries, well we're missionaries that have been sent out to you. To encourage you in who you are to lead by following Jesus. To serve by washing the feet of other nations. And to not really tell you how to do it or who to be, but to fan the flame of the good things we see. So that's a big reason why I know I'm here; it's been on my heart for years and we've chosen music as the vehicle to be able to do that.

CW: What is one thing about America you absolutely love?
Phil: I love the fact that there are so many people here who are willing to let a band walk out and to perform for them and who are willing to give us a go at that. But its not audiences, but an infrastructure of Web sites, magazines, radio stations, TV programs, everything else that all support us in doing that. Back home in Australia there is not an infrastructure like that to speak of. Not an audience like that to speak of. So we get the chance to do what we are all very passionate about and love doing with the potential of doing it professionally.
Paul: What I love about America is the spirit of the people that says its okay to achieve. It's okay to try to be excellent at something. I lived here for a year when I was 18, a very pivotal time for me, where built in me by some wonderful American people was a sense of belief in myself but weaved in the context of God. And that was "go for it – you want to dream son, you do it." I went home with that attitude after spending a year here and ended up being quite alienated by everyone I knew including my family who were in that way, just in a very different way. And that spirit that was instilled in me in this country when I did live in Virginia is still there today and I'm much more American in the way I live my life than I am Australian. Much more. Because I've gone for it – and I'll apologize but I'll putt past the hole – I'll make some bogeys but I'll also make some birdies as well.
Phil: Or an eagle.
Paul: An eagle, I did make an eagle the other day! So, and that's what I love about America – that's the spirit.
Grant: It feels like the ceiling is higher. It feels like there's more scope for us to take … us as a band. But us personally as well – to a higher level – to a better us. And that's exciting. And one more observation about America and what I love about it is, there are so many cities and so many people – and we've traveled to only a handful of them it seems – but we've probably played to half-a-million people and that's just an incredible amount of people -- still only like 0.02 percent of the population or something. But everywhere you go, even though there are slight cultural differences from the south to the north, it's still that same. The ceiling's up here. You know there's still that same spirit across the country, and it's pretty amazing.

CW: Even though you're from Australia, does the 4th of July take on special meaning for you now?
Paul: Fourth of July is a very important day for me if I could just mention. Just because of the independence day thing but also that's the day that I proposed to my now wife. So in many ways it's 'interdependence day' or lack of independence day. My favorite 4th of July memory was in 1986 on the terraces of the capital building in Washington D.C. watching the fireworks at a private party with congressmen of D.C. Can't beat that! And last year, my second favorite 4th of July thing was us guys … fireworks are illegal in Australia and we buy up and we watch fireworks displays and then lit them off ourselves and had a great time.
Phil: The 4th of July is a great time to remember, and it's pretty obvious to the rest of the world even if parts of the world don't want to recognize it, that America is the most powerful nation in the world. And really the rest of the world, whether they portray a face of kindness towards Americans or not so much kindness – I think the world is looking for America to take a strong Godly lead. And so Paul, by eluding to serving this nation, is to encourage Americans and the 4th of July is a time to remember this. To lead us, lead the rest of the world and yourself in a godly way. All of us agree on that the sense that America is the big brother, with the most power, the biggest stick. But also the most connection – the biggest cultural connection that's portrayed obviously is the connection with Jesus Christ. If that can be translated into a leadership of the whole world we would love to see that.

CW: Speaking of having a great time, are you enjoying working on your follow-up CD? And are we allowed to talk about that?
Paul: I'm glad you asked. Yes. September 9 release it's called "One." O-N-E and it's an album that contains a lot of radio-friendly uplifting rocking and mellow songs that are all along the theme of reconciling with God and reconciling with others … taking a … not a political stance, but an emotional stance on the idea of reconciliation. The Bible clearly states that you cannot be reconciled to others without being reconciled to God and also states you cannot be reconciled to God without being reconciled to others – they are inseparable. As much as we want to separate them: 'Oh I took it to the foot of the cross' you know 'I've confessed it' – no James 5:16 says confess your sins to one another and pray for one another and then you will be healed. So we are linked to one another and so the songs on "One" speak about that oneness. Jesus prayed that his disciples would be one. So this is an album – and set against the current state of world affairs – that is I think what we need to be talking about. And we may not be talking about it the most expert way. It may not be the best record we've ever done, but it is a record attempting to bring about reconciliation in people's lives and talk about it. And for that reason and the fact that we're very excited about the sounds of the songs – very proud of it and we're really looking forward to people responding to it hopefully positively.

Click here to subscribe to CCM Magazine.