Plus One's 2nd Take
David McCreary

Contributing Writer

2003

3 Dec

COMMENTS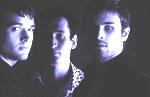 Shucking its boy-band image and saccharine-sweet harmonies, popular pop music act Plus One returns as a modern rock trio. Considering all the changes these guys have gone through since the group's inception, their story could easily read like a dramatic screenplay. Just picture it: Losing two band mates along the way, three young protagonists face seemingly insurmountable odds in pursuit of their ultimate goal — to reinvent themselves and forge a new path toward personal and artistic maturity. We now join the action during a recent scene, as the band is only a few weeks away from finishing its latest album.

Fade In:
Exterior parking lot near downtown Franklin, Tennessee. (Dusk)

Scene:
The three members of Plus One — Nate Cole, Gabe Combs and Nathan Walters — are standing in front of Cole's silver 1997 Honda Civic. The vehicle looks as if it has seen better days, especially considering the rather conspicuous dent in the right front fender.

Cut to Next Frame:
Cole, the group's messy-haired, stubble-faced front man, hurriedly tosses assorted music magazines, CDs and scads of what appears to be junk mail into the car's trunk. Obviously embarrassed, he attempts to make room for everyone to ride to a nearby eatery. Once Cole completes his speed-cleaning session, the ride begins.

Scene One:
In many ways, Plus One's intriguing career journey resembles Cole's less-than-perfect automobile. So much has happened with the group in the past year or so — everything from two band mates leaving, to changing record labels, to abandoning its boy-band shtick — that the group's entire existence nearly became a cluttered and confusing nightmare.

Then there's the "body damage" the guys have encountered along the way, like financial woes from a previous tour, issues with their former label and marketing hype that branded them as young heartthrobs rather than accomplished musicians.

If anyone should be granted diplomas for graduating from the school of hard knocks, it should be the guys in Plus One. "If you had asked me a year ago if our group would still be together today, I probably would have said, 'No,'"

Sitting in a U-shaped corner booth, the three young men ruminate openly about their lives, music and the future. Dressed in faded jeans and assorted t-shirts that cling to their slender frames, the guys manage to look disarming yet, interestingly, not too comfortable.

Of the three, 22-year-old Cole seems the most self-assured. That's not to say he's egotistical; he simply interacts with a confidence and charm that belies his age. Perhaps even more impressive is his candor.

Asked about the struggles the group has experienced, such as dealing with the departure of colleagues Jeremy Mhire and Jason Perry, Cole glibly answers, "When you hear about personnel changes, no matter how much you try to sugarcoat things, it's uncomfortable. There's always a rub involved … but we're still friends with both guys."

As Cole tells it, Mhire desired to "settle down and have a more simple life," recently marrying his longtime girlfriend and becoming a drama instructor. Perry, currently pursuing a solo recording career, still resides in the Nashville area and is engaged to be married soon. "The running joke is if you get married, you're out of Plus One," Walters cheerfully quips, smiling before devouring several large bites of the double chocolate cake he's supposedly sharing with Combs.

Cut to Live Performance:
It's a humid Sunday evening at Faith Church in New Orleans where a "Summer JAM" event finds Plus One sharing the stage with NewSong, Tait and a number of up-and-coming artists.

Some may wonder why the band would travel across the country virtually every weekend for several months, especially since a deadline looms for finishing its new album. But the guys consider gigs like "Summer JAM" as a chance to introduce their retooled sound to a potentially diverse audience. This particular night, though, the auditorium is only half full, and the collective energy of the crowd is tepid at best.

Despite the largely uninspired audience and a poor sound mix, Plus One delivers a spirited 25-minute set, including one new hard-hitting song titled "Sea of Angels" and fresh renditions of popular favorites like "The Promise" and "God Is in This Place." For most in attendance, this is the first time to witness Cole as primary vocalist, Combs on guitar and Walters on keyboard and piano. Gone are the tightly choreographed dance routines and multifaceted harmonies. That's all been supplanted by powerful piano and guitar-driven arrangements, textured vocals and potent modern-rock melodies. One thing is certain: Plus One's metamorphosis is nothing short of radical.

Concerning the stylistic shift, some may be surprised to learn that the transformation didn't happen overnight. The change, Walters says, occurred gradually, dating back to the group's sophomore project, Obvious (Atlantic). "The song 'Start to Fly' reveals a departure from the boy-band vibe, and you could tell we were headed in a new direction," he explains. "There was a time when we had an appreciation for harmonies, but times change [as well as] our musical tastes; and music itself has changed. Plus, we're getting older."

Combs, 23, likens the group's distinctive progression to dc talk, one of his favorite acts, sharing that it was fascinating to hear how that trio sounded from one record to the next. "The leap stylistically from 'Free at Last' [ForeFront] to 'Jesus Freak' was huge," he insists. "I've always thought it's a good thing to keep growing musically; otherwise, we'd die of boredom!"

Perhaps the chief question remaining to be answered is how Plus One fans will respond to the band's evolution. While some seem to be taking a wait-and-see approach, others seem to have made up their minds already.

"There was one person who waited in line to say, 'Here's your poster back; I don't like you any more,'" says Walters before adding, "But on the whole, it seems that everyone who has heard it likes our new stuff. We've even had guys who've come to a show ready to make fun of us and ended up saying they looked forward to buying the new record."

Cut back to Main Story: Scene Two
Combs explains that the band was originally signed to a three-album deal with recording monolith Atlantic Records, but after releasing what he and the other guys call a "forgettable" Christmas project, the group decided to look elsewhere for a label that "believed in the band's new artistic direction." Recalls 25-year-old Walters, "Atlantic wanted us to record another pop album and work with Avril Lavigne's and Nick Carter's producers. Everything they wanted us to do was on another page from what we had in mind, so we left and went to Inpop."

These days the guys not only appreciate how God renewed their lease on a recording life but are supremely thankful to Inpop Records and its co-owner, Newsboys front man Peter Furler, for providing an opportunity to, in essence, start over.

Since then they've never looked back. The upcoming release (available Nov.17), aptly titled "Exodus," is written entirely by the band and sports various influences from Coldplay to U2 to Kevin Max. Thematically, it portrays the reality of life's struggles, including subjects like brokenness and failure, all while reminding listeners that God is in the business of giving second chances.

Nowadays the guys are much more involved in the decision-making process of recording and production, and, even more important in their minds, they are free to experiment lyrically and musically. "It's good to be at a label where they care about us as a band — not just for how many records we sell," says Cole.

On that subject, Cole mentions that the band's first album, "The Promise" (Atlantic), sold extremely well (achieving gold certification and currently nearing platinum status), but the follow up, "Obvious," didn't meet expectations. "The tour supporting that record really hurt us financially," he says, appearing somewhat reluctant to share too much detail. "That put us in a position where we knew we had to either quit or go for it and work ourselves out of a big hole. We also had some significant problems when it came to [marketing] and promotion."

Cole points out that some of the previous marketing campaigns made the band appear unapproachable. "We want to be known as real guys who are accessible to people, don't take ourselves too seriously and enjoy life," he says. (This desire is fleshed out at the New Orleans concert, where, at the merchandise table, the band members cheerfully sign autographs, chat with fans and graciously take time to encourage several people.)

Through all of the pitfalls and tough learning experiences, each of the band members maintains a positive outlook about the future. "Things that happen in the past can make you better and stronger," Cole says. "We now have a record label, a manager and a booking agency that are willing to give us another chance. We're very grateful for that, and we know it's only by God's grace that this has happened."

Cut to Local Starbucks:
Whether one visits the guys' revamped Web site (plusoneonline.com) or hangs out with them for, say, 15 minutes, it doesn't take long to figure out that four things are considerably important to them:

1. Music (not just their own — they're into everything from Michael W. Smith to The Flaming Lips).

2. Computers (they prefer Macs over PCs, and they all own IPods)

3. Friendships

4. A close fourth would have to be Starbucks. How else can you explain the infatuation for Mocha Coconut Frappuccinos immediately after dinner and dessert? But when it comes to what really matters, no doubt, other things beside the coffee of the day are of utmost significance. "Right now I think we're the most content we've ever been, and it's because we're living in obedience to God," Walters says.

Combs nods his head. "A lot of things can bring you down and distract you," he says, "but we are told in Scripture to seek first God's Kingdom. We might not be the coolest band out there, but we always want to do what God desires of us."


Cut to Final Scene:
Perhaps the most enlightening detail about these young men is simply this: When everything else is stripped away — the music, fans, media attention — their genuine and abiding friendship with one another is ever prominent.

Need evidence? How about the fact that Cole and Combs share an apartment together and get along extremely well? Consider also that even when the band is not recording or on the road, all three guys say they enjoy being together. Whether it's going to a record store, watching videos or hanging out reading music rags at Barnes and Noble, these guys are truly the three amigos. "We're each other's best friends," Walters says unashamedly.

For Cole, it's a bond of brotherhood like none he's ever known before. "I could list the 10 worst things I've ever done in my life, and these guys would know every one," he admits. "This type of trust and accountability may not work for everyone, but it does for us. We have security in knowing that we're not just committed as a band, but, first and foremost, we're committed to each other as friends."

Consider this: Plus One originally formed several years ago when two Nashville music execs decided to create a Christian boy band, bringing together a group of five perfect strangers. Now the three remaining comrades are virtually inseparable.

Sounds like the perfect script, doesn't it?

Behind the Scenes with Peter Furler

As if it's not enough to front a veteran band like Newsboys, Peter Furler also is quickly making a name for himself behind the studio console as an accomplished producer. This year alone he's capably handled production duties for Petra on its recent release, "Jekyll and Hyde" (Inpop), and more recently he co-produced Plus One's latest effort, "Exodus," along with buddy Jeff Frankenstein (Newsboys' keyboardist) and the band.

Furler's recording studio, located in downtown Franklin, Tenn., is uniquely positioned inside a beautiful 100-year-old Victorian home. "It definitely has an old-school feel to it," says Furler in his thick, Australian accent. "The house gives people a more laid-back environment to record than the typical studio."

When it came to working with Plus One, Furler says he was excited to have the opportunity to work with such "good and talented guys."

"The band's new music is very melodic, and it's the first stuff I've heard in a long time that I'm really a fan of," he says. "These guys have a lot of fight in them, and they're coming out swinging."

© 2003 CCM Magazine.  All rights reserved.  Used with permission.  Click here to subscribe.