Q&A with Christy Nockels
Lindsay Williams

CMCentral.com

2009

18 Jun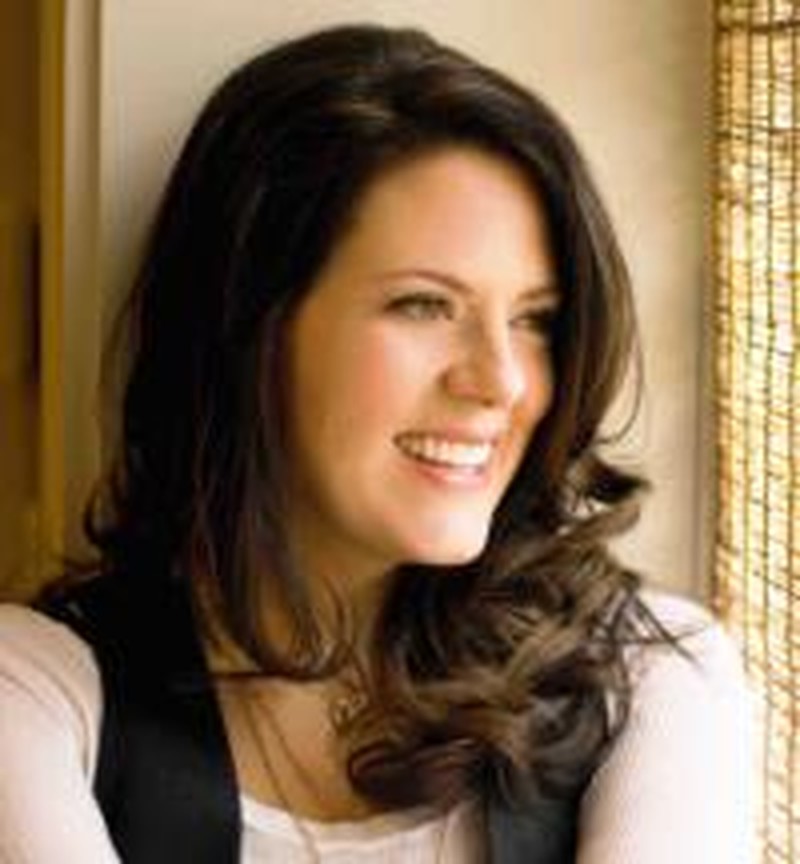 One of the most beloved voices in Christian music returns this month with a brand-new studio recording.
Dove Award-winning Christy Nockels (best known for her work with husband Nathan in Watermark) is back with Life Light Up, a solo effort and her first album bowing on sixsteps records. Nockels' new collection of powerful pop worship anthems fits in well with label-mates (and longtime friends) Chris Tomlin and David Crowder Band. Here, her songs find a new audience—more worshipful in nature than previous projects. Still, her signature vocals are what fuel the excitement coinciding with the release of this record.
Having recently relocated to Atlanta as she and Nathan help jumpstart Passion City Church alongside their sixsteps family, Christy takes time out of her busy schedule as a mom to share about her new record, her vision as a solo artist and this particular season in life.
CMCentral:  Why is this the perfect season in your life to release a solo record?
Christy Nockels:  That's a great question. To make a record, obviously the songs have to be present. In my life, the songs come as a response to what God is teaching me and showing me about Himself. So for there to be songs means there have been many lessons learned and many moments of recognizing again who He is and who I am because of it. I can say that God has shown up in my life over the past year like I've never seen in all my days. He has required new things of me, stretched me and ultimately "wowed" me with His presence in the most amazing way.
I know this might sound strange, but I don't recall very many moments of actually sitting down to plan or even write for this record. I get choked up when I think of it really. These songs came as I was washing dishes, doing laundry, cleaning toilets, picking up kids in the carpool line—carrying my little voice recorder around everywhere! Suddenly, I was up in the night, dreaming a chorus here and there, and waking up finishing songs. I have never felt more urgent about songs ever.
I realize that in the sweetest way (different from songwriting in the past) God has allowed me to take care of my kids and keep life spinning in their little worlds with joy. And all the while these songs were like a "soundtrack" in my heart in the midst of this new journey we're on. It seems the more I press into what sometimes can look like the "small things," the more He meets me where I am. He brings the "big things" in my life, and He amazes me over and over.
CMCentral:  How is this record different than the previous work you've done with Watermark?
Christy:  This record will, I'm sure, still have some of the  "Watermark sound" because it's me ... and Nathan produced it, of course! Overall, there has been more attention placed on corporate worship as we've written these new songs. Watermark was always "worship" at the core but not necessarily used as a resource for worship leaders and the church. Watermark songs were more appropriate for a concert style setting in most cases. My prayer is that this record will be a creative tool for those who lead the local body in worship. I will be using these songs when I lead corporate worship at various women's events, conferences and my home church.
CMCentral:  What was Nathan's involvement in this record?
Christy:  Nathan's involvement in this record is somewhere in the category of seriously needing his own super hero name. When I begin to write, Nathan drops everything and, in the sweetest way, becomes fully attentive to what God is doing in me. Nathan arranged all of the songs and co-wrote most of them with me as well. I come to him with the basics—which is usually my sorry little voice recorder full of melodic ideas—and he makes them into something beautiful! He made demos for me of about 15 songs to give to Louie and Shelley [Giglio] at sixstepsrecords, and then we had them give us feedback. We worked as a team to pick the 11 songs that landed on the project, and Nathan has produced all of the tracks from there. I believe God has His hand on Nathan in a new way. He has always been gifted and appointed to do what he does, but there seems to be a new season of creativity for Nathan as well; and it has been beautiful to watch.
CMCentral:  What do you hope to accomplish with this new record?
Christy:  I've always said I feel like my calling as a writer is to help people put words and song to the things they long to articulate to God. It's amazing to watch people intimately connect with the living God and watch their lives "light up" as they worship Him in song. My prayer for this album is simply that God would use these songs, written with passion and joy, to help people renew their minds and hearts of what Christ has done and draw near to the Father. I pray it's a resource not only for worship leaders, but also for the individual in whatever season of life they are in, to sing their heart to God. I've also realized in recent years that as songwriters, we have the privilege of helping shape the words that are sung to God. With the right song in their mouths, people can change the world. My prayer is that I might contribute to that through these new offerings.
CMCentral:  Is there a theme, lyrically or musically, that shows up on this album?
Christy:  My thoughts go to the first single, "Life Light Up." It's a great representation of my heart in this season of life. I want to be found faithful and to live fully in what He has called me to do no matter the cost. We have a daily choice to follow Christ, and I want to give a voice to those longing to be found faithful in that choice to follow Him each day. Musically, I feel like they are some of my favorite melodies we've ever written.
CMCentral:  What side of Christy Nockels will fans see with the release of this record?
Christy:  For those who have heard my writing style and my voice, I think there will be many elements of familiarity. At the same time, I feel like it's going to be a great mix of the old and the new. I would say my writing is a little different on this record since I've shifted my focus in the past few years from a concert style setting back to my roots of leading worship. I've been leading worship for more than 10 years, and I feel like this record supports that calling and brings a new and fresh resource to those who love worship music.
CMCentral:  Do you have a favorite song on this album?
Christy:  I have several! If I had to pick just one, I'd say it's a song called "My Master."  It came from a message my dad, a pastor all my life, used to preach when I was younger. It's out of Exodus 21:1-16. The message really impacted my life as a young girl. By using this passage of Scripture in his message he would liken the choice of Hebrew slaves to stay with their masters to our choice to follow Jesus at any cost—to publicly say, "I love my Master, I will not go free." For Hebrew slaves, if they chose to stay with their master, they would have the lobe of their ear pierced to mark them for life. When their ears were pierced, they bled indicating that with blood they had entered into a new covenant relationship—not one of force, but of choice. Looking to Christ as our Master each day is a beautiful existence. Part of the chorus lyric says, "I love my Master, I will not go free/I take your name and live in liberty ..." We are not our own; we belong to God, but we have a choice to live in that posture. We give our all to Him—serving Him with joy and freedom—and we have the honor of carrying His name as a child of the everlasting God!
CMCentral:  Now that you are a mom and also instrumental in launching the new Passion City Church, what will touring/album promotion look like for you?
Christy:  I'm a firm believer in taking life a season at a time. That's how we "roll" around here. For instance, from November to mid-January we were home just about every week and weekend, eating meals together, watching movies at home and just hanging with the kids. Now that spring has arrived and the church has officially launched, we are in a busier season of ministry, which includes much more travel. We just try to map things out ahead of time as best we can and leave room to breathe. The kids have always traveled well. They are always very resilient; that's why it's easy sometimes to over-commit to things. Because we've been in ministry with the Passion/sixstepsrecords folks for more than 10 years now, they know what my life looks like day to day, and they want to protect our family time as well. It's comforting to know they are looking out for those things and they truly care about our well being as a family.
I just finished touring with Chris Tomlin, which was such a blessing! I've learned that I can't do it all, and that's OK with me. Another huge revelation that God has given me since laying down the Watermark journey is that He will promote the gifting He has given me because it's His to promote, not mine. For years I thought that I had to "do it all" and make a way for greater things to happen. I'm so thankful God got a hold of my heart in recent years to show me I can only do so much. My job as a wife and mom is to focus in on the beautiful family He has given me. I've found the more I focus in on them, the more God opens God-size doors in ministry that I could never have opened for myself. It's really about me submitting my cares, my desires and dreams to Him and trusting Him with it. If He gave me the gift, it was His to begin with, and I trust that He will use that gift in me how He sees fit. I know His heart would not be for my family to be left behind in the shadows, so they come first; and He has proven over and over that He knows full well how to take care of the rest. And it's always more than I would have even thought to ask Him for.
CMCentral:  You recently made a move to Atlanta. How has the move and your new involvement with Passion City Church changed your daily life?
Christy:  Right now, it's "home" and there is nowhere else we'd rather be. Passion City Church (PCC) is a place to come back to as weary travelers and know that we're "known" and know that we're loved. It's family. Moving to Atlanta to be a part of this journey has been the greatest adventure of our lives, one that we wouldn't have missed for the world. We're so glad as we look back on even laying down the Watermark ministry that it all tied to this season. God was preparing us to be "available," and we didn't even realize it until in His timing He made it perfectly clear that He had this for us. We're most excited that PCC will be an umbrella over all of us as worship leaders, and we'll be "sent out" each time we go with the power of some pretty amazing prayer warriors! It's also a place for us to plug in when we are home—a place to pour into and for our kids to grow up knowing what community and extravagant worship is really like.

For more info on Christy Nockels, visit christynockels.com.
To read an exclusive feature on Christy, check out CCM's premiere Digital New Release Guide.

 
© 2009 CMCentral.com.  All rights reserved.  Used with permission. 




Visit  CMCentral.com now and join the single largest online community of Christian music fans on the internet.  CMCentral features  daily music news, exclusive interviews, album reviews, weekly devotions and feature articles written by some of your favorite Christian artists, and much more.  CMCentral is also the home of the most popular Forum for Christian music fans that you'll find anywhere on the Internet.  Come see what all the buzz is about!

**This interview first published on June 18, 2009.