Real Life According to Sanctus Real
Brian Quincy Newcomb

CCM Magazine

2006

24 May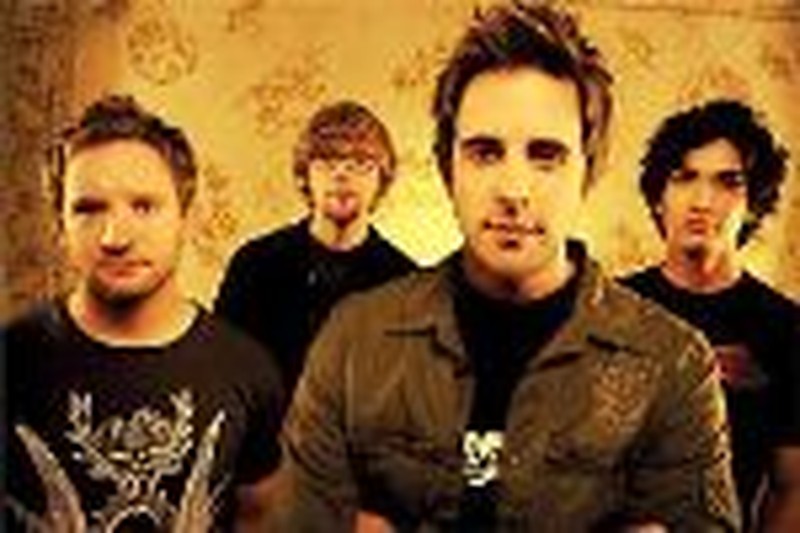 "Life is difficult." That's the opening sentence of M. Scott Feck's late '70s pop psychology and self-help bestseller, "The Road Less Traveled." While that's a truth that Scripture supports, and many of us in our more candid moments would honestly admit, it's not something that appears front and center in most of today's Christian songs, nor is it a common theme on Christian music radio.
Sanctus Real may change that with the release of its third national studio album, "The Face of Love" (Sparrow). The disc opens with a heart-on-sleeve admission that "I'm not alright, I'm broken inside." For all the talk about transparency in ministry, is it really OK for Christian musicians to open up about their pain and longing, their brokenness and humanity?
Perhaps so. At press time the song "I'm Not Alright" had already climbed to No. 8 on Radio & Records' Christian pop (CHR) radio chart. And the life issues tackled on the rest of the album? If the quality of the music itself has anything to say about it, this disc's important themes will be heard by a distinctly larger audience than the band's known so far. When MercyMe guitarist Mike Scheuchzer recently remarked that "The Face of Love" is "hands down the strongest effort from Sanctus Real" and one of the year's best rock albums period, he spoke in tandem with music critics far and wide, whose responses seem unanimous.
A Year of Living Dangerously
"When we first started working on this record, a lot was happening in our lives," states Sanctus Real singer Matt Hammitt matter-of-factly. "That took us a lot deeper than we were used to."
"It was a big year for us – big highs and big lows for everybody in the band," adds guitarist Chris Rohman. "Things happened to us that really changed who we were as people."
The year started with accolades and praise for the hard-working pop/rock quartet from Toledo, Ohio. The band was honored in the 2004 CCM Magazine Reader's Choice Awards as "Favorite New Artist," and R&R reported that Sanctus Real was the year's most played Christian Rock Radio act. In 2005 its "Fight the Tide" disc snagged the Dove Award for "Rock Album of the Year." But as John Lennon once said, life is what happens while you're making other plans.
It was also a year marked by change and turmoil, including personnel changes and personal challenges, reports Rohman: "Our bass player leaving was a mutual parting of ways, but that happened right as we were supposed to be writing and recording the record. [Bassist Steve Goodrum was subsequently replaced by Dan Gartley.]
"The biggest thing, was [Sanctus drummer] Mark Graalman's father passing away. We were all close to his dad – his was the youngest father among the four of us – it was very unexpected and quick. It was pretty traumatic, as Mark had gone home early from being on tour to be there with his wife for the birth of their first baby. Literally, the same day of the birth, they found out his dad had terminal cancer of the stomach. That really drained us emotionally."
Some make lemonade when life gets sour; some hide; songwriters tend to write songs. The members of Sanctus Real wrote "Benjamin," about this inevitable "circle of life." We're here for a short time, the song admits. God gives and takes life, and if we're here to love, we ought to get busy about it – not take this gift for granted. Other songs express less resolve and understanding.
Hammitt – whose grandmother, to whom he was very close, also died during this period – says, "We had a pretty crazy number of both great things and terrible things all happen in a very compact window of time, which just happened to be when we were scheduled to finish writing our new record.
"The feeling of brokenness in the band left us in a place to make some major decisions about how we were going to allow these things to influence us. That's when Peter York [president of EMI CMG Label Group] gave me Brennan Manning's book "The Signature of Jesus." I was also reading "Soul Survivor" by Phillip Yancey. Reading about other peoples' trials and struggles, it felt like a brand new revelation of the personality of Jesus Christ to me, personally, and this was a real time of healing for me, when I realized just how much Jesus loved me.
"And I also came to the realization of just how much Jesus expects me to love other people. All that led to the writing of "The Face of Love." It is about Christ's love and his life, but it's also about us doing what He's called us to do – to love and serve people and be the face of Christ in the world."
Being Human, Embracing Vulnerability
The roots of this revival were a hunger for spiritual honesty and a love for music that matters. "We're not trained musicians," explains Rohman. "We're just four guys who played together in a basement. We've just taken the little pieces we have and tried to bring it together and craft something that's relevant, but it's slop-rock really. You start out with just a guitar riff; but you get in the studio, and a melody comes to the surface. And there's heart behind it."
While known for No. 1 Christian rock radio hits such as "Everything About You," "The Fight Song" and U2 cover "Beautiful Day," the band started in that basement playing Weezer songs and doing classic rock covers of Cream and James Gang. Just now in their mid-20s Rohman says, "I credit my dad for that. He had quite the record collection. Growing up, way before I ever knew who Amy Grant was, my base influence was Tom Petty."
Hammitt, who acknowledges the band Death Cab for Cutie as a songwriting influence, suggests, "A lot of our songs on 'Say It Loud' were written over our six years as an independent band. We were just being kids. It was crank the amps to 10 and just have a good time, but do it for the right reasons. Our heart was into getting the message out there, but we had no idea how to say it, how to present a clear, concise message.
"On the second record, we were trying to craft lyrics better. We'd learned a bit more about life and about how to write, but it was more topical. We were addressing themes we thought were important, things we wanted to think and talk about.
"The difference between those records and "The Face of Love" is that every single song on the new record was not only derived from a personal experience, feeling or emotion that we were involved in while making this record, but we also knew how to say it a lot better. I think we've learned a lot about the process."
Growing Up Beats the Alternatives
"I think this is definitely our coming-of-age record," says Rohman. "Writing music had come to be more like a habit. This time, everything was very intentional. It's real important that the music we put out there is honest. As a Christian, you reach the time to grow up, when you experience the real hardships in life that all of us have to face. It was that time for us – we saw a lot of heartache last year and experienced a lot of growth because of it. In the midst of the ups and downs of life, there are times to be grateful, and there are times to be sad."
"There are really two sides to the record," concludes Hammitt. "A portion of these songs is derived directly from experiences, watching friends get divorced, and dealing with the issue of loving each other during hard times, being honest about our weaknesses. Then there's this other part of the record, which is literally just us in awe and wonder of the person of Jesus Christ – songs like 'Thank You,' 'Magnetic' and 'The Face of Love.'"
Surprisingly, he continues, "Folks have been real responsive to 'I'm Not Alright.' They have been telling us that they've just wanted to come out and say that sometimes it's not OK, that they are feeling a bit broken at times. It's not so easy to say that in the church. People are drawn to the idea that we don't have to sugarcoat life all the time, that we can be honest and don't have to pretend that it's always OK with each other. There are a lot of fears that creep into our lives as Christians that revolve around pleasing people. I think we're afraid to get real about certain issues.
"Part of the healing that happened in my life," says Hammitt, who had a daughter, Emmerson Mae, two weeks prior to our interview, "came in a way that I wasn't really expecting. I was looking for a healing that revolved around mourning the death of Mark's dad and my grandmother, but, instead, I got a brand new perception of who Jesus Christ really was and what His love means.
"We offer up these simple prayers, 'give us peace,' 'ease our pain,' 'find us a bass player,' 'solve our problems,' but what I got instead was a dose of reality. For the first time in my life I began to learn how to love people. I'll be honest: I did not know how to love people the way Jesus wanted me to love people. I could say it, but deep in my heart I was judging people. Brennan Manning says until we can really accept who Jesus was and His unconditional love for us, we're always going to be afraid of judgment, and we're always going to judge other people. To me, this simple concept was missed for most of my life; and in my heart and mind I was often looking down on people whether I recognized it or not. That's the main idea behind 'The Face of Love,' that no one is too lost for me to love, no one is too low for me to serve."


© 2006 CCM Magazine.  All rights reserved.  Used with permission.   Click here to subscribe.