Real People. Real Worship.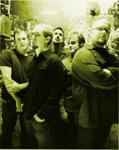 In a torrential downpour with only 17 ticks left on the clock, it was fourth down and 16 on the Greenville Lions' own 36-yard line.  The Lions were down to their last play—a final gasp to turn the tide on their bitter rivals, the Highland Park Scotties.
As the Greenville quarterback barked out a melody of signals, career lineman Bart Millard, son of Southern Methodist University All-American player Arthur Millard, lined up as a tight end on the play.
The ball was snapped, and the wide receivers split to the left, streaking down the field as Millard trotted to the 50-yard line.  Just two yards shy of the first-down marker, he reached to snag the incoming pass as the ball fluttered through the wet Texas sky.
A split second later, two Scottie linebackers sandwiched Bart's legs with a jarring hit from each side of the field.  The crushing tackle caused Millard's ankles to buckle, crushing bones and tendons and ending his football career.
That moment changed the course of Bart Millard's life and eventually led to the birth of a band that is giving this generation a new way to imagine the presence of Christ.
Worship Is More Than You Can Imagine
There is no doubt you've heard MercyMe and its infectious tune nearly a thousand times on Christian radio.  MercyMe never wanted to be pigeonholed as a radio-friendly pop band.  But when "I Can Only Imagine" spent weeks at No. 1 on the charts, garnering a Dove Award for the "Song of the Year" and earning "Songwriter of the Year" honors for Millard, it triggered an unexpected transformation that was hard for the band to swallow.
"Before 'I Can Only Imagine,' we considered ourselves a rock band," says Millard.  "When the song broke, suddenly we had middle-aged mothers coming to the shows."
It's obvious that "Imagine" is the song that has given MercyMe its identity and its recognition, spawning a previously inconceivable fan base.  But as happy as they are about the song, Millard and company do not seem comfortable talking about success.  This Texas-bred band wants to take the focus off itself and place it on the "God of the Universe."
 "All I can say is who we are," states Millard.  "We're just trying to do our best to have our ministry bear fruit, to be obedient to Christ.  We'll do whatever is necessary to usher people to the throne in worship."
Long before "I Can Only Imagine" hit the airwaves, MercyMe released six independent records that gave testimony to the potent rock blend of praise & worship music that Millard hopes will "shake the rust off the soul."  The band, made up of Millard, keyboardist Jim Bryson and guitarist Mike Scheuczer, and later additions bassist Nathan Cochran and drummer Robby Shaffer, was ahead of today's worship trends in playing praise music before it became a fashionable marketing ploy.
"Christ says the day is coming when we will worship in spirit and truth," Millard proclaims.  "I think my concern is there is a big movement of worship music right now.  My fear is that it could be creating very shallow Christians, people who worship the act of worship more than they do Christ."
"Praise & worship is more than a musical style for our band.  It's a lifestyle," interjects Scheuczer. "It's a lifestyle lived to glorify God.  I don't think it's just music.  I think the music side is just a means to get closer to God.  [Worship] is what we're created to do."
The band knows that leading worship is a calling, and it takes that calling very seriously.  "It's totally about building the kingdom of Jesus Christ," Millard says.  "For me as a worship leader, when someone comes up and says, 'You guys did a great job,' I can take that and just say thanks."
But some parts of performing are harder for Millard to take.  "When you're on stage and the crowd starts going crazy," he reflects, "it's almost a little frightening.  It's scary just from the sense that we've worked up to the point that we've done everything we could to call upon the name of the Lord—to have His presence there and literally to be on holy ground, in the midst of a Living God."
Millard pauses, choosing his words.  "When all of the praise starts going all over the place, you get really nervous about it being in the right direction.  After a while you start to wonder:  Are they worshiping the Father? What exactly is going on?"
How does a band like MercyMe, already uneasy with success, respond to the admiration of over 500,000 fans?  Millard considers the difficulty.  "We try to be as humble as possible," he says, "as grateful as possible.  A lot of people have come up and said, "You guys seem real, and you do everything you can to point to the right direction.'  For us, that's just a safer place to be than trying to carry it on our own shoulders.  Pass it on to Him; He's the only thing worthy of that praise."
Evangelizing in a Way Worth Imagining
One of the most difficult challenges for a praise & worship band, perhaps even harder than balancing ministry and success, is the call to evangelism.  One of the most common criticisms of the Christian music industry is that it only reaches the Christian community, and this assessment rings true even more for praise & worship music.  After all, worship is intended for those who already know Christ.
Is it possible for a committed group of Christian musicians playing praise & worship to be relevant to the outside world?  Can MercyMe ever affect the MTV generation?  "We obviously cater to the 'Christian bubble' because we're praise & worship leaders," says Millard.  "We are very evangelistic.  But if MercyMe had a mission statement, it would be to lead people to Christ through worship."
The other members of MercyMe agree wholeheartedly.  "Every aspect of our lives should involve worship," concurs Cochran.  "It means giving every part of ourselves to glorifying God.  But just because we play in a bubble doesn't mean we have to live there."
Shaffer expounds, "I grew up in the Christian subculture.  But the people I surrounded myself with helped me to understand that just because you listen to secular radio or like a secular band, that doesn't make you a sinner.  We all struggle with the same things."
However, Millard doesn't believe that worship excludes evangelism.  "I've heard people tell me that 'There's not really a place for non-Christians in worship,'" he says.  "But I don't necessarily agree with that.  Paul and Silas worshiped in prison, and the guard came forward to say, 'What do I do to be saved?'  Worship has a tendency to rub off."
When MercyMe leads worship for a group of Christians, Millard believes its message has the power to go far beyond the church.  "I don't think there's any greater form of preaching than praise & worship," he insists.  "Preaching is whenever people can watch the body lift up the name of Christ.  Yes, we do play for the [Christian] bubble, but wherever there are people who have a desire to be closer to Christ, we want to be there."
But what does it mean to draw closer to Christ?  Jesus spent His years talking to the sinners, the lepers and the outcasts.  He had an incomparable ability to meet people in their spiritual comfort zones.  From speaking to the woman at the well to jousting verbally with the Sadducees and Pharisees, Christ could connect with every kind of person.
"You hear these arguments about artists crossing over," remarks Millard.  Many bands are criticized for reaching the secular market by compromising a message, but MercyMe is determined to not succumb to that temptation.  "Jesus went to parties," Millard admits, "but He was still Jesus when He got there." 
MercyMe certainly isn't going to forget about evangelism.  "Our goal should be to have the gospel go to every corner of the world," Millard reiterates.  "That's what Christ called us to do.  And that includes going to a lot of places where we don't necessarily belong or want to be.  But our desire is to usher people to Christ, hoping that they'll be empowered to do what He wants them to do."

---
The New Album Is Spoken For...

MercyMe's latest release Spoken For is the highly anticipated follow-up to Almost There.  I sat down with Bart Millard to discuss what listeners should expect from the new release.
What are the main differences between Almost There and Spoken For?
Our goal early on was to make sure our songs were "singable" and make sure they fit on power point because we wanted to write songs for corporate worship.  Spoken For is filled with songs that I pray the church will use.  As a whole, this album is a little more on the rock side as well.


Why the title Spoken For?
Over the last year I've been consumed with the idea that God is so crazy in love with us—just knowing that we are part of something bigger and we worship a God who's in complete control no matter how good or bad things get.  The phrase "spoken for" really stuck with me.  We are His!


What do you hope to achieve with this release?
I just pray it connects with people.
—S.D.L.
Used by permission.  CCM Magazine © 2002