Reflecting Back with Emery
Matt Conner

CMCentral.com

Published

Dec 15, 2009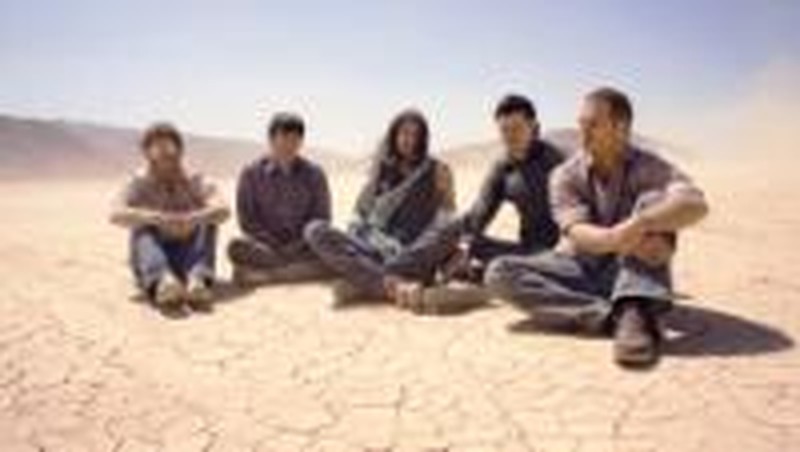 If Dave Powell is the band's proper representation, Emery must be quite comfortable in their own skin. As the drummer explains in this interview, the Tooth & Nail act loves making music, feels just fine with where they're at success-wise and enjoys the ebb and flow of it all.
On the eve of one of winter's hottest tours with Underoath and August Burns Red, Powell sat down to reflect back on The Weak's End, taking time out to have a baby and trying his best not to become the next U2.
CMCentral: What should fans expect on the upcoming tour from Emery?
Dave Powell: The fans should be able to expect a mix of everything. We sold more of The Question than any other album so if we're going to play more from one album, that'd be it. The Weak's End is also still very popular, too. But we'll play some newer songs as well. We haven't really toured on our newest release, In Shallow Seas We Sail. We did a minor tour over the summer, but that was it, so we'll play more of those, too. It will be a good mix-up.
We ended up taking two months off earlier this fall, so we're ready to get back out on the road. It should be a good time.
CMCentral: Looking at the business side, it seems the worst time to take off two months right after an album release. But is that not the case?
Dave: Not really. When you do a record, you have to tour right when it comes out and do a headliner or a opening slot on a good tour. So we just ended up headlining. We decided we were only going to tour this time if there was a big support tour and we would get asked to do it. Some stuff overseas came up, but we put that off until March. So we can be pretty flexible.
And if it was just me having a baby, that's one thing. But Toby [Morrell] also had a baby, which he had his three weeks after me. So then Matt [Carter] does a lot of work with Aaron Sprinkle and that let him stay out there in Seattle to do some recording. He also just got married right on the day before I had my baby. So there was a lot going on in that time. It just worked out.
CMCentral: Do you feel the record hasn't gotten going like it should yet?
Dave: No, we're pretty pleased with how well it's done. We just haven't been able to tour because we've been busy having babies and stuff. We're at the point where we know the size of our band. When you first start out, the sky's the limit in terms of how big you can get. But we hit our level three or four years ago and it's stayed at the same level since then. So it's nice because you know where you're at and we're not expecting to get huge at all. [Laughs] But we can make records and tour on them and don't have to worry about much. But we're definitely pleased with this record, for sure.
CMCentral: I like what you just said about that comfort level of knowing your place, yet I wonder how you deal with any tension of still hoping for bigger things?
Dave: Well, there really isn't that tension. There's still hope and we have great opportunities that come up and still shock me. I mean, it can be little things that surprise. We're not selling a million albums or anything but when you have tour offers or go overseas, it always comes at that shock. Two years ago, we got a call from Mick Mars of Motley Crue, from his publicist. We went to his house and wrote a song with him. It's things like that which pop up and make you say, 'Wow, that's really cool!' As far as being the next U2, however, we don't think that. [Laughs]
CMCentral: Well, even U2's sales were way down this year. That's just the industry.
Dave: Yeah, it's all down, but really we're happy. With everything going the way that it is with the economy and everything, our job is still just to play music. How cool is that? We can't complain.
CMCentral: Sure. To go back, what was it about The Question that allowed it to resonate with the masses more than others?
Dave: That's a good question. I think The Weak's End did really well, especially for a debut record. At least for our label. Then Tooth & Nail is really good at doing first week's sales. So by the time The Question was ready to come out, because of The Weak's End's success, The Question ended up having really good first week sales. After that, it just leveled out to what The Weak's End was before.
So I think that has a lot to do with it, just having that great first week. It's also more polished than The Weak's End. It's a little more structured. We worked with Aaron Sprinkle and there was a different twist and we made it a little more listener friendly, I guess.

For more information on Emery, check out www.myspace.com/emery.

© 2009 CMCentral.com. All rights reserved. Used with permission.




Visit CMCentral.com now and join the single largest online community of Christian music fans on the internet. CMCentral features daily music news, exclusive interviews, album reviews, weekly devotions and feature articles written by some of your favorite Christian artists, and much more. CMCentral is also the home of the most popular Forum for Christian music fans that you'll find anywhere on the Internet. Come see what all the buzz is about!

**This interview first published on December 24, 2009.