Dark Vibe Pervades Aaron Shust's Take Over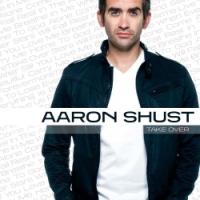 Artist: Aaron Shust
Title: Take Over
Label: Brash Music
Third project pure excellence for "old soul" worship leader …
It's barely been two years since Aaron Shust swept the 2007 Dove Awards with a trio of wins including "Songwriter of the Year" and "Song of the Year," two trophies generally awarded to veterans, not a new artist releasing a worship record off a secular label. But considering the previous year saw the worship leader's "My Savior, My God" nab the No. 1 spot on every Gospel chart imaginable—and stay there—the reward seemed reasonable.
Nonetheless, every blockbuster has to have a follow-up. And rarely is it as impressive, as Shust's 2007's effort Whispered and Shouted proved. Thankfully, Take Over is everything his sophomore release could have been, both from a commercial vantage point and in lyrical quality.
Squashed between anthemic corporate sing-alongs "To God Alone" and "Forevermore," "Come and Save Us" is the singer/songwriter's hardest-hitting song to date. Propelled by the urgency of his message as well as gritty guitar riffs, driving snares and one killer bass line, Shust produces the same commercial mega-draw as Chris Tomlin, but with a darker tint.
And that "dark" vibe carries throughout the entire record. It's the same element that causes Sara Groves to stand apart from, say, Natalie Grant. Both perform incredible songs, but the delivery is different. Just like Groves, it sounds as if life is lived a bit deeper in Shust's catalog than in most modern worship libraries. Frankly, he's got more soul. With an effortlessly warm baritone, he exhales each lyric, covering an entire arena with one breath, floating the power ballad "Stars Will Fall" much like Coldplay's Chris Martin carries "Fix You," but without the need for excessive reverb and delay.
Similarly, closing hymn "Carry Me Home" allows the old soul's voice to nuance each and every space. It's sad but hopeful, melancholic but realistic. Bittersweet, but oh, so lovely—the latter, a remark worthy of Shust's entire third effort.
© 2009 CMCentral.com. All rights reserved. Used with permission.




Visit CMCentral.com now and join the single largest online community of Christian music fans on the internet. CMCentral features daily music news, exclusive interviews, album reviews, weekly devotions and feature articles written by some of your favorite Christian artists, and much more. CMCentral is also the home of the most popular Forum for Christian music fans that you'll find anywhere on the Internet. Come see what all the buzz is about!

**This review first published on September 8, 2009.