Richie Furay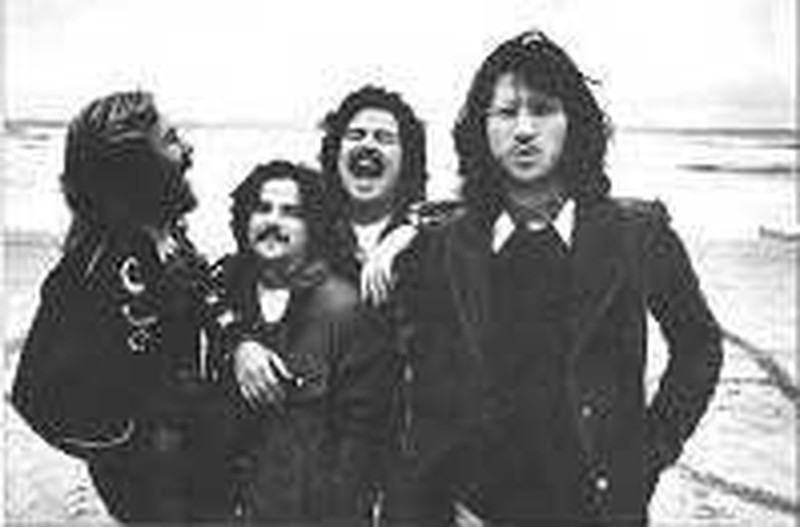 From his early days, Richie Furay has been a pioneer. Starting with the Au-Go-Go Singers in New York City, through his time with the legendary Buffalo Springfield, onto the founding of Poco and into his time as a solo artist, mainstream and Christian, Furay (he's the one on the right) has been out on the edge, leading musical trends.
Born in Yellow Springs, Ohio, Furay ventured off to New York City in search of fame and fortune in 1964, the height of the folk movement. As part of The Au-Go-Go Singers, a New Christy Minstrels-type of group, Furay learned the folk scene and perhaps most importantly, became good friends with another member of the group, Stephen Stills. After one recording project the group disbanded, Stills moved to California and Furay began working in a Pratt & Whitney aircraft factory in New York.
In early 1965, Furay received a call from Stills. "Steven said, 'Come on out. I got a band,'" Furay remembers with a chuckle. After some contemplation Furay quit the security of his regular job and flew to California where he was met by Stills. Asking where the rest of the band was, Furay was surprised to learn that he and Stills were the band. Later that very same day Furay and Stills met Neil Young on the Sunset Strip. Together, these three formed the nucleus of Buffalo Springfield.
The Springfield, loaded with talent, lasted but a brief two albums. But when the group exploded, it threw members out into many other significant musical vehicles. Stills went on to form Crosby, Stills & Nash, occasionally joined by Neil Young, who also went on to create a solo career that continues to thrive today. Furay and Jim Messina, a Springfield member in the bands final days, were joined by Randy Meisner (Eagles), and went on to form Poco. Before the Eagles, before Graham Parsons, before the Flying Burrito Brothers, before Pure Prairie League, there was Poco leading the synthesis of country and rock.
Furay stayed with Poco for six great albums of feel good music. He is best remembered by Poco fans for wonderful songs like "A Good Feelin' to Know," "A Man Like Me," and "Pickin' Up The Pieces."
"I began to be dissatisfied. I had seen Steve (Stills) and Neil (Young) and Jimmy (Messina), and even Randy Meisner go off to more successful things (in the world's eyes anyway). I thought, 'hey why not me,'" Furay confesses. With help from record mogul David Geffen, Furay became a member of country rock super group, Souther, Hillman & Furay. Though the band met with disappointing commercial success, during his stay with SH&F, the most significant event of Furay's life occurred. "Though I was headed in one direction, the Lord was calling me and I had no idea what was going on," says Furay, "but through God's divine intervention Al Perkins (also a member of SH&F) led me to the Lord." After two lackluster albums Furay left to focus on developing his solo career.
Furay's first solo album for Elektra/Asylum, ==I've Got a Reason==, featured lyrics discussing Furay's conversion and the difficult time he was experiencing in his marriage at the time of his conversion. His band on the album included Jay Truax, John Mehler, and Tom Stipe, all well-known Christian musicians. Furay was among the first secular stars who began making "Christian music" in the mainstream. "We found so much resistance to what we were trying to do," remembers Furay. "Secular record companies just
weren't sure what to do with someone like me." Nevertheless, Furay made two more records, each drifting more distant from his earlier Christian message, before returning to his home in Boulder Colorado to regroup.
After the third record, Furay opted to return home to Colorado re-evaluate. "I still had hopes of being an artist. But I had to ask, 'Lord what would you have me to do?'" He was lured back to Christian music in the early 1980's by Word for a solo record ==Seasons of Change== and a re-release of ==I've Got A Reason==, which presaged the emergence of Christian Country as it is known today.
Furay became the pastor of Calvary Chapel of Boulder in the about 1982. But rock and roll continued to call. In 1991, he rejoined Poco for a reunion which resulted in the album "Legacy," which spawned a hit "Call It Love" as well as Furay's nostalgic take on Poco's history, "When It All Began." After a brief tour Furay was reminded why he had opted out of rock and roll and returned home to continue his work as a pastor. Rock and roll has finally rewarded Furay for his years of making great music. In May of 1997, Furay, along with his partners in Buffalo Springfield, were inducted into the Rock & Roll Hall of Fame.
"I've talked to Neil and he is encouraging all of us to go back, and the plan is for all of us to play together again." Ironically, Young was the one member of the group who failed to appear to receive this honor.
Today, Furay continues to live in Boulder with his wife, Nancy. He recently recorded an album of songs with the worship leader from his church, which was released through the Calvary Chapel distribution network in early 1997. Furay has also revived the Richie Furay Band and is playing dates at selected clubs. His current set highlights songs from all phases of his career. He is also still pastoring his church and has become a grandfather.