Saint or Sellout?
Michael TenBrink

Contributing Writer

2003

24 Sep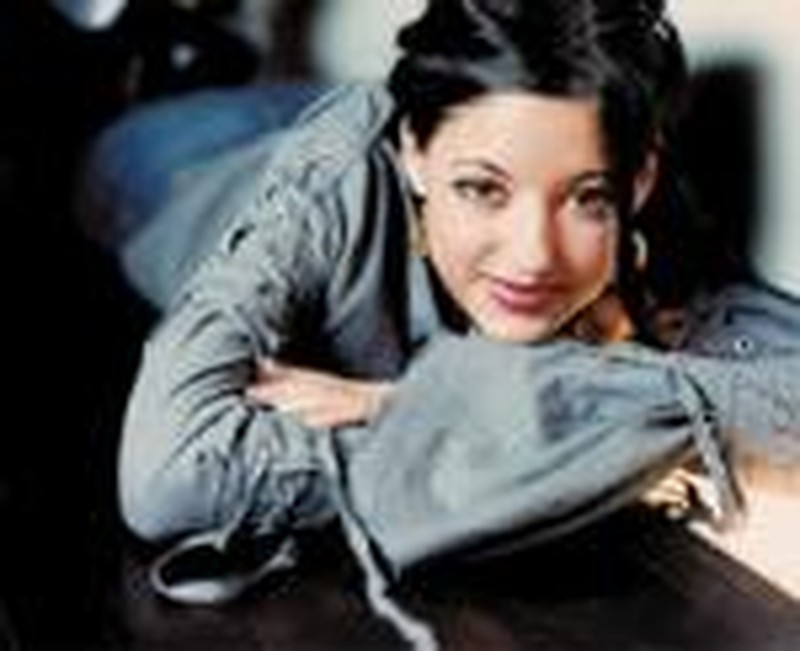 Sitting in a restaurant in a non-descript behemoth suburban mall, Stacie Orrico is proving herself to be a remarkably patient pop star. We're enduring poor service of the worst magnitude: messed up orders, lengthy delays and a waitress who is seldom seen or heard from. Yet Stacie remains polite, friendly and engaging in spite of the ordeal. Having just met her a few minutes before, I'm not sure if it is because she is genuinely nice or just feeling the huge public responsibility that rests on her shoulders as Christian music's biggest "crossover" success story of 2003.

Into the Great Wide Open

Of course, Stacie is no stranger to success; it's been well documented by now how her debut album, "Genuine" (ForeFront), broke sales records when it released three years ago, going on to sell over a half-million copies, thanks in part to tours with Plus One and Destiny's Child. Still, Stacie's life has taken a whole new turn since "Stuck," the first single from "Stacie Orrico" (ForeFront/Virgin), hit pop radio in February. Unless you've been living as a pop culture recluse, you've probably seen and heard an awful lot of Stacie lately.

The new album was released in late March under a joint venture between ForeFront Records (her longtime Christian label) and mainstream powerhouse Virgin Records. Stacie Orrico spent three weeks at No. 1 on Billboard's Top Current Contemporary Christian Albums chart and has scanned well over 170,000 units at press time. "Stuck" spent months blanketing airwaves nationwide, eventually cracking the Top 10 on mainstream CHR/Pop charts, and its accompanying video became a mainstay on MTV's "Total Request Live."

But today, Stacie seems unfazed by all the fuss. Sipping her drink, she mentions she graduated from high school this year after working hard on her online correspondence program. (She has not attended a "normal" school since seventh grade, after she was signed by ForeFront at the age of 12.) She mentions wanting to continue on to college "someday," but for now, college will have to wait, considering her jam-packed schedule. She's been doing interviews, photo shoots and retailer showcases by the dozens. She even recently turned up on MTV, interviewing the day's "mystery guest," superstar comedian Chris Rock. ("Everybody at MTV is surprisingly very sweet, very accommodating. We were all treated very well there. [MTV] actually called ForeFront and my parents to make sure Chris was an OK person for me to interview," she says, laughing. "It was sooo cool.") She's been to Canada, Mexico, Germany, Italy and Japan and across the United States multiple times.

"People are always like, 'What is the biggest difference now that you're with Virgin?'" she says. "When you're working in the Christian world, there's always this ultimate blanket statement that you can kind of win any argument by saying, 'This is my ministry; this is what I feel called to do by God.' And everybody says, 'OK, if that's your ministry, we understand that you need to be doing that.' But in the mainstream world, it's not all about ministry, your calling and motivation. It's about selling records and being successful.
Also, being in both [the Christian and mainstream] worlds is double the work. But it's been cool, although it is interesting when at 7 a.m. you're at a [secular] pop station and an hour later you're at a very conservative Christian AC [Adult Contemporary] radio station. But I think one of the greatest things is that everybody has just been so supportive from both sides. Before I went out, I wondered if I would get a lot of weird comments from the pop world because of my Christian background [or] a lot of weird reactions from the Christian side because of the new pop stuff. But 99 percent of the time it's been positive. People have been very supportive, so that makes it really exciting for me. In a lot of situations [at Christian radio stations], we've ended up in a conference room, and the whole team would just pray over me. I've gotten multiple comments about how they're really excited for me, and that they've been praying for me with their families. It just really feels like the industry is ready for this."

The Business of Music

Still, hitting the big time doesn't come without its share of controversy. Some fans on the message boards of StacieOrrico.com have questioned her career decisions of late, wondering whether she's "sold out" for worldly fame and fortune. There seems to be particular suspicion of her decision to partner with a "secular" record company and what influence Virgin may try to exert on her career.

"A lot of people thought that a secular label would pressure me. But a lot of [the people in mainstream music] have come from rock labels, and they understand the whole idea of underground bands going mainstream and how they have to take care of the original fan base so that the fans don't feel like they're being left behind," she explains. "They've really been supportive of my Christian background. For instance, the Underdogs [two of Stacie's many mainstream producers] are really cool. They're these two guys who were raised in the church, and I remember going in there and Damon was like, 'So, you have this Christian/gospel background, eh? Do you know all the books of the Bible?' And I was like, 'Yeah.' And he said, 'C'mon, let me hear them!' It was fun!"

But not one to duck the issue, she says matter-of-factly, "My music is not for everybody. I totally understand if someone won't take her daughter to a Destiny's Child concert [to see me] because my mom wouldn't have taken me when I was 7 either. But a lot of people wouldn't take their 7-year-old daughters into a church. And I feel called to that side as well," she says with conviction. "But no matter where you go, no matter what you do, there are going to be people who don't like your music, who don't like how you do things, and I just have to be confident that God has already pre-chosen the people who my music is going to get to, and He's gonna bring it to them. I feel like I'm very attentive to the Lord. I obviously don't want to offend people, but I can't let it totally tear me apart inside and change the way I do things just because there are certain people who don't like the decisions I've made."

Keeping Her Head on Straight

Stacie says her family helps keep her accountable. Her parents, Dean and Patti, raised their five children (Stacie's the middle child) with a strong sense of ministry. Dean served overseas with Promise Keepers, and the family also has worked with Youth With A Mission. At the photo shoot for this month's cover, Mrs. Orrico excitedly told me about the behind-the-scenes impact she and her daughter have been able to make this year, and the chances they've had to show their faith to make-up artists, video directors, photographers and others they've come in contact with.

Stacie seems very aware of how blessed she is to come from such a strong Christian home. "We're all really close, we're all good friends, and I feel like I'm really fortunate to be in the family that I'm in because it would be difficult to do all this without their support. I think my mom is my accountability when I come home; she's always asking me questions about how things went. And my dad is always leaving messages like, 'Hey Stacie, just wanted to let you know that from 7:05-7:15 this morning I prayed just for you and for your work.' My brother calls me twice a week and leaves me verses or chapters to read [from the Bible] that made him think of me. My sister actually lives in Italy, but every time she e-mails me, she always leaves me with something to think about."
Stacie also mentions that the whole family is reading a book called "The Purpose Driven Life" (Zondervan) by Rick Warren that has been very helpful and thought-provoking for her.

Yet in the midst of listening to Bible verses on her cell phone and getting cute messages from Daddy, how does she handle the dangers and demands that often come along with success? "I don't know yet! [laughing] It can be kind of difficult for me. The other night Rachael Lampa (We're like best friends. She's so fun; I love her!) and I were out to dinner, and there was a whole table of 20 people who knew [our] music, and they came over, and we were talking to them the whole time. And it was fun; they were really sweet. But it scares me sometimes because my downtime is really important to me, especially when I'm with my family. My little brother and sister, they're 13. They'll get so frustrated, and they'll be like 'Why can't [the fans] just leave you alone?' So sometimes I miss my privacy. It's just finding the balance, and there are ways you can get away and have your own time. But it will be interesting in the next year or so, depending on what happens with the album. I have no idea what it's going to be like."

She mentions that her somewhat unorthodox childhood unknowingly prepared her for her current crazy schedule. "It's funny, but I've always lived a little bit of a different life. From the time I was little, we moved around all the time; we were missionaries for a while in the Ukraine. So the whole picking up, leaving, always being gone and always traveling — I think that part has felt kind of the way my life has always been. There's just not a lot of time for personal stuff. But I like my work. I enjoy getting to meet new people, try new things and, as of right now, it is my life. It is my personal life, it is my work life; everything is all wrapped up in the music right now."

The Long, Strange Trip

Nearly an hour after we sat down, our waitress finally brings Stacie her Southwestern chicken salad. While she begins munching on it, I ask her if, after working at her career for five years, she has any regrets about starting so young? "No, I don't," she says quickly. "I was ready, even when I was 12 years old, I was ready to get out of school [laughter].… I knew that my life was going to be different. I think my whole family knew that I was going to do something different from the norm. I've always had a thing with preferring that [my age] not be the main focus. But I think it has positive and negative affects. Sometimes it's negative because people don't respect what I have to say, but a lot of times it's positive because my goal is to reach people my age; and I'm 17, so I feel like I can really write about and sing about things that are relevant to teenagers because I am one [laughs]."

Looking ahead, she says, "I definitely know that in my future I want to make family a priority. I want to have kids; I don't want to be one of those people where my career gets in the way until I'm 40, and I never get married," she confides. "People ask me if I think I'll be making records in 15 years, and I have no idea. There are so many things that I'd love to pursue. When I watch how my life has gone so far, I've had such different stages of it; and although I know music will always be a part of it, I don't know. I've gotten to do so many great things most people will never get to do in a lifetime that I don't think it's worth whining over things I don't get to do. I'm really glad for [the] different, strange turns my life has taken."

Used by permission.  CCM Magazine © 2003  Click here to subscribe.