Sanctus Real: A League of Its Own
David Jenison

CCM Magazine

2004

6 Aug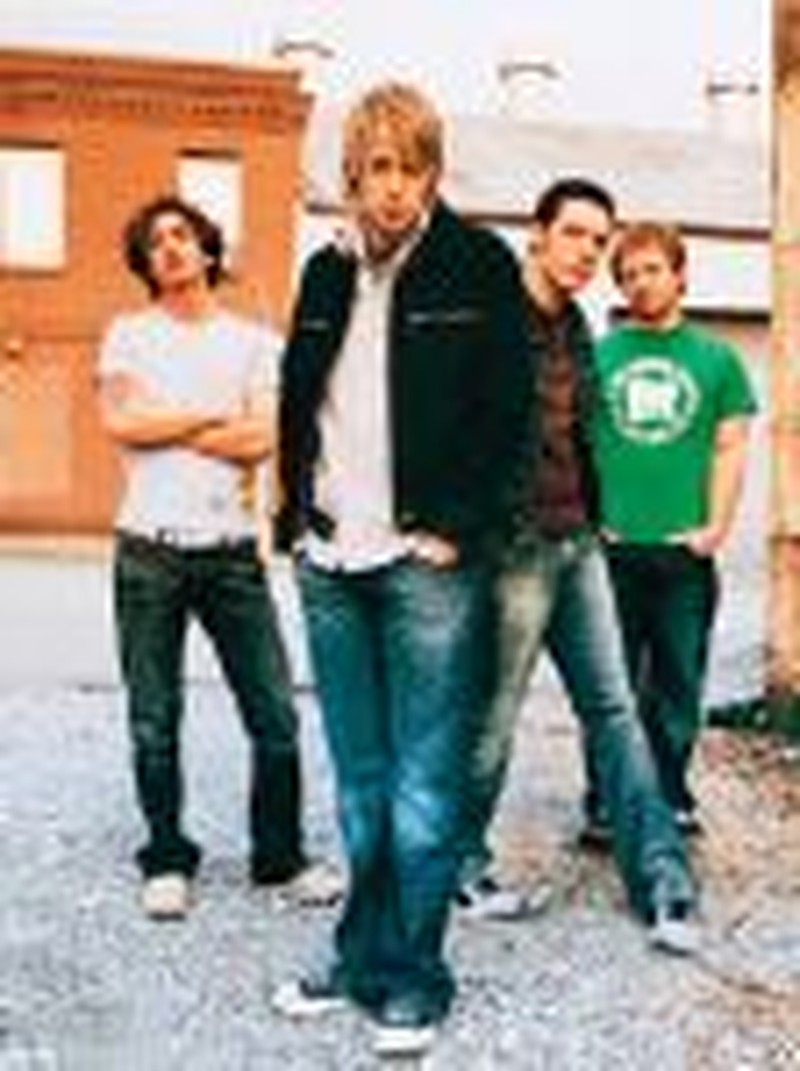 "As soon as I found out 'Beautiful Day' was going to be a radio single, I prayed that it wouldn't go No. 1," laughs Sanctus Real singer Matt Hammitt, referring to his band's contribution to the benefit/U2 tribute album "In the Name of Love: Artists United for Africa" (Sparrow). "Our song 'Say It Loud' made it to No. 2, but we'd never had a No. 1; and I knew I'd be bummed if a song that wasn't ours got to No. 1 first."
Not only did it reach No. 1, "Beautiful Day" stayed on top of Radio & Records' Christian rock chart for five consecutive weeks and landed a 2004 GMA Awards Dove nomination for "Modern Rock Song of the Year." Still, the band's lament over its cover song success is truly halfhearted, considering how much the guys believe in the cause.
"Changing lives is all we care about, and anything else is secondary," says Hammitt, noting that the album helped raised money to fight the AIDS epidemic. "There's a crisis in Africa; and if our song helped give support, that's all that matters."
Charities aside, Sanctus Real might not be waiting long before one of its own tunes cracks the coveted top spot. While its Sparrow Records debut, "Say It Loud," was critically acclaimed and sold more than 30,000 copies, the group's latest, "Fight the Tide," shows that these Buckeye State rockers clearly raised the bar. Working with producer Tedd T (Delirious, Rebecca St. James), the band — Hammitt, guitarist Eric Rohman, drummer Mark Graalman and four-stringer Steve Goodrum — worked and reworked songs until they crafted an album that represented its very best. In fact, the disc's lead single, "Everything About You," radiates an energetic spark that could very well make the song a No. 1  lock. Still, the musical vision for "Fight the Tide," as the title implies, transcends the radio dial and any other marketing concerns.
Hammitt, mentioning the many radio formats in Christian music, notes, "There's pressure for Christian artists to make albums with songs that fit into this or that format. There is some spoken, and more unspoken, pressure to fit into certain molds, and sometimes it's as simple as looking too closely at what's popular at the time."
The title "Fight the Tide" is about resisting such forbidden artistic fruit. "I don't want to say we're control freaks, but it's very important that what comes out of this band is us," continues the singer. "We want to make sure we're making music that's honest to who we are. We must be passionate about the music because it addresses what we go through in our lives."
Sanctus Real clearly found a meaningful album title to reflect the songs within, but the group toyed with a different title that's also, umm, relevant. "When people see our band name for the first time and try to say it," laughs Hammitt, "our name always gets butchered. You'll hear stuff like 'Sanctual Rio' or 'Sanctious Real.' Since the first record was called 'Say It Loud,' we thought about calling this album 'Say It Right!'"
Though a fairly new band on the national level, Sanctus Real has already made its presence known in quite a veteran manner. Case in point, the group's three Dove Award nominations this year came from involvement in three different albums: its debut disc, the U2 tribute and the "!Hero the Rock Opera" project (for which Hammitt contributed vocals). Sanctus Real also participated in several major rock tours, including two "Festival Con Dios" outings and the "See Spot Rock" and "We Are Tomorrow" tours. The Christian music market embraced these rookie rockers, which fittingly corresponds to an early choice the band had to make.
Hammitt explains, "When we were trying to get a deal, we sent packages to mainstream and Christian record companies; and we got a really good response from both. At that point, we really had to do some soul searching and figure out where it was we were supposed to be."
The band mulled over their options; but, in the end, the answer came in simply realizing who they are. "Ultimately, we knew we could relate to kids in the church," says Hammitt, who grew up in the church himself, as did Rohman and Goodrum. "We are passionate about our faith, and we knew we could encourage Christian kids to keep their faith growing and, likewise, reach kids who never before heard the message. From our personal experience, we felt this was the place we were supposed to be."
Turning back the pages to a small Christian high school in Toledo, Ohio, Sanctus Real found its initial spark when Hammitt and Rohman began playing together in their chapel band. During their sophomore year, the two friends started making their own music outside the school, which led to recruiting Graalman on drums and later Goodrum on bass. They played their first show during the 1996 holiday season.
"My dad owns a photography studio that's in a warehouse, and we did our first concert out of the back of the warehouse," recalls Rohman. "We practiced and practiced, maybe had six songs and played for a handful of our friends from school. We have the show on video somewhere, which is pretty scary."
After getting through its inaugural performance, the group recorded a six-song demo tape and later a six-song EP titled "All This Talk of Aliens." In 1998, the group dropped its full-length debut, "Message for the Masses," which was recorded in a garage. For its final independent self-release, the band members wanted to "go all out;" but they first needed to make some money. For Hammitt and Goodrum, it meant taking not-so-glamorous jobs.
"We did telemarketing for a few months, and it had to be the most dreadful job ever," says Hammitt, who hawked auto glass over the telephone. "You have to call people at the most inconvenient times. We got death threats over the phone. One guy said he was going to come through the phone and strangle me." The worst ones, of course, happened when a person's car windshield had gotten cracked or chipped that same week. Hammitt continues, "It was like, 'That's funny, my windshield gets chipped yesterday; and you're calling me today!' Those were the types who really wanted to come after us."
With dues paid, Sanctus Real used its money to record three songs down in Memphis with producer Skidd Mills (Skillet, Jonah 33). As fate would have it, the band entered one of the songs into a local radio contest and won, so they decided to save more money and record a full album with Mills. The disc was finished in 2000; and, not knowing exactly what to do with it, Graalman and Hammitt decided to make a trip to Nashville for Gospel Music Week.
"It was rough," laughs Hammitt. "Mark and I stood outside the main convention center and passed out CDs. We aren't very outgoing, so it was very awkward. It was definitely out of our comfort zone. I remember a few times when some people really blew us off. We didn't know if it would do any good, but somehow one of the discs got into the hands of someone at Sparrow Records."
With its days of telemarketing and sidewalk peddling in the past, Sanctus Real made its national bow with "Say It Loud" and garnered substantial support from fans, including CCM readers, who named the band as their "Favorite New Artist" in the magazine's 2004 readers poll.
"It was completely unexpected, and we're incredibly grateful," says Hammitt of the poll. "As a young band, we still need that assurance that we're reaching people and that they're catching on to what we're doing. This type of honor is such a great encouragement."

© 2004 CCM Magazine.  All rights reserved.  Used with permission.  Click here to subscribe.