Sara Groves at Her Best on "Add to the Beauty"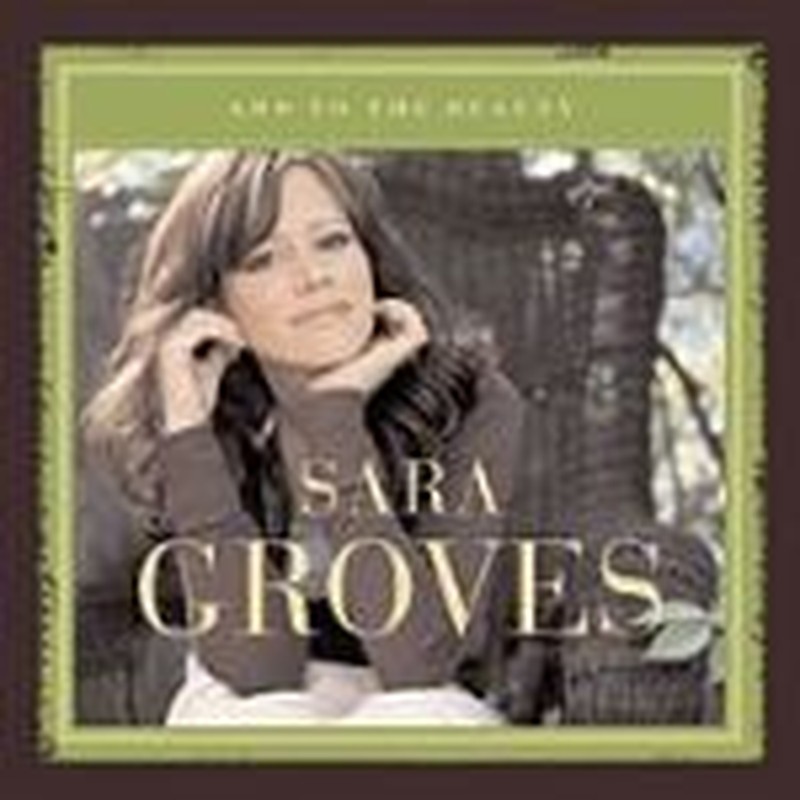 Artist:  Sara Groves
Title:  "Add to the Beauty"
Label:  INO
"She could sing the phone book, and I'd buy it!" For many artists, that classic endorsement by a wowed music critic says it all. In describing the artistry of Sara Groves, however, that truthful statement is a distraction from the profound.  Yes, her voice is addictive, but it's her songwriting that makes fans for life. Or to put it another way, my telephone repairman could sing her lyrics, and I'd buy it!
Naturally, expectations were high with the October arrival of Sara's fourth label release, "Add to the Beauty." Let it be known here, she does not disappoint. Encountering this disc for the first time, descriptors such as lovely, thoughtful, emotive and delightful quickly come to mind. Connoisseurs of Sara's music won't be surprised by this. What will surprise many, however, is that all this time, they thought they had already heard Sara at her best. They thought wrong.
At the risk of distracting from the profound, it should be mentioned upfront that Sara's voice is presented in a new light here, courtesy of producer Brown Bannister (Amy Grant, The Afters). Sara's never sounded as versatile or confident as she does on these songs. Consider the opening track, "When It Was Over" or the lead single, "You Are the Sun," for starters. As the latter song hits its chorus, Sara's gently-stacked vocals lilt "I am the moon with no light of my own/ still You have made me to shine/ and as I glow this cold dark night/ You know I can't be light unless I turn my face to You." The classic splendor of her delivery is striking. Simply put, it's worthy of a 1970s' 2nd Chapter of Acts album. Contrast that with Sara's approach to the verses of "When It Was Over." Her fast-paced, rolling and melodic rendering would've been right at home on the main Lilith Fair stage.
And it's not just Sara's voice:  "Add to the Beauty"'s production as a whole is extremely classy. Purists will be pleased to discover that all 57 minutes and 11 seconds of it fit her art like a glove. To begin with, the piano is a principal instrument on 12 of the album's 13 songs, with the exception being the pop gem "Kingdom Comes." This CD does feature some of Nashville's finest session players; but here, their skillful contributions champion the songs themselves rather than draw attention to individual talent. (A modest, tasteful guitar solo on the moody, yet spirited "How Can I Tell" is the closest thing to being an exception to the rule.)
Though Sara's excelled as a go-it-alone songwriter for most of her recordings, this time around she collaborates in several instances with friends new and old. Joel Hanson (of PFR fame), Gordon Kennedy (Eric Clapton, Pierce Pettis), Matt Bronlewee (Jars of Clay) and the GMA's current "Producer of the Year" Ed Cash each weigh in.
While Sara's thought-provoking lyrics remain the centerpiece of the songs she and her comrades paired on, and she composed most of the music in these instances, these four friends escort her into occasional new territory. A consistently pronounced sense of melody and more hook-driven choruses are the result.
Thematically, the disc is pure Groves. The storyteller's songs are relational, personal, hopeful and, of course, poetic. In a subtle departure for Sara, there are no mentions of biblical personalities by name except for that of Jesus in any of the lyrics. And while "Beauty"'s songs are often revealing and vulnerable, there aren't any as candidly intimate as last year's "Roll to the Middle," for example. As a result, the lyrics are more inclusive, open and universal. In other words, when he's singing them, my telephone repairman will relate.

© 2005 CCM Magazine.  All rights reserved.  Used with permission.   Click here to subscribe.