Sara Groves: Enjoying Beautiful Days
Andrea Bailey

CCM Magazine

2006

8 Feb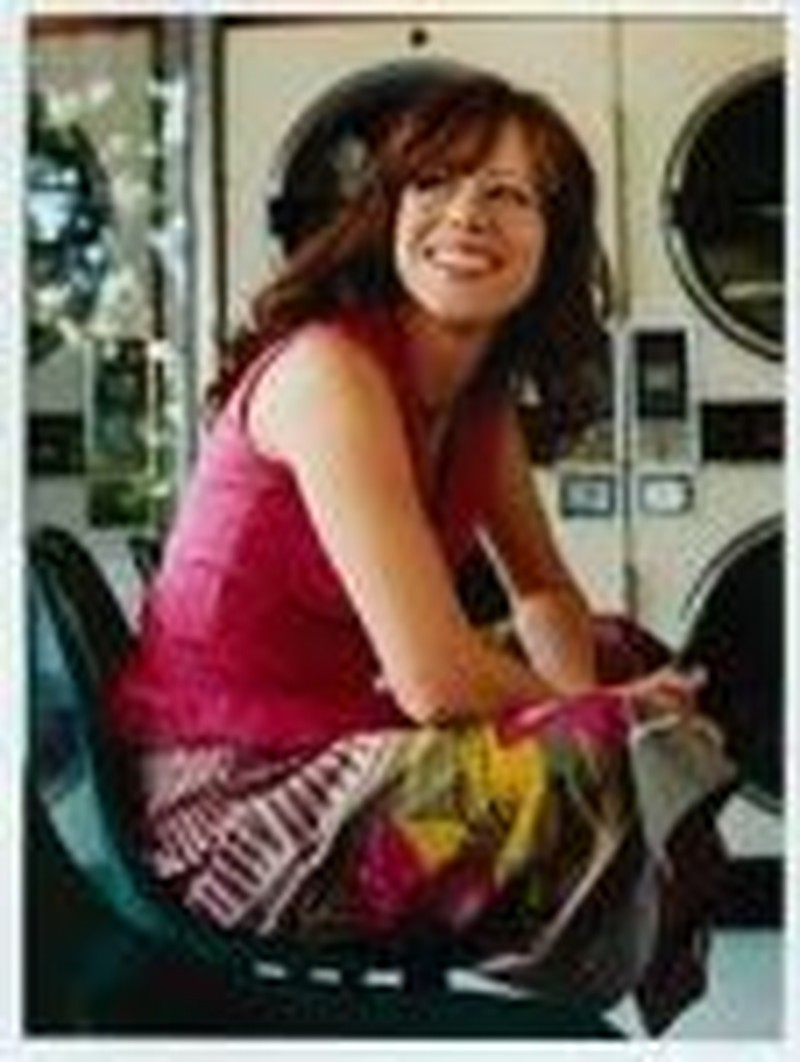 In last month's issue of CCM magazine, we selected Sara Groves' new disc, "Add to the Beauty" (INO), as our choice for "Album of the Year." And while we're not at liberty to mail each and every one of you a copy, we can point you in the right direction. It all starts with the artist herself. …
When you first shake Sara Groves' hand, you're sure you've met her somewhere before. She reminds you of your best friends from college with her Puma sneakers, hoodie, wispy ponytail and petite frame. Over lunch she munches on Thai food, articulately discusses the book she's reading about international justice and asks if you've heard of this great new singer/songwriter named Ray Lamontagne. Later, as you're saying goodbye, you find you have the urge to hug her and say, "We should hang out sometime!" But then you remember she's leaving tomorrow to join Jars of Clay, Chris Rice and author Donald Miller on a 24-city tour. And you realize you probably feel so oddly close to her because — well, to listen to her music is to see inside her soul.
"It's such a reflection of where I am," Groves agrees, "and that's so moveable or always changing, morphing. …"
Honest, heart-to-heart music has been Groves' trademark since a record called "Conversations" (INO) officially introduced the world to the homegrown-Minnesota-schoolteacher-turned-artist in 2001. She'd already released an independent CD leading to multiple signing offers, but Groves and her husband, Troy (who's also her manager), were patient until their ministry/artistry clicked with INO Records. Featuring pure, Sarah McLachlan-esque vocals and unabashed lyrics such as "Right now I don't hear so well / And I was wondering if you could speak up / I know that you tore the veil / so I could sit with you in person and hear what you're saying / but right now I just can't hear you" ("Hello God"), "Conversations" was hailed by critics for its brilliant songwriting and established Groves an immediate, devoted fan base. It also catapulted her into the role of mentor/hero to emerging artists such as Bethany Dillon.
"Sara is the kind of artist I could listen to every day for the rest of my life and, honestly, never grow tired of," says Dillon. "The other day there was something hanging over our house – just heaviness – and I went over and put on 'Conversations,' and it totally changed the atmosphere in the room. Her music welcomes Jesus into a room without it seeming forced or contrived. … There's such a sweet brokenness and honesty in her music that makes you want to live like that and see the Christ-ward life like she does."
Artists in the new school aren't the only ones who have come to "truly appreciate the depth and heart of Sara's artistry," as Jars of Clay lead singer Dan Haseltine puts it. "I'm a fan of both her music and the heart and passion behind it." If you, yourself, are a fan of "Conversations," or 2002's "All Right Here," or 2004's "The Other Side of Something," you've waited on pins and needles for Groves' much-anticipated fourth studio record, "Add to the Beauty." You're expecting the familiar poetic thoughtfulness and stark realism, and the feeling that you're reading letters from a friend or, perhaps, she is reading your letters in her songs.
And you aren't disappointed. But something's happened since the last time you heard her. A quiet change has taken place. As a result, Sara's music – once more melancholy in nature – is now more defined by hope and joy.
"I hadn't felt that sense of redemption [for awhile]," Groves says in hindsight. "I was feeling like, 'I'm not changing; no one around me is changing. Can people really change?' There's just a lot of bad news. … I was really fixated on the chaos and on sorrow and despair in a lot of ways."
Whether you've seen hardship in your own life and the lives around you, or you've switched on the news lately and wanted to shut your eyes, you can probably relate to the questions Groves brought before God:  "Where are you?" "Where have you been?" and "How can you be good and yet these things happen?"
"His overwhelming response to me," she says, "has been through redemption, through the lives of people redeemed, and then through my own life redeemed, and through recognizing the small redemption in a million little places in my life. My shutting down and my fear and fixation on the bad news were kind of not allowing me to see."
And seeing has meant believing for Groves, who has seen God actively at work in her friends' lives during the past year. One dear friend was on drugs, living on the streets of Kansas City with her boyfriend. One day, she got up and knew that was all she would ever be if she didn't leave her boyfriend. So she did. "To walk away from something when there's nothing else there, that's a bravery that goes unnamed a lot of times," Groves says.
She's also watched another friend stick with her husband through an extramarital affair and have two more children together. "It's not instant, it's not ultra-miraculous healing. It's waking up each day, making hard choices, [doing the] small things."
Seeing this has moved Groves to a new understanding that while life's always going to be a struggle, there's something good, true and beautiful happening – something worth fighting for.
"…I feel like for the first time, maybe in a different way, I'm not a skeptic anymore. … I used to kind of always take a stance of, 'We're always in this grime, and maybe God's going to help us.' And if there's any difference on this album and in this message, it's that, yeah, we're always fighting the good fight. … But I feel like something broke loose in me. … I feel more hopeful now about those skirmishes, and more hopeful about the fruit of it. I feel like the fruit is good, and the Kingdom is good, and what He promised us is real. … It's written in your heart, and it's doable to actually have fruits of the Spirit and the Spirit of God resonating in your marriage and in your family and in your life."
This awareness prompted Groves to write the lyric "Redemption comes in strange places and small spaces," on the album's title track. Another song, "Rewrite This Tragedy," her favorite on the record, also has roots in the idea of redemption being manifested in our broken lives.
"I feel like I finally quit [relying on my own strength] in many areas of my life and said, '"Lord, you know. You write this. I can't write this any better. I can't change my patterns. I can't change my cycles. I keep coming back to the same junk. …' I feel like God has really rewritten my life in some amazingly brilliant ways."
If you listen closely, all the tracks on "Add to the Beauty" are tied together by this redemptive element, a response to Groves' former skepticism. "They all tie back to 'The Other Side of Something.' If you were to play 'Like a Skin' from [that album] – 'It feels like I've been waking up only to fight with the same old stuff / change is flowing / it fills me with such doubt / come on new man / where have you been / help me wriggle from the self I'm in / and leave it like a skin upon the ground' – you could then go and play 'Something Changed Inside Me.' It's my answer to 'Like a Skin,' this feeling I've had that people just can't change. And the realization that not only have other people changed around me, but I've changed."
Groves takes this inward shift one step further by exploring the concept of "add to the beauty," the phrase she uses to describe the works God has prepared in advance for us to do. Adding to the beauty is "the Kingdom coming. It's a little brick. It's a little mortar," she says. "Now then, how do we live with this change in our lives, with this divine rewriting that's taken place? What's this thing that God's set me here to do because it's not just to groom my personal faith all my life. I've grown up much of my life grooming my own faith. In the American church, we are so good at that. We've got the ultimate worship experience. … We've got every resource under the sun to perfect our personal devotional life, and now what? You don't go to school to keep going to school. You go to school to then go do something."
For such a deeply personal album, Groves needed a producer who would help her capture the essence of her piano-driven sound. Her friend Charlie Peacock (Switchfoot, Nichole Nordeman), who had co-produced the elaborate "The Other Side of Something," recommended Sara return to a "Conversations" feel for this next album. "You're a mom and pop store. People trust you," he told her. While Groves knew she couldn't go back thematically, she did "feel a compulsion to take beautiful pictures of the songs, not to prop anything up." The two of them started tossing around names of other producers, and she felt an immediate tickle when Peacock suggested his one-time mentor Brown Bannister (MercyMe, The Afters). Bannister had produced several of Groves' all-time favorite albums, including many by the hero of her youth, Amy Grant.
"When my husband Troy and I met with Brown, it felt like a great fit. What Charlie had said about Brown was, 'You can't find a better song photographer than him.' And that's exactly what happened. He has an amazing sense for the songs. He doesn't come at it with a preconceived idea of what it's going to be. He comes at it kind of wondering, 'What does this song want to be?'… He was very transparent as a producer; he wanted my input."
"Every word, every note, every texture, every musical stroke is so important to Sara," Bannister says, "not because she is a control freak, but because she cares so deeply that every aspect of the recording should be a servant to the revelation and truth that God has given her to communicate. It doesn't take a lot of imagination to guess how refreshing it is to work with an artist like this. I laughed, I cried, and by the time this goes to print, I will have ordered the T-shirt!"
The combination of teaming with Bannister and pursuing new songwriting collaborations stretched Groves beyond anything she's ever done. "Ed Cash was my counselor/cowriter,' she relates as she reflects on her cowriting experiences. "For me, getting to songs is such a personal unearthing of things. Peter Gabriel has a song called 'Digging in the Dirt.' It's all about … digging in the dirt … this introspective thing, and for me, songwriting is like that. [With] Gordon Kennedy … I was in awe. I was kind of quiet that whole time because I was pretty star-struck. … He just laid out these gems, these ideas [for] the bridge from 'Loving a Person.' And then Matt Bronlewee was just a ball. We just talked for two hours and then in 30 minutes wrote 'Add to the Beauty.'" As a result, Groves says her writing has improved and her songs benefited. "I'd love to do it again!"
Gifted by these new thoughts and processes, "Add to the Beauty" is a landmark album for her. "I finally scratched an itch that I've been trying to get. … I did it – I used the least church language I've ever used and yet made the clearest declaration of faith I've made in my career. And to me, that's a goal I've been striving for, to speak to people's hearts, not to their culture, not to their church background, but … I want Eve and Adam to be able to listen to this album under the tree and say, 'Isn't that true? Isn't that the thing?'"
Her joy is contagious, the joy of a friend who's figured out that nagging worry, found a new kind of peace and reached out and given some of it to you.
Looking toward the future, Groves acknowledges a new opportunity to come alongside other artists and offer her example. Though she calls herself "an uneasy mentor," she's struck by the fact that she's been making music for eight years now. "It doesn't take long to grow up on someone's music," she says with a laugh. "I am excited and nervous because … even in myself I've been mentored by so many – Jars of Clay, their action from afar, watching their work with Blood:Water Mission. And then Charlie and Andi [Peacock] – I hope that I'm a Charlie and an Andi in Minneapolis because I'll tell you what, they've influenced so many people, and they bring the Kingdom alive in so many cool ways."
What else might the future hold for her, Troy and their two little boys? Groves isn't sure, but she's OK with that. "I feel very positive these days. I feel very aware of good news these days. I feel very aware that God is up to something and that I get to be a part of it, and these are exciting times to be alive."

© 2006 CCM Magazine.  All rights reserved.  Used with permission.   Click here to subscribe.