Shane & Shane: Scriptures Unplugged
Andrew Greer

CCMmagazine.com

Updated

Jan 07, 2010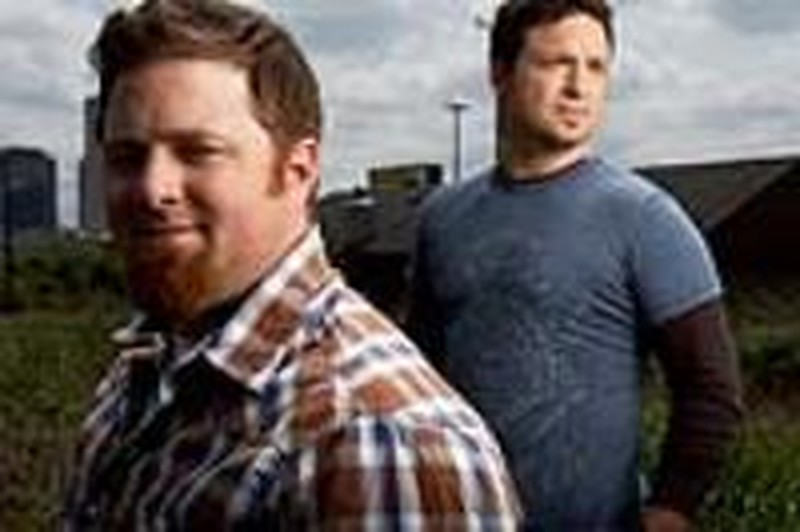 Using Holy Scripture to frame songs of praise for more than a decade, Shane Barnard and Shane Everett, better known as Christian music's best-selling acoustic duo, Shane & Shane, are leaning more than ever on their personal Bible study and experience leading worship at their home church in Texas to inspire their trademark memory-verse music.
Using the pop-producing sensibilities of Pete Kipley (MercyMe) and Jason Hoard (Fee), as well as veteran audio engineer Steve Churchyard (The Eagles, Kelly Clarkson), to get the heart of the songs on tape, Barnard shares with CCMmagazine.com what makes their new studio recording, Everything Is Different, so, well … different.
CCM: How did the recording process for Everything Is Different differ from sessions for past records?
Shane Barnard: We went "old school" and tracked together. This record was super unique in that a friend named Jason Hoard, from Atlanta, Ga., came down, and we sat in a room, along with our drummer Joey, and played a song until we got it. We would start with drums, then bass, then guitars, and so on, one track at a time. It was a blast! This made our music sound less polished and more "live" feeling.
CCM: Was translating the feel of a live performance difficult?
Barnard: We wanted the record to sound a little more like our live show in this season. Some of these songs we had already been playing live, so there wasn't a whole lot to change going into the studio.
CCM: What inspired this new batch of songs?
Barnard: Scripture. More than ever, Scripture. We are falling more and more in love with the Lord through His living Word, and there is nothing we would rather sing.
CCM: Scriptures have always made up the bulk of your lyrics. Do you consider Shane & Shane more of a ministry, a career path or both?
Barnard: Gratefully, I can say both. We are incredibly blessed to be able to minister around the country without the burden of having to have another revenue stream—blessed. We get to brag on the Lord Jesus, and provide for our families at the same time!
CCM: You often lead worship at your home church in Red Oaks. Is it difficult to differentiate performing artist-mode from worship-leader mode?
Barnard: We live on that line, I guess—the line between artistry, in a performance sense, and corporate worship. It seems to work; both seem to edify.
CCM: The two of you participated in a World Vision trip to Africa earlier this summer. How did that experience affect you?
Barnard: It messed us up. I got to see the boy who has lived on my fridge for a decade. Little Emanuel wasn't little anymore, and he is healthy and amazing! It was incredible to see what happens on the front lines of World Vision. We were speechless! This organization is pushing out darkness in a very dark world, and providing care in every way to people groups who would otherwise be helpless. [World Vision] is transforming lives.
CCM: How did the song "Turn Down the Music" transpire?
Barnard: We heard a Holocaust story about a boy who was a part of a small Christian church on the route to a Nazi concentration camp in Germany. Train cars full of wailing Jewish people screaming for relief would stop right outside the church every Sunday. "Spray some water on us! Take my child! Mercy!" they would yell.
The church derived a plan to solve this "annoying" problem. When the train would arrive, the windows would be shut, and the worship leader would get up and start leading "worship." "Louder! Sing louder!" he would declare from stage. And the congregation would drown out the cries of the dying people outside with their beautiful singing.
Maybe we aren't too different from this church. Maybe we have drowned out the cries of our neighbors by singing and gathering, by belonging to a social club [rather than] the radiant body of Christ, shining light in the dark places and bringing relief to dying people. Maybe we should turn down the music so we can hear their voices, and more importantly, the Lord's voice asking us to go and tell and care and love.


For more info on Shane & Shane, visit www.shaneandshane.com.


© 2009 CCMmagazine.com. All rights reserved. Used with permission.

**This interview first published on January 7, 2010