Sixpence Fans Will Be Satisfied With Nash's "Blue"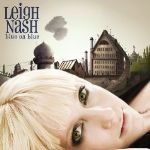 Artist:  Leigh Nash
Title:  "Blue on Blue"
Label:  One Son Records
As the Apostle John neared the end of his life, we can see that his message to the masses became more and more simplified until it was eventually summed up with one word:  Love.

When everything else started to fade away, John understood that love was the only cause worth championing. Love offers hope, encouragement, and joy - three key components to what most people would agree is a "successful" life. For this reason among others, love often comes up as a popular topic of discussion in the arts as we try to understand it better.
For Leigh Nash, former lead singer for the popular group Sixpence None the Richer, love was the most appropriate topic of discussion when her world seemed to crash down around her. Whether it was a rediscovery of love due to motherhood or just on general principles, the songs comprising "Blue on Blue," Nash's debut solo venture, draw inspiration from love. Narrated by her breathy and captivating vocals, the discourse covers the notion of falling into a romantic love ("My Idea of Heaven"), love's sustaining quality ("Ocean Size Love"), the persistence of love ("Never Finish"), the vulnerability of being in love ("Blue"), and more.
Musically, the album brings a fresh round of poppy vocals and strong melodies with the slightest hint of a soulful bent. "Blue on Blue" is not a far cry from the sound achieved by Sixpence years ago, but the passionate delivery of Nash's personal lyrics pushes the album to a new level, allowing listeners to interact more with each song, sensing the authenticity of the message. A prime example of the hooky melodies and endearing vocal is the pop track, "Cloud Nine," a track which, as one might expect from the title, exudes a happy-go-lucky attitude with an enthusiasm that shines through the song. Slowing things down a bit, "Just a Little" offers listeners a rich ballad that draws listeners in and shares the sacrificial nature of love with touches of soul and blues. Other notable tracks include the lead single, "My Idea of Heaven," despite some predictable lyrics, "Along the Wall" and "Between the Lines."
Fans of Sixpence None the Richer should be quite satisfied with this highly-anticipated solo effort from Leigh Nash. Though it does tend to find some well-worn phrases and concepts now and again, the album as a whole feels very new and provides a hopeful outlook as Nash wrestles with the many aspects of love. "Blue on Blue" proves to be a solid release that will leave pop fans happy and excited by the renewed career of Leigh Nash.


© 2006 CMCentral.com.  All rights reserved.  Used with permission. 

Visit CMCentral.com now and join the single largest online community of Christian music fans on the internet.  CMCentral features  daily music news, exclusive interviews, album reviews, weekly devotions and feature articles written by some of your favorite Christian artists, and much more.  CMCentral is also the home of the most popular Forum for Christian music fans that you'll find anywhere on the Internet.  Come see what all the buzz is about!