Soul P Takes One Day at a Time on Hip-Hop "Premiere"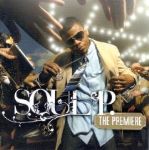 Artist:  Soul P
Title:  "The Premiere"
Label:  Beatmart Records
Life is full of struggles that can make it seem hard, unfair and certainly depressing at times. However, if we spend the whole of our existence worrying about what's going on around us – what's happened in the past or what might happen in the future – we'll never be fully alive, something that we're all striving to experience.
There are definitely moments in time when our past issues reflect on our current circumstances and our future seems to be looming ahead of us despairingly, but we need to focus on the present day and do what we know is right, trusting our future to God and our past to His grace and forgiveness.
Soul P, one of the latest artists signed to Beatmart Records, presents his new project, titled "The Premiere," which offers this perspective on dealing with life as it comes and taking it one day at a time. The track, "Grinding," sums things up nicely, explaining to listeners that we need to continue to faithfully push on, doing what we know how to do, even when it feels like a daily grind. Other tracks echo this idea, including "Do My Thang," which emphasizes the need to express our unique set of talents and abilities to glorify God, and "We Don't Know," which reminds us that our time on earth is short and that our actions in the present directly affect our eternal position.
Clearly, Soul P has experienced a lot of struggle in his lifetime and learned many lessons, but if you're wondering how that translates to his music, "The Premiere" offers a good answer. When the gritty street-wise performer meets the squeaky-clean, pop-oriented sounds that we've all come to expect from Beatmart, the listener is in for a musical treat that you might (tongue-in-cheek) describe as "heavenly," considering that the streets in Heaven are paved with gold (and bling).
Rather than relinquishing the strong hustler appeal that's present on his previous, independent releases, Soul P manages to inject that into the poppy beats, fashioning a result that's mildly similar to that of Kanye West, Nas, or perhaps Jay-Z. Some standout tracks on the album include the single "Whoa, Whoa," simply because it's catchy and should do well on the radio, "Hear My Cry," which features a rather nice, fairly complex arrangement, and "Goodness," a holdover from "The Soul Affect" (independent) with a real organic feel to it and vocal touches from Lisa Kimmey (Out of Eden).
Overall, "The Premiere" has something for most hip-hop fans to grab a hold of. The lyrics ring with honesty and an openness that lends credibility to the project, while the accessibility of the music will draw in fans ranging in tastes from KJ-52 to Grits. Definitely a legitimate "premiere" and a good foot forward for both Beatmart and Soul P.
 
© 2006 CMCentral.com.  All rights reserved.  Used with permission. 



Visit  CMCentral.com now and join the single largest online community of Christian music fans on the internet.  CMCentral features  daily music news, exclusive interviews, album reviews, weekly devotions and feature articles written by some of your favorite Christian artists, and much more.  CMCentral is also the home of the most popular Forum for Christian music fans that you'll find anywhere on the Internet.  Come see what all the buzz is about!