Superchic[k]: One on One
Staff

CCM Magazine

2005

20 Jun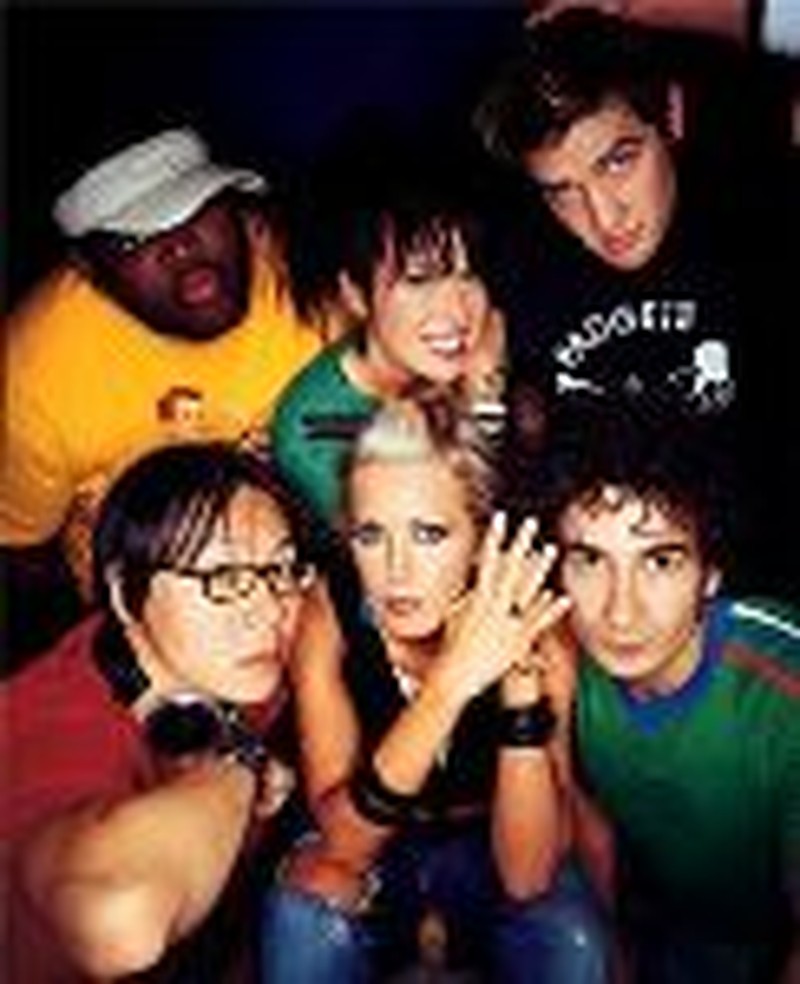 Talk about a fan base! Superchic[k] is all about its fans. The energetic squadron loves reaching out to teens and young adults through its catchy tunes and empowering lyrics, all geared toward the real-life issues they deal with on a daily basis. But that's not all. Whether at home or on the road, Superchic[k] builds real relationships with fans after every show, sharing support, life experiences and words of wisdom. So what better way to get to know Superchic[k] than through the eyes of the ones who know them best — the Super Fans?
DUSTIN GLEDINNING interviews drummer BRANDON ESTELLE
Dustin:  Who led you to become a Christian?
Brandon:  My dad. As a worship pastor, he was always this spiritual figure in my life, and he taught me a lot.
How did you know this is what God wanted you to do?
Before this I was leading worship, playing the piano at a church, and I was also shoveling asphalt. My brother called me and was like, "Hey man, do you want to gig?" [The situation] referred back to that verse about the talents and how you have to [invest] your talents, so I was like, "Well, shoveling asphalt, or traveling and playing drums?"
What are the best and worst parts of what you're doing?
The best is being with five of my best friends and doing what I love to do. It's like full-time ministry. The worst would have to be waking up at 5 a.m. for flights.
With this new CD, what are some of the messages you want people to hear?
A lot of times kids are taught not to question God, but on "Beauty from Pain" we make it clear:  That's a part of life, and you have to ask God, 'Why is this happening? Why is this going on?" We just want to tell kids it's alright to get upset; it's alright to cry, because the turnout is going to be good.
You guys get a lot of mainstream exposure. Do you like the way it's presenting your music?
Yeah, I'm stoked because we've been in more than 60 movies and TV shows, and we're even going to get on this PlayStation game. It's a robot fighting game, but it's presenting the gospel to kids who don't have it. We were also in this recent movie called "Ice Princess" with our song "Get Up."

KIRSTEN HUGHES interviews vocalist/guitarist MELISSA BROCK
Kirstin:  In your song "Hero," you talk about what it means to be a hero. Who is your hero?
Melissa:  My mom is probably one of my heroes because she was always willing to give and be supportive. My other hero is Mother Teresa … she was the best example of how God says we are supposed to give of ourselves.
 
What is some advice that has stuck with you through the years?
It's something my dad used to say to us … Before we went to school, he would hug us and say "Be a leader, not a follower, and help somebody." That really applies to everything Superchic[k] is about. Sometimes it's really hard not to follow the world but to stand apart.
 
What do you do when you are in a bad mood?
Usually I get with all my girlfriends, and they cheer me up. If I wake up in a crappy mood, I know it's because my focus is off, and I haven't been spending enough time with my Bible study. One time I was just in a bad mood, and I didn't know why. That night I was at my girls' Bible study, and I went out and bought them all flowers. Getting the focus off myself really helped me feel better.
 
What is a life experience that has made a big impact on you?
When I was 15 I had anorexia. I dealt with it when I was young and overcame it. It made me see myself not through the world's eyes, and it made me stronger. It also helps me relate to the people we minister to through Superchic[k].
 
Is there a message you want to give to all young girls?
Girls try to find their beauty through the world. I wish I could tell them all, "You're not going to be happy if you keep a worldly view. Losing those 10 pounds or finding the perfect hairdo won't make you beautiful. Unless you realize that we are all beautiful in God's eyes, you won't ever see yourself as beautiful."

COURTNEY EASON interviews lead singer TRICIA BROCK
Courtney:  How is "Beauty from Pain" different for you on a personal level compared to your previous albums?
Tricia:  I got to help with writing a lot more. It's fun knowing that it's my song. I'm more emotionally connected to this album.
How and when did God lead you into the Christian music industry?
I took voice lessons in high school, but I never thought I would go this big with it. My sister and I met Max Hsu at a Christian music festival right after I graduated from high school, and he convinced us to join his band. I started doing local shows … and God just gave me the opportunity.
What is God currently doing in your life?
Life has been really confusing for me for the past year, but through that God became really real to me. I started reading the Bible more than ever, and my friends really encouraged me. When I'm struggling, I know that God gets me through.  
What encouragement would you give to teens struggling with morality in everyday society?
It's so easy to get sucked into the world's standards. Purity starts in your heart. If you really devote yourself to God, then every day is a new start. We can decide every morning when we wake up, "Today I want to live for God. I want to be pure and loving.
If you could say one thing to your fans, what would that be?
Keep in mind that life is not about what we feel and what we want. There is a bigger purpose to what God wants for us. Just focus on God. Just place everything in Him, and the things that get us down will matter less and less.

RACHEL MACZUZAK interviews  keyboardist/dee-jay/producer MAX HSU
Rachel:  Do you write the music first or the lyrics first?
Max:  Usually the music first. In my Smartphone, I collect ideas and thoughts. The song "It's On" was a whole bunch of ideas I've collected for a long time. The lyrics were probably written in an hour, but I spent a year collecting them.
Do you feel that the time and effort you've put into Superchic[k] have been worth it?
I think when we get into ministries, we get into it to minister to people, but we get changed ourselves.  I got a letter from a girl who said that everyone used to make fun of her little brother who had reading problems, but after listening to our song "Hero," they've stopped. It's God using us to talk to people when sometimes they don't hear Him any other way, and I feel grateful to have been a part of that.
If you never started Superchic[k], what would you be doing now?
I started out in video. I shot music videos for Crystal Lewis, and I was originally going into film. I might also be doing church planting or helping other bands. I'm not necessarily a musician but someone who's trying to make societal changes.
 
What are your five favorite movies?
Probably "Rudy", "The Shawshank Redemption", the original "Star Wars", "The Matrix" and "Fight Club" — the answers are wrong, but the questions are right in that movie.
What's the story behind "Princes and Frogs?"
Tricia was having problems with the guy she was dating, so I sat down and wrote her a little song and sang it to her that night. I brought the song to my songwriting group, and they thought it was funny. I rewrote it from a girl's point of view so Tricia could sing it, but it didn't work as well, so we kept the guys on it.

DEVIN SMITH interviews lead guitarist DAVE GHAZARIAN
Devin:  How did you become a member of Superchic[k]?
Dave:  I'm actually one of the founding members along with Max. We used to be in a band called Church of Rhythm. After about two or three years of that, we split up, and we were like, "What are we gonna do now?" We used to sing a song called "Life Worth Fighting For" that Max wrote about suicide. And a lot of people would come up to us after the show, specifically girls, and talk to us about it, and they included things going on with self-esteem issues. So we decided we needed to start a band that dealt with those issues and also have girls who would be able to interact with other girls after shows. And that worked out when we found Tricia and Melissa Brock.
When did you first start playing the guitar, and how did you develop your skills?
I saw the movie "Back to the Future" in sixth grade. It was probably my inspiration, because I saw Michael J. Fox do that solo. For a week and a half after the movie, I kept bugging my dad to get me a guitar, so we finally got one — used, from the newspaper. So I would just buy tapes and listen to stuff that I liked and try to imitate it. I would literally lock myself in my room for five to six hours after school and just practice.
What do you like to do in your spare time?
I work out at least a handful of days a week. And I still practice the piano a lot. I write music, and I write devotionals when I'm working on things for a small group. I'm designing a guitar pedal. Lately I've been taking pictures.
I've heard that you think "Beauty from Pain" is your best CD. What makes it so different from the other CDs?
With this record, we took our time and said, "We're not going to release it till it's totally done." We've also learned a lot about recording and writing. From a sonic standpoint, it sounds a lot bigger than anything we've done in the past. We have Brandon playing drums for us now, and we finally have all the people who really make it gel 100 percent.
Why did you leave the band for a year?
I was getting a little bit burned out. We were just starting to gain momentum with Superchic[k], but it had been such a long road that I didn't even care. It took leaving and taking a break to recover from being on the road for so long. God has really filled your life with certain abilities and talents to do what He has set out for you to do. I came to that realization about eight months after I had left, so I came back with a renewed attitude and energy.

CAITLIN SHAFFER interviews bassist/vocalist MATT DALLY
Caitlin:  Who thought of the name Superchic[k]?
Matt:  A friend. We originally were called Superchic, but people were calling them Superchic (pronounced sheik). They decided to add the number 11 onto the end because it stands for the letter K, which is the 11th letter in the alphabet. No one was catching on to that, so they decided to add the K.
 
What instruments can you play?
I used to play the drums when I was younger. My brother, Ben, also played the drums, but he excelled. One time, my friends called and said they wanted to jam with Ben. I offered to jam with them instead, but they told me, "No, that's OK." In high school, I played the jazz guitar in the jazz band. I now play the bass guitar.
What was your most memorable concert?
It was a concert in Australia, the first time I had been there. The show was held by a secular radio station. I thought we were an opening act for some other group, but we were headlining! There ended up being 20,000 kids that came out for the show, and they were all singing the words to Superchic[k]'s songs.
 
Do you have any weird talents?
Well, I used to sell women's clothing, and I was very good at it. I am a good salesperson. I like fashion design, and I could just dress people up all day.
What are your fears?
Car accidents and terminal cancer! I also hate bananas. I don't like the smell, texture, taste or anything of a banana. I would rather eat a bug than eat a banana!

© 2005 CCM Magazine.  All rights reserved.  Used with permission.  Click here to subscribe.