Superchick: Rockin' What They've Got
Andy Argyrakis

CCMmagazine.com

2008

18 Jun

COMMENTS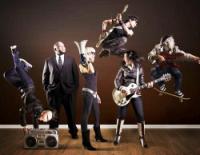 The term "rock-o-tronic" may not look all that familiar, especially as genres such as rock & roll and electronica are often separated by a 10-foot pole. But then again, Superchick's been anything but conventional throughout a tenure that's spanned all of the 2000s thus far, often blurring lines between pop, rock, hip-hop and now an electronically enhanced landscape throughout Rock What You Got (Inpop).
"The label kind of came up with the word 'rock-o-tronic' when they heard the new songs for the first time. And the thing is, we've never fit into any one genre," asserts front woman Tricia Brock. "The album's more rock than we've ever been. The vocals are really rockin' as well, and musically there are a lot of electronic elements, which is one of [producer/group member] Max [Hsu's] biggest strengths. He's a guy of the '80s who loves hip-hop, disco and funk beats, and he could program a whole album in an hour if he had to! So if people want to call it that, I feel like it fits, and it's cool because it's our own little sound. I don't think the album sounds like anything that's out right now."
Brock is indeed onto something as Rock What You Got explodes with guitars, synthesizers, programming and her own assertive vocals, inspired by a series of seminal retro rockers like Blondie, Pat Benatar and Cyndi Lauper. On one hand, the group provides a hearty throwback to those seminal stars of yesteryear, while simultaneously introducing those sounds to younger audiences. Though members make sure to put their own stamp of ingenuity on all aspects of the material.
"Our guitarist Dave [Ghazarian] literally learned to play from Van Halen, while [fellow vocalist/guitarist] Melissa [Brock] and I love '80s chick rock," Tricia verifies. "We're trying a ton of new things vocally and lyrically where some of the songs are almost like dance tracks with great beats and grooves, and others are more mellow but really artistic—along the lines of Frou Frou or other artists with a lot of programming and harmonies."
Though the band is justifiably proud of all these stylistic steps forward, the message remains paramount in the overall Superchick equation. For starters, the title track revolves around the idea of making the most of any circumstance, no matter how much the odds are stacked against someone. "Max wrote that song after being at Target and seeing this older guy riding around in a motorized cart," Tricia explains. "It looked like he couldn't walk, but he had a suit on, his hat cocked to the side; and he was leaning back in his chair giving head nods to people he passed as if to say, 'What's up?' He was the happiest guy with such a great attitude, and he was really rocking what he's got!"
Even deeper are the extensions of 2005's Beauty from Pain, a record birthed from a series of challenging circumstances (including break-ups, illness and death). Though Tricia and the entire troupe have since ironed out their difficulties thanks to an intense period of spiritual refinement and growth, they still feel compelled to connect with the hurting.
"We feel like this is naturally the record that's supposed to come next after all of those struggles—family problems, health problems and Dave suddenly losing his dad," she sums up. "But now we're at a new place where we've learned so much from God, and these songs are a reflection of that maturity. There's a song called 'Hold' that expresses those feelings of asking, 'God, where are you?' but knowing how much we need to cry out to Him. 'Breathe' is written for somebody in your life who's ready to give up and being there for them. We want to encourage people to do the best they can no matter how difficult the situation they're going through and to get to the point where they can say, 'I have life to live today, and there's not much to give, but I'll do what I can!'"

To learn more about Superchick's Rock What You Got, visit superchickonline.com.

© 2008 CCMmagazine.com. All rights reserved. Used with permission.

**This interview first published on June 18, 2008.