The 2 Detty Sisters Perform 'Thank God I Am Free' Hymn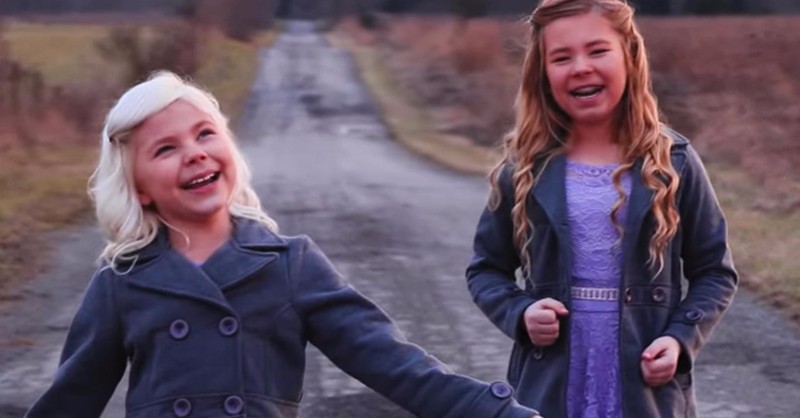 The Detty Sisters worship our Lord with a beautiful rendition of the classic hymn, 'Thank God I Am Free.' These words remind us all that Jesus' death freed us all from our chains.
"Thank God I am free, free, free
From this world of sin
Washed in the blood of Jesus, and then born again
Hallelujah I'm saved, saved, saved
By His wonderful grace
I'm so glad that I found out He would bring me out
And show me the way"
The Detty Sisters are comprised of four country cuties from southern Ohio. Peyton, Cadie, Lily and Sophia have all been singing worship songs since a very young age. Peyton and Cadie would sing in church and it eventually transformed into playing other venues and even releasing an album.
Today, the two older sisters are using their God-given talent to praise the Lord with 'Thank God I Am Free.' Just listen as Peyton and Cadie belt out these beautiful lyrics.
"I'm so glad that I found out He could bring me out
Through His Holy Name"
It is always such a blessing to watch the younger generation worship the Lord and that is exactly what the Detty Sisters are doing right now. And 'Thank God I Am Free' is the perfect song to sing of His many blessings. Who else is singing along and lifting their hands in the air right now?
2 Corinthians 3:17 "Now the Lord is the Spirit, and where the Spirit of the Lord is, there is freedom."
Photo Courtesy: Youtube
Related podcast:
The views and opinions expressed in this podcast are those of the speakers and do not necessarily reflect the views or positions of Salem Web Network and Salem Media Group.