The Almost: It's Almost Time
Brian Quincy Newcomb

CCM Magazine

2007

11 Sep

COMMENTS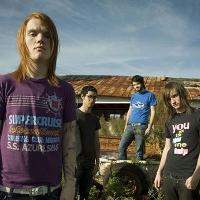 "It's such a cool feeling being on stage and playing 'Amazing Because It Is,' and there's 600 to a 1,000 kids singing along to 'Amazing Grace,'" says The Almost's newest member, Dusty Redmon. Redmon joined up as second guitarist in Aaron Gillespie's Underoath side-project, and moments like this one have signaled that he made the right choice.
"You know that a lot of those kids haven't been to church in a while," he continues. "To me, it's like when U2 plays '40' at the end of their set, and there's 40,000 people singing Psalms 40. It's hard for me not to believe that God is doing something in moments like that. It's really encouraging."
Indeed. It is.
But to many of the brightest and best minds in the music industry, the recent mainstream commercial and critical success of Underoath, and now Gillespie's second band The Almost, comes as a bit of a surprise. Put simply, his two young enterprises have defied the limitations often experienced by outspoken Christians in the world of rock & roll.
Underoath's Define the Great Line debuted in June 2006 at No. 2 on the Billboard Album Chart and has effectively sold more than 360,000 copies. The March debut from The Almost, Southern Weather, promoted in a unique partnership between Tooth & Nail and Virgin Records, similarly leaped to No. 39 on the album sales chart, moving 29,000 copies its first week. The Almost's video for lead single "Say This Sooner" quickly entered "Big 10" rotation on MTV, as the track became a Top 10 hit at Alternative Rock Radio by press time.
Young and Aspiring
And all of this because Gillespie fought off boredom during a lull in the recording of Define The Great Line by writing songs. The Clearwater, Fla.-native says, "When we do records, I have a lot of down time because I play drums and then wait to do vocals; so I have five weeks or so to do a whole lot of nothing. This year, I decided to use that time to write a record."
Gillespie had written two songs while Underoath was out on a tour with Thrice—"I Mostly Copy Other People" and "Never Say 'I Told You So'"—which he recorded in New York City, playing all the instruments himself. Then, with five weeks off in the recording process, he says, "All of these songs were written with the intention of making a record."
There's a sense of immediacy in the rock & roll of Southern Weather that Gillespie says is rooted in this self-imposed challenge: "I just felt like I had to do it in that time frame. When I was writing, I decided I'd record the rest of them the same way."
But Gillespie assures us, at this point, that this doesn't mean a break in Underoath, for musical differences or any other reason. "I'm very much fulfilled musically and artistically by Underoath; I just really wanted to make some songs that wouldn't necessarily fit that format, which I think is a healthy reason for a project like this."
Musically, he says, things were going to be more in the pop/rock vein—more melodies, crunchy guitars, singing rather than screaming. And lyrically, "I wanted to create a bunch of tunes you could listen to driving in your car and just make your own. I wanted to make the lyrics and descriptions and titles of things big enough that people could make into what they wanted it to be for themselves."
Redmon, formerly of Beloved and Dead Poetic, says of the songs, "The lyrics are so transparent; Aaron's pretty much put it out there. It's definitely the most spiritually straight-up thing I've been involved with."
The Impact of Reason
For Gillespie, and the rest of his new bandmates, that's quite all right. There's no sense in trying to be anything other than a "Christian band," since Underoath proudly carries that moniker, and it falls naturally on The Almost.
"I'm a Christian guy," says Gillespie, "and I'm in a Christian band. That's who I am; I'm in a Christian rock & roll band. People ask if that's pigeonholing yourself. I'm not into compartmentalizing or alienating people, obviously, but I think that God meant for us to be all things to all people and to tell people who we are as Christians. I'm a Christian, and my life should always reflect who I am, so why shouldn't my music reflect that?"
Still, Gillespie feels that the Christian music industry has grown insular, at risk of putting our light under a bushel. For him, and for his bands, there has been an honest attempt to be true to themselves as people of faith and yet tear a hole in that glass ceiling.
"We have such a chance to make an impact," he says, expressing the desire for Christians to share their art and voice with the world. "We have such great talent, such great ideas. Everyone I've met in the Christian industry is compassionate, and they're great, yet we put ourselves in a small box. I don't often tour with Christian bands, because I don't really believe in preaching to the choir."
Thus, The Almost, following Underoath's lead, plays in major mainstream venues often with general market acts, like the wild and wacky, punk-driven multi-band "Warped Tour," which The Almost is playing all summer (with Underoath picking up a few dates near the end). Underoath left the tour last year in controversy as some press suggested that Fat Mike of NOFX had taunted the band for its faith, causing the band to walk away. Gillespie denies Fat Mike's impact on the band's decision, saying they had been on the road for nearly eight years and desperately needed a break to rest and regroup. The fact that they'll return this year makes his point.
As for the other labels that can perplex a band, reviewers have been quick to label The Almost as "emo," while Underoath was deemed "screamo." "Those terms," explains Gillespie, "were an attempt, five years ago, to describe emotional rock or emotional rock with screaming." Gillespie finds this unhelpful. "Would someone call Led Zeppelin emo? But can you think of more emotional rock than that? Anyone who'd call [The Beatles'] Abbey Road an emo album would be laughed at. Those titles are meaningless. Most good rock is emotional by definition, but I've been blessed by a love for all kinds of music."
A reference that has greater resonance are comparisons to former Nirvana drummer Dave Grohl's first effort as Foo Fighters, where he similarly recorded solo, playing most of the instruments. Southern Weather rocks in the buoyant pop/rock style of the Foos, with an emphasis on melody, space between the guitar riffs and variation in pace and tone. "Say This Sooner," once called "Johnny Cash" because of its rockin' train rhythmic shuffle reminiscent of his work, packs plenty of guitar punch but skitters to a halt and shifts gears to create something original and appealing. It's nothing like the more aggressive and extreme voice that dominates Underoath.
I've Got 4 Friends and a Crowbar
In the end, it was the music and love and respect for Gillespie that brought the other members into The Almost. Jay Vilardi (guitarist) plays the role as second-in-charge so that Gillespie can maintain his active role in Underoath, which is complicated further by his job as a guitar tech on the road for Underoath. It's one thing to get new bands to commit to music they're making as they go; it's quite another to form a band around music that one individual has written and recorded from his singular vision. Still, Vilardi says, the band—which also includes Alex Aponte (bass) and Kenny Bozich (drums)—practically runs itself these days. "I've never worked with a more enthused and supportive group of guys. Given Aaron's and my schedule, a lot of this depends on them picking up the pieces, and they've been great about it."
But it's rock & roll, not rocket science. The latest to join The Almost, Redmon recounts early rehearsals with Aponte and Bozich to learn the songs, while Gillespie and Vilardi were out with Underoath. "I was pretty intimidated. They were the tightest rhythm section I've ever played with, and then Jay showed up; he's an awesome guitarist. I think we had one full band rehearsal before I went out on tour, so the first show was great. I felt comfortable as soon as we walked out there. This is the most fun I've had in a band in a really long time—it feels so fresh to me."
To Whom It May Concern
While Gillespie's songs for Southern Weather are directly spiritual, they also allow lots of room for the listener's experience. "Copy" addresses the rather disposable quality of modern life and art; "Everyone Here Smells Like a Rat" targets the denial that goes hand in hand with substance abuse; "Everything That Makes Me Sick" takes on fear, itself, and how it diminishes everyone and everything.
But it's "Amazing Because It Is," with its reconfiguring of "Amazing Grace" in a horn and string arrangement by Sixpence None the Richer's Matt Slocum, and a children's chorus choreographed by producer Aaron Sprinkle (Anberlin, Eisley), that gives the record its center. Planted between songs that confess being "Dirty and Left Out," dishonest and afraid, is a word of hope and forgiveness.
"I think 'Amazing Grace' is the most gorgeous song ever penned," says Gillespie. "Grace is something that no matter who you are, where you've been or where you're going, how bummed, sick, old, young, poor or rich—or whatever race you are—grace is something that people can't live without. Every person on this earth needs grace. That song just transcends all boundaries. I think having that song on the record just shows that I'm on an even plane; I'm just as dirty and in need of grace as anybody else."
Vilardi agrees. "The only difference between us and folks who live down the street who don't believe in God is that I know who Jesus is and what He did, and they may not even care, but that's my job. It's my job to care, it's my job to get out there and speak for, and speak to, wounded kids. And the best place to find those kids is at a rock show. It's not our job to point out other people's flaws. We have flaws personally, but we turn to someone named Jesus, and here's what our music sounds like . . . and that's the bottom line."

© 2007 CCM Magazine. All rights reserved. Used with permission. Click here to try a free issue.