THE PRINCE OF EGYPT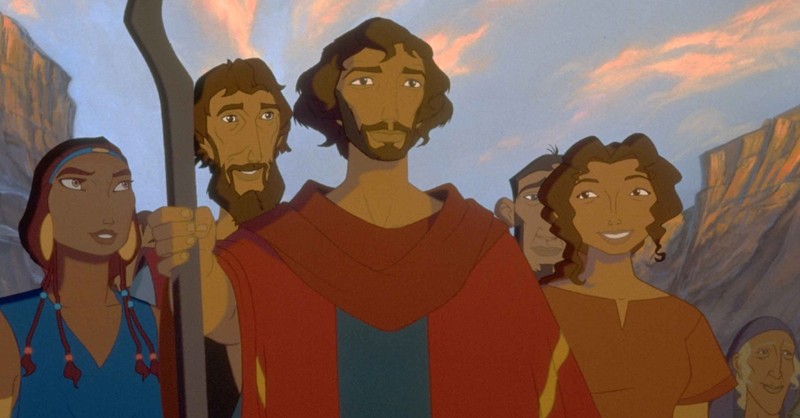 "Here's what the essence of the movie was: It's the power of God against the power of man, and God won."
--Fred Hammond

By Dan MacIntosh for Crosswalk Music
Note: Just click any hot link in this article to visit more artist and album areas on our site dedicated to The Prince of Egypt and its participating artists.
The animated film, The Prince of Egypt has been called a "timeless story of Moses and the messages of faith, hope and freedom in God," but the three soundtrack albums that accompany this DreamWorks release could easily be titled "The King of Soundtracks."
Actually, there is only one 'official' soundtrack to the film: Prince Of Egypt - Original Motion Picture Soundtrack. It features music from Amy Grant and a diva duet by Mariah Cary and Whitney Houston on "The Prince of Egypt (When You Believe)." But it's the other two discs - "inspired by the film" - which should be of the most interest to Christian music listeners.
One disc - aptly named Prince Of Egypt - Inspirational - employs a soulful approach to expressing the story of Moses in song. Its credits list a veritable who's who of gospel talent, including Take 6, Ce Ce Winans, Be Be Winans Fred Hammond & Radical for Christ, Kirk Franklin and Shirley Caesar. Additionally, it includes selections from a few big name mainstream Christian artists, such as Carman, Jars of Clay and dcTalk.
This recording was produced primarily by the veteran production team of Buster & Shavoni, who also rounded up secular R&B superstars like Boyz II Men and Brian McKnight for the occasion.
"The seed for this project was planted by Buster & Shavoni," remarked Jheryl Busby, DreamWorks Records Urban Division head. "They assembled artists from R&B to pop to deep soul gospel they've covered it all. The common goal we all shared is to lift the music beyond traditional boundaries."
The artists who appear on these soundtracks were first shown the movie, then asked to write about whatever inspired them.
"Here's what I told one guy, who saw the movie with me that night," recalls Fred Hammond, who contributed the song "Power" to the Inspirational disc. "Here's what the essence of the movie was: It's the power of God against the power of man, and God won."
"I think it's very diverse," says Hammond of the Inspirational soundtrack. "I don't think there's too much of one thing or another. I think all of the artists really captured what they saw on screen."
The last part of this soundtrack trilogy goes by the geographical name of Prince Of Egypt - Nashville, and sports the cream of Guitar Town's crop. Names like Wynonna, Randy Travis, Alison Krauss, Pam Tillis, Vince Gill, Faith Hill, Reba, Clint Black, Alabama and Charlie Daniels say it all. Boot-wearing Christians may also have a hankering for this release, since it also includes twangy cuts from Steven Curtis Chapman and Gary Chapman.
"We're allowing the music to be individual to the artist, it may go in different directions, but there will be a common theme that runs throughout because it is inspired by one story," says James Stroud, executive producer of the Nashville album. "Though we have country music voices singing the songs, it's not necessarily a 'country' album. It's fresh, and it's unique, because it is rare to have such a wide variety of artists on one record."
Christian Music distributor Provident Music Distribution is servicing all 3 recordings to the Christian market. "I am extremely pleased at the opportunity to partner with DreamWorks Records in a project that has far-reaching implications in the Christian world," says Don Noes, Sr. Vice President of Sales and Marketing for Provident. This biblical tale set in the Middle East is, after all, a Hollywood movie and its cast would make most any casting director green with envy. Although their faces are never on screen, movie-goers will hear the voices of Val Kilmer (Moses), Michelle Pfeiffer (Tzipporah, Moses' wife), Sandra Bullock (Miriam, Moses' sister), Jeff Goldblum (Aaron, Moses' brother), Patrick Stewart (Pharaoh Seti), Steve Martin (Palace Magician), Martin Short (another Palace Magician) and Danny Glover (Jethro, Tzipporah's Father).
While some of these soundtrack songs were written by the artists themselves, most were composed by Academy Award-winning songwriter, Stephen Schwartz, best known for his work on many of Disney's successful animated films, including Pocahontas. The score was composed by another Disney alumnus, Hans Zimmer, who won an Academy Award for his contribution to The Lion King.
Christian music listeners will be glad to know that Steven Curtis Chapman himself wrote "Heartbeat of Hope" for the project, Gary Chapman was inspired to compose (along with Michael Omartian) "You Are My Light," and dc Talk had the very good taste to cover "My Deliverer" by the late Rich Mullins.
If indeed the "Prince of Egypt" goes on to become the "King of Soundtracks," it will most certainly deserve this crown.

Click here to check out crosswalk.com's Prince of Egypt resource page for articles, reviews, comments from MovieGuide's Dr. Ted Baehr, the best multimedia downloads, products and more!
Photo Credit: © DreamWorks Animation