The Purpose to Disciple's Melody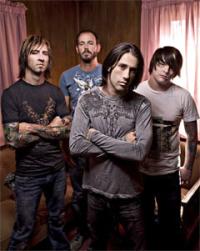 Disciple's vocalist, Kevin Young, is about to combust on the other end of the phone, so proud is he of his band's new disc, "Scars Remain." "We're having so much fun, I don't know what to say about how excited we are about it." In the midst of release-week madness, he's not complaining about being road weary; instead, he's buzzing about how much fun they're having, now almost 15 years into their career.
"We're having a good time every night. You're not supposed to have this much fun at your job," Young says. "These songs are geared toward our audience, and we're seeing them really respond. With anything you get tired of it, but that's not even close to where we are right now."
Disciple made a big leap in 2005 when the band signed on as the flagship artist for S/R/E Recordings, part of INO (MercyMe, Derek Webb), and then released the self-titled S/R/E debut to the mainstream market as well. And the band had the No. 1 Christian rock single of the year ("The Wait Is Over"). And two additional No. 1 rock singles. And two Dove nominations. And … well, you get the picture.
Of "Scars," Young says, "The biggest difference to a Disciple fan is that it's a little harder, edgier. We've always tried to make good songs. On the last two albums, we've said, 'If it's good, don't quit writing it. Write it again – take a good part and make it great.' That's the same process we used on this album, but somehow the songs came out harder. We feel like we've put out our best record."
It's off to a fast start: first single "Regime Change" has leapt out of the gate. Young says it's about becoming a believer and the "call to ... take ourselves off the throne of our lives and put Christ there. In Romans 12:2, it says, 'Be transformed by the renewing of your mind.' That's really where regime change takes place."
"Game On," another likely single, landed a bushel of TV placements well before the record launched. "ESPN used it for 'NFL Live.' Fox used it for their sports show, and we were the theme song for a WWE event we went to on Sunday." Christian music and wrestling, huh? "That's not a Christian organization, but it's a great opportunity to get our music in front of a lot of people — to have a positive impact on their lives."
For "Scars," the band returned to Travis Wyrick, who's produced all of their projects. Though his resumé's lined with projects for Pillar, Spoken, even the next P.O.D. disc, "we were the first band he produced," Young says. "He wasn't a Christian back in the day, and we saw him become a believer.
"I think, for me, at the end of the day, there's nothing greater than having someone come up and talk about how a song has impacted their life. You can sell 500,000 CDs, but that doesn't compete with someone's life being changed. If that happens because of this album, that's all that matters to me. We hope other good things happen as well, but those are just good for magazine interviews," he laughs. "The other stuff is what really matters."
The band is on the road with Family Force 5 this spring.





© 2007 CCM Magazine. All rights reserved. Used with permission. Click here to subscribe.


Check out all of the great Disciple music videos at Godtube.com!