This Is My Story. This is My Song.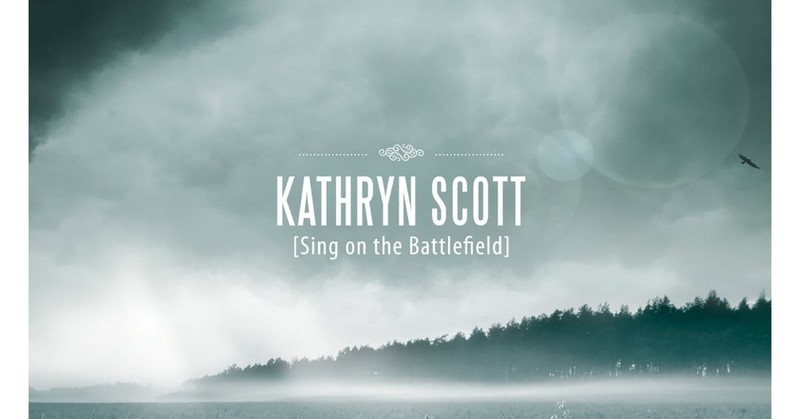 My husband, Alan, and I planted the Causeway Coast Vineyard Church in Northern Ireland back in '99, and what a courageous community of people they are to lead! We regularly pray for healing on the streets of our town and are seeing a staggering amount of people coming to faith. (As I write, there have been nearly 2,000 since February '14.) We are a church committed to risk; but with risk comes disappointment, for all is not as it will be yet. And with disappointment comes an increasing responsibility to keep pressing in so that we don't back off from the Father or the things He has asked us to do. There are times when that can leave us weary.
The song "Sing on the Battlefield" was born as I tried to describe the image I saw of this in my mind's eye. I was standing on a battlefield, sword drawn and bloody, but felt almost too exhausted to lift it any longer. And then I caught a glimpse of Jesus, right there in the midst of the fray with us, and He took my breath away. I had to sing in response. This is the King who has won us so completely, who chooses to position Himself with us in the middle of whatever we might be facing, and graces our hearts to believe again.
The rest of the EP grew around the same theme — the goodness of the Lord in the midst of the struggle of life. Songs like "We Still Believe," which I've recorded before, expresses the sense of family we share as the Church… singing our hearts out. Regardless of the circumstances we face, "We still believe/ We're still surrendering our hearts/ Your faithfulness is our reward." And "Sovereign Over Us," written by Aaron Keyes, gives voice to the truth of the way God turns what the enemy meant for evil for our good. That is stunning, life-giving truth!
We need to sing truth over our circumstances and into our souls if we want to journey faith for the long haul. There are plenty of voices clamoring for the attention of our hearts; many claiming to be truth. But we serve a King whose voice carries the authority of another world. His voice, His words begin to redefine the reality we walk through if we don't give up. Sometimes, His authority literally changes the circumstance, whether that is sickness, disease, financial desperation, marital break down…whatever the mountain is, and we see extraordinary miracles. Other times, nothing seems to change, but the grace we step into, the strength that envelops us as we yield to Jesus in the middle of it, is otherworldly in and of itself — and we are changed.
My longing for this EP is that it might help put strength back into other battle-weary hearts and let them sense the presence of Jesus where they take their stand; shoulder-to-shoulder again with their Savior.
*Best-known for penning the worship song "Hungry," Kathryn Scott is a worship leader and senior pastor at Causeway Coast Vineyard Church in Northern Ireland. Her new EP, Sing on the Battlefield, is now available at all digital retailers. For more info, visit www.kathrynscott.org.
**Published 10/3/2014