Three of a Kind
Merrill Farnsworth

Contributing Writer

2004

9 Jan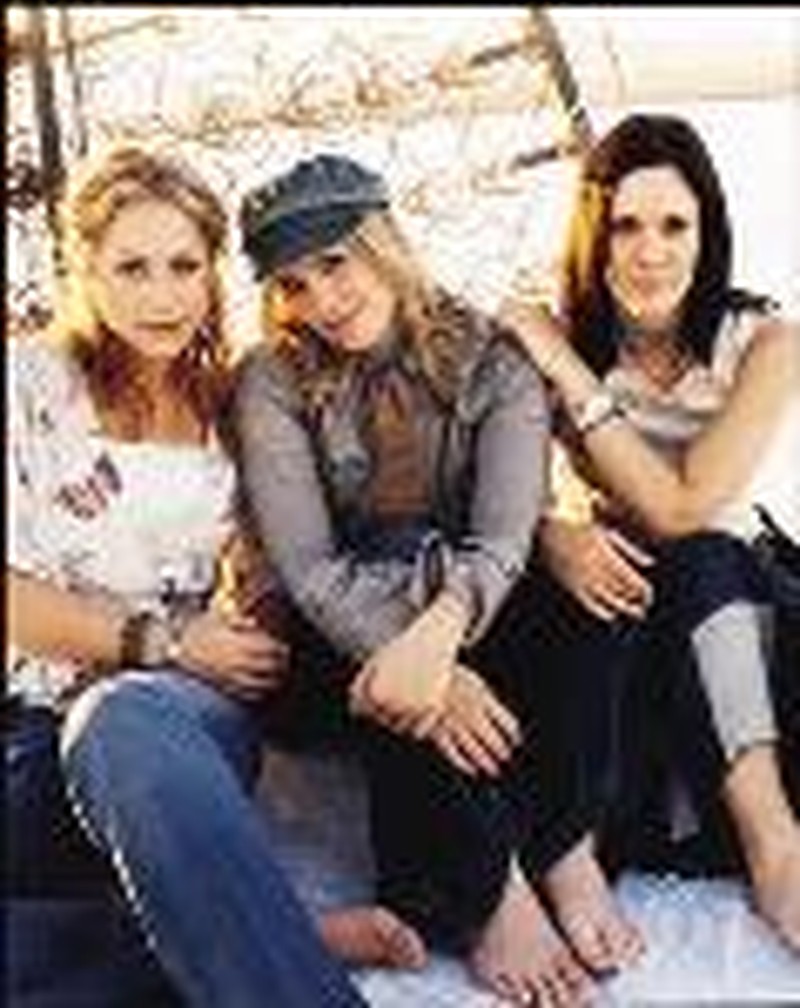 Where it All Began:

A few years ago, artist manager Norman Miller surveyed the Christian music landscape and said to himself, "I see a need for a girls pop group." Shortly thereafter, Miller, creator of the award-winning Avalon, and Lynn Nichols, writer, executive producer and former A&R guy for Sparrow, joined forces to create one.
Miller first approached Alisa Girard, daughter of the legendary Chuck Girard who is known for his radical ministry while a member of LoveSong.  "I'd known Alisa since she was 2 years old and heard some of her demos, which were great," says Miller, "We decided to build the group around her."
After Alisa agreed to join the as-yet-unnamed group, Kristin Swinford was next. She was discovered in a Nashville coffeehouse where she performed with a group that incorporated jazz into its edgy style. "We started with Alisa's sound," says Nichols. "She had a real writing sensibility. Then we heard Kristin sing and play the piano. She had a pure pop voice, and it was a really interesting mix with Alisa's more gritty style. Then we said, 'Let's just see what unfolds.'" The decision to join was more difficult for Kristin, however. "I felt like I was betraying them [her previous group]," Kristin confesses, "but at the same time I felt a pull to ZOEgirl and felt led to meet Alisa." An instant bond formed between the two, and Kristin made her choice.
Then, the search was on for a third girl. Kristin mentioned to Nichols that a friend of hers had "a friend in Atlanta who was playing in a band and working with some musicians" [who later turned out to be Pink, Baby Face and Boyz II Men]. Nichols laughs at his initial reaction. "It sounded kind of flaky, but I told Kristin to give her a call." When Kristin got Chrissy Conway on the phone, it was a case of spontaneous friendship. "I was on the verge of signing a major record deal," says Chrissy. "My lawyer thought I was crazy for wanting to join a Christian group. He told me I'd never make any money." But, according to Chrissy, she's never looked back.
Creating an Image:

In 2000 the three singers signed on to become Sparrow's all-girl singing sensation. However, the new group needed a name. Several possibilities made the list, but "ZOE" (Greek for "life") was the favorite. When a trademark search revealed "ZOE" was unavailable, "girl" was added, and a new group was born.
 
Next phase? Imaging. While Britney Spears was the "it" girl of 2000 with her provocative dress and performance style, ZOEgirl purposefully went in the opposite direction. And while these women say they never felt "misrepresented," the sudden rush to project them as the perfect Christian girl group was a bit overwhelming at times.
"Even though it wasn't what I'd envisioned myself doing," Alisa admits, "there was never a moment I felt I was misrepresenting myself before God. I'd change some of the outfits we wore, though. And I didn't like being called 'prissy pop.' Nobody had ever called me prissy in my life." Kristin comments, "Sometimes we didn't sound that great, and you could hear every breath; but we refused to lip-sync. What kept us going were the mothers and kids being touched. If music critics called us 'disposable pop' and didn't get what we were doing, it was OK. It wasn't for them."
With its name and image secured, it was now Nichols' and producer Tedd T's (Jewel, Faith Hill, Stacie Orrico) task to shape the hit-making ZOEgirl sound. The two were thrilled to discover the singing/dancing performers were also great singer/songwriters. "Each girl was really different, " says Nichols, who describes Alisa as the "Rock Chick," Chrissy the "R&B Woman" and Kristin the "Luscious Pop Voice." "I wanted Tedd to focus the sound because I was afraid it would get scattered." The result of the first collaboration was "ZOEgirl" (2000), a collection of lighthearted pop songs that showcased each girl's talent. The record was a success, garnering a hit single, "I Believe" and selling more than 350,000 albums to date.
Women at Work

Soon after, ZOEgirl hit the road with Carman and then Avalon. The group hired *NSYNC choreographer Tony Michaels to take its stage show up a notch. "In the beginning it was an adjustment to me. I'd never had to dance and sing at the same time," says Alisa. "It was frustrating. But I was into the 'mission' of it.  We even trained for it, jogging and working out. We could see how much our audience loved it, so it became fun after a while."
And the numbers proved that audiences liked it as well. In 2001, the sophomore album, "Life" (Sparrow), released, successfully selling more than 120,000 albums in 2001 and almost 370,000 to date. Tours with Plus One and Newsboys followed, and, by the end of the next year, the group had released "Mix of Life" (showcasing a new R&B and rock vibe) and won the "New Artist of the Year" honor at the Dove Awards.
Coming Into Their Own:

This year, however, has turned out to be probably the biggest year of change for these three women. They hired a band, which, according to Mike Jay (Proper Management), "was a turning point in their musical style." As the girls began playing guitar and keyboard onstage, the choreography faded away. Worship has also become vital to each concert, and the girls feel more free to reveal deep, uncensored feelings. Audiences have poured out their hearts in return.
 
In addition, the group's third record, "A Different Kind of FREE" (Sparrow), reflects a new musical direction. "It's true this CD is different," notes Alisa, "but it frustrates me when people say, 'You're a rock band now.' We've stayed true to our pop roots. We don't tour with dancers anymore; but when we did, it wasn't a misrepresentation of who we were." And beyond it being a good representation of three people, Chrissy says it's evidence of growth. "We might have a more live sound now, but just as the second record was a jump from the first, the third is a jump from the second. We wouldn't do anything that didn't reflect who we are. I'd love to keep the same exact audience, but I don't know if we will or won't. For each person we might lose, I think we'll gain new ones."
"On this record they're really reaching out and saying exactly what they want to say," says Mike Childers, ZOEgirl's drummer and Alisa's new husband. Says producer Tedd T: "This is their record from top to bottom. It's a totally honest statement of who and where they are."
And where do they want to go from here? You'll just have to wait to find out. "We've sacrificed so much to be in this place, and we want to keep going," Chrissy says. "We have a lot of plans for the future. It's full steam ahead for as long as God wants us to be doing this."
Best of Friends
After four years in the studio and travel on the road, the three women in ZOEgirl will readily tell you they are the best of friends. Here's what they had to say about each other:
Alisa, according to Kristin and Chrissy:
Strong, driven, wise, incredibly deep, radical heart for Christ
"I don't feel strong. I tend to be emotional. When someone misunderstands my motivations I can get my feelings hurt."
— Alisa
Kristin, according to Alisa and Chrissy:
Compassionate, genuine, peacemaker, warm, never too tired to minister to others
"Sometimes I feel tired, like there's nothing left to give. I need to learn how to say, 'No.' But there's no way I can leave without that last little girl getting a hug."
— Kristin
Chrissy, according to Kristin and Alisa:
Fun-loving, driven, lovable, thoughtful, madly in love with God
"When I first became a Christian I didn't hang out with other Christians or find the right church. I didn't realize how much darkness I was living in. Now I'll never underestimate the importance of fellowship."
— Chrissy
Love Is in the Air
Alisa, Chrissy and Kristin have been through all kinds of changes, musically speaking; but their personal lives have also shifted gears since ZOEgirl's beginnings.
In May 2002, Kristin married her high school sweetheart, Ryan Schweain. "I am blessed because Ryan is so supportive. He knows the desires of my heart. He's so selfless and supportive that I want to do the same for him. His answer is always, 'You're doing what you're supposed to be doing, and that makes me happy.' It's tough being away from him, but Chrissy and Alisa are always trying to help find ways for Ryan to come see me. We're all supportive of each other's home lives. That's what keeps us strong."
Alisa recently married ZOEgirl drummer, Mike Childers. "Since I've been married I've come to the most amazing place of rest. When it's right, it's like your soul comes home. My husband pushes me toward my calling. My marriage has blessed me with two stepchildren, one a 9-year-old girl. I see more than ever how important ZOEgirl's ministry is to that age. I believe more than ever in what we're doing."
Chrissy is currently dating fellow artist James Katina of The Katinas. "It helps that my boyfriend does the same thing I do. James is very encouraging and understands all the traveling and time in the studio. I have no doubt that ZOEgirl could keep up the same pace."


© 2003 CCM Magazine.  All rights reserved.  Used with permission.  Click here to subscribe.