TODAY'S NEWS: Kristy Starling, Avalon and NewSong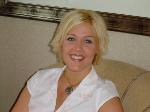 A STAR IS BORN - In a GMA Week interview in Nashville, Tenn. today, Kristy Starling revealed that her "making of a star" experience has zipped by so fast, she's barely had time to let it all sink in.  But when people started recognizing her a few short months ago as the runner-up in "Today's Superstars" contest from NBC's "The Today Show", she knew it was really happening.  "I'll see people in the supermarket who say 'Hey, I voted for you every day and my daughter wants to be just like you.'  It's been really weird."  Throughout the "Today's Superstars" contest, Kristy got to rub shoulders with some more established stars -- Bill Cosby, Adam Sandler, Joan Rivers, and Joey Fatone, just to name a few.  And then there's always "The Today Show" regulars Matt, Katie, Al, and Ann, who she says are " so down to earth."  Kristy will be back on "The Today Show" later this month (April 25) to perform songs from her Word Records debut.  Be sure to tune in or set your VCRs for some stargazing that morning!

JUST PUSH PLAY - When asked to choose just one song from their illustrious 7-year career [two RIAA-certified gold records, 20 Dove Award nominations, three Dove Awards (New Artist of the Year; Song of the Year for "Testify to Love"; and Inspo Song of the Year for "Adonai"), two GRAMMY Award nominations, an American Music Award and 17 No. 1 radio hits], Avalon members Jody McBrayer, Janna Long, Melissa Greene and Michael Passons had no problem picking their favorites lickety-split.  While Jody selected "Adonai" ("I think it's an extremely comforting song.  We know that the King of Creation loves us."), Janna selects "Can't Live a Day" as tops on her list ("The longer you live the more you realize that nothing else fills that void like God does.").  Melissa points to something old ("The Greatest Story Ever Told") and something new ("Everything to Me" - her first song as an Avalon member), and Michael cites "We Are the Reason" because "it was a song that really ministered to me as a kid, and to get the chance to redo it was really special."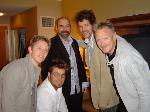 THE SECRET TO MY SUCCESS - Sixteen albums, a few member changes, and twenty years later, NewSong is still alive and kicking.  Now there's no secret formula to their longevity, but stalwart and founding member Eddie Carswell does advise sticking to your original mission.  "When we started, we felt called to take good music that would reach people, tear down walls when people heard us sing, and hopefully they'd sit down and talk with us.  And that's been the focal point all these years."  These days the lineup includes Carswell, founding member Billy Godwin (yes, he sings "The Christmas Shoes"), Michael O'Brien, former and now returning member Scotty Wilbanks ("Scotty's recycled," explains Michael), and newest member Mike Lanton.  While they probably could attribute their staying power to keeping it fresh with notable vocalists passing through the NewSong ranks over the years (Russ Lee, Charles Billingsley), NewSong did have some trouble naming their "ultimate" NewSong member.  But leave it to Michael to have an idea:  "Reuben...the guy on 'American Idol.'  He would be awesome!"  So, Reuben, if you happen to get voted out of the competition this week, you just might try leaving a message for NewSong on their graffiti wall.  'Cause you just never know....