Undeniable: Mat Kearney, An Emerging Rock Star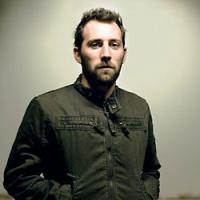 Driving across Indianapolis through rainy late afternoon puddles, on the Tuesday of Holy Week, just prior to Easter, it wasn't a huge surprise to hear Mat Kearney's "Undeniable" playing on the radio.
In the days after I'd accepted this writing assignment, his music just seemed to show up everywhere. If it wasn't "Undeniable," it was "Nothing Left to Lose." If it wasn't pop radio, it was reruns of Grey's Anatomy. Indeed, this guy does seem pretty undeniable.
If hearing an artist's song hyped on mainstream pop radio while you're on the way to meet up isn't proof that he's an emerging rock star about to break out in a big way, the fact that people in the sushi bar next door to the theater where he's playing later recognize him—from the back—definitely is.
Whether it's the warm, folksy sing-along quality of his songs, the everyman sensitivity, the smart spoken-word storytelling that shows up as leaven occasionally, or something more visceral but less specific, in the vague sense of yearning for meaning given expression in his lyrics, Mat Kearney's music connects. With lots and lots of people.
After a hearty dinner of eel, tuna and yellowtail, Kearney performs his heart out, earnestly singing every song on his major label debut, Nothing Left to Lose (Aware/Columbia/Inpop), to a sold-out crowd at The Vogue, Indy's classic live music theater.
Kearney is headlining the "VH1 You Oughta Know Tour," after successful runs opening for Sheryl Crow and John Mayer. On this night he shares the stage with two other newcomers: English pop/rockers The Feeling and the Delta-blues vibe of Rocco Deluca & The Burden. But it's pretty obvious that it's Kearney's TV soundtrack successes that have brought out most of the fans. Especially the woman wearing the "I ™ McSteamy" T-shirt who bought one of everything at the merch table with Mat's name on it.
"To a kid from Oregon by way of California/All of this is more than I've ever known"
Earlier, the 28-year-old singer/songwriter—whose acoustic pop song craft has been compared to the likes of Mayer and Coldplay and his occasional import of rap to Beck (except the narratives make sense)—explains his journey from a skater kid/graffiti artist to his current life as a rising pop star between bites of seafood delicacies and packed rice.
"I'm a product of the Northwest," admits the Eugene, Oregon-native, as the song says. It took eight years, he admits, but—when condensed—it sounds like the mythic tale of a classic overnight sensation. "I dropped out of college; I was going to school in Chico, California. That's where I fell in love with writing in a real way. I was an English major and a soccer player. So I took that fateful trip to help a buddy drive across [the] country to Nashville. It was supposed to be a month, but we got busy recording and making demos, and by the end of the summer, I was getting all these offers [from recording companies]. So, I didn't expect to move there and start a career, but it worked out that way."
Growing up in a Christian home, where his mother was a pastor, Kearney is careful to explain he didn't live in a setting that fostered a Christ vs. culture mentality. "My folks were really encouraging in music appreciation, and they were incredibly encouraging of creativity in writing and literature. All of my strong memories as a child involve music. On Sundays, to get us out of bed and get us going in the morning, my Dad would blast a Paul Simon record or Whitney Houston's 'I Wanna Dance with Somebody.'
"My parents met in Hawaii. They were these hippies who got engaged two weeks after they met and married six weeks later. During that Jesus movement thing (in the '70s), that's when faith became a real important part of their lives. They went to this really early, emerging church in Eugene, where a lot of those types were showing up. So I grew up in that non-denominational Jesus movement environment, where faith was very much a part of that other world. Eugene was very different than, say, the Bible Belt. It was more holistic . . . I never waded through a theology where you have to separate from the things you like in the world, compartmentalizing my love for rock & roll, and my love for God or my love for women. It was OK to experience the Spirit of God in all of that, which, I think, is how it was supposed to be."
Early on, Kearney and friends flirted with writing, he says, inspired by the usual stuff. "We'd write these things, and then read them to a girl to try and impress her. . . . That's where the writing thing started. We had this whole middle school beat-poet vibe going. Songwriting was a glove that just fit. I was a kid with a 2.0 GPA all through high school, but I had a teacher who sat me down with a poem I had written and said, 'You are a writer.' I had been this weird pot-smoking kid, trying to find my way, and she said, "You are talented; you need to do this. And writing songs fit. I had been writing stuff down for years. I knew how to put words together so that it made sense, but putting it to music really brought it all together for me."
Eventually, as Kearney found himself surrounded by a supportive community of Christian friends, his own faith blossomed. It's something that is present, if subtly so, in his songs.
"This is my broken heart/this is my bleeding start/ . . .This is my way back home/This is the narrow door you know that I will walk through/ . . . This is my renaissance/This is my one response/This is the way I say I love you."
Like the classic tale of "pilgrim's progress," Kearney helped move a friend to Music City, and it opened up new possibilities for his life. He has stayed eight years thus far, although, these days, he says with no small amounts of irony, "I don't live in Nashville; I live on a tour bus.
"I moved to Nashville with four songs," he explains. "By the end of the summer, all these independent labels like Gotee Records, had offered me a deal. tobyMac came into our studio, as did a lot of other music business types who just started showing up. We kept getting offered deals to sign to these labels, but I was like, "I've got four songs; I'm not ready to make a record." I waited, and started working, and took my time.
"I started playing songwriter nights at places like 12th & Porter, where you'd find Nickel Creek, Mindy Smith or Duncan Sheik. I'd get up there, and I was just learning how to play these songs. It was at the same time, humbling and really encouraging. I remember once, Mindy Smith was walking up, and she says, 'That was really cool,' and I was like, 'Well, you're Mindy Smith, and you're really cool.'"
Kearney avoided signing to a Christian label because he wasn't making music primarily for the church. "I paid for Bullet myself and recorded it with the same guy I drove across the country with, Robert Marvin (Matt Redman, tobyMac). We licensed it to InPop.
"Growing up in Oregon, I didn't have this genre experience, this industry specific expectation that if it's this one thing, it's not going to be listened to over there. I didn't grow up with music divided into 'Christian' and 'secular.' Music wasn't as categorized. It was either good, or true, or pure, or it wasn't. There are good and bad things about that, I'm sure, but mostly it's good."
Even though he eschews the label "Christian artist" as a marketing tag, Kearney wanted to get his music out there. When "Undeniable" was sent to Christian radio as a download, it became a successful single, which surprised Kearney. "I love my music," he says, "but I didn't know who also would love it." Once released to the mainstream, it caught the ear of music producers for ABC's hit series Grey's Anatomy, and it's been, well, undeniable ever since.
"It's a song about God and people and love—it's about life," he says. "It's totally vertical and all of that at the same time. I wouldn't pin it down and say it's just about a girl; it's definitely about my faith. I wrote 'Undeniable' about this kid. We were hanging out with him, loving on him and encouraging him. We invited him to be a part of the recording session. He was about 13 and going through this crazy time; they were tearing down his school. They were tearing down this old building and building this beautiful school in its place. He was going through these trials, but there's this beauty from ashes story in his life."
Still, there's not a lot of clarity in Kearney's songs of poetic yearning—is it a girl or God for whom he'd "take a bullet"? Which does he mean, when he sings, "I will wait for you"? But Kearney's not sure he needs or wants to say what all these references mean definitively.
"It's a funny thing," he says. "C.S. Lewis said that romantic love is what proved to him that God existed. So I think that sometimes there's a healthy blurring of lines between the love a man feels for a woman and the love that we experience for God. That's why the Song of Solomon exists (in Sacred Writ); it's God's way of showing us His love, by putting people that you love on earth."
"I can't help but wonder, who is this wind at my back/A whisper to walk on, come on from all of that/It's undeniable how brilliant you are/In an unreliable world you shine like a star."
Since Kearney remains friends with folks he's worked with in the past, he admits being cautious describing how he moved from a disc licensed to a Christian label to mainstream distribution through the Sony system. "I'm being coy," he says, "because I did turn down eight record deals from exclusively contemporary Christian music labels, because I didn't feel that was the avenue I wanted to go down. I knew that I wanted to be on a pop label that could put my record on the mainstream airwaves. I felt like I made a record that could connect with a whole lot of people. So I was holding out for something. I knew that I wanted to sign with a label that would put it out to as many people as possible, because I really believed in it."
Ask Kearney where he turns for role models and he speaks of Johnny Cash, Bob Dylan, Tom Petty and U2—the usual suspects. As the success of his long-lasting "debut" continues, he was offered an opening slot on an arena tour with Kelly Clarkson for the summer [Editor's Note: the tour has since been cancelled], the chance to play the kind of venues this caliber of artist represents. Kearney is excited by the idea of taking songs written in his bedroom to big concert halls where they can be transformed into pop anthems for a generation. I got a glimpse of that, as the largely female audience sang his songs back to him in Indianapolis.
Excitement is building, he suggests, "This whole journey has been a process for me to find out what I'm supposed to be doing. But this is it; this is why I was put on earth."




© 2007 CCM Magazine. All rights reserved. Used with permission. Click here to try a free issue.