Underoath: Drawing Outside the Lines
Andree Farias

CCM Magazine

2006

9 Nov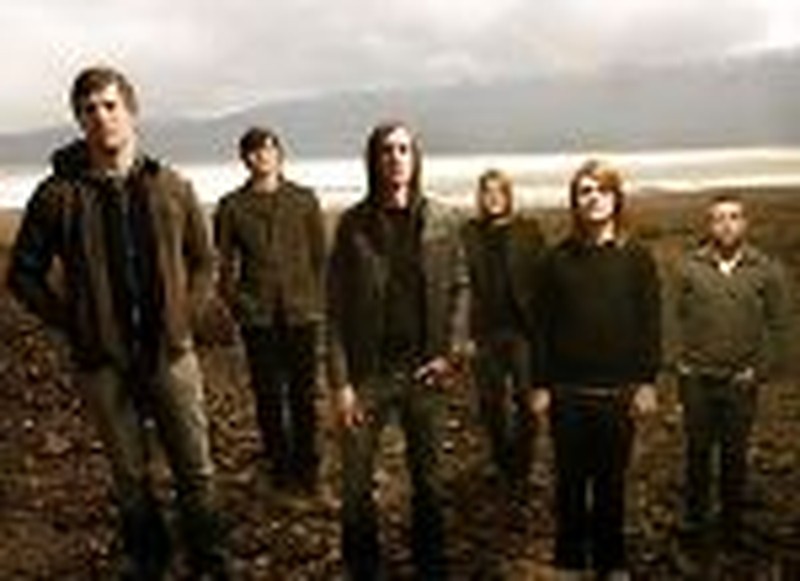 The mosh pit area at Allentown, Pennsylvania's Crocodile Rock Café bears the semblance of organized chaos on this early May evening.
Underoath has taken the stage, and the pit leader, a lanky teenager in atypical emo wear – typical emo wear usually consists of a tiny T-shirt, even tinier jeans and Converses while this dude is wearing shorts and a tank top-style undershirt – guides his followers in an orderly ritual that involves pushing, shoving and the dance.
By statute, you mosh only during the heavy, throat-shredding segments. During the soft moments, you do the dance. Since this is one of those rare instances where Underoath isn't pounding and hammering away on its instruments, the pit leader is doing the dance – a circular, methodical jig that's actually quite … un-hardcore.
The band pummels through "It's Dangerous Business Walking Out Your Front Door," a multi-part anthem that seems custom-made for this methodical alternation between turmoil and daintiness.
All this moshing, crowd-surfing and head banging would be commonplace at your average metalcore event, except this gig is anything but average. Underoath is the headliner; and, when Underoath headlines, it's always more than just music.
"I let people know what we believe in every night," Spencer Chamberlain, Underoath's lead vocalist, says later. "It's not something that's planned out or anything. I just want to be honest with people as much as I can. … We make it a point to let them know what we believe in but also that we're not cooler than the people in the crowd or better than them for believing something that they don't."
It's not exactly an altar call, but Chamberlain does proclaim Jesus' name boldly from stage. And, like the pit leader at the center of the mosh, as soon as the band stops to make its solemn declaration, the crowd stops too, latching on to every word. All cheer.
It's hard to gauge the non-Christian-to-Christian ratio at the show, but, judging from the commotion, the Gentiles almost certainly outnumber the saints. After all, Christians can't mosh.
That's an Underoath show in a nutshell. The sextet is one of the hottest tickets in post-hardcore circles right now and also the latest pride and joy for Tooth & Nail Records, which continues to expand its presence in general market avenues. To date, the band's breakthrough second album for the label's Solid State imprint, "They're Only Chasing Safety," has sold more than 365,000 copies since its release in June 2004 – a staggering figure for a band with no significant radio airplay or constant placement on emocore's poster channels, MTV2 and Fuse.
For such an openly Christian band, Underoath is also an anomaly:  Of all the "Safety" copies sold, a mere trickle – slightly more than 20,000 – has been purchased at Christian retail outlets with the rest being picked up at places such as Best Buy, Circuit City, Wal-Mart or at shows.
How'd they do it?
"Plain and simple, the band is relevant," says Tooth & Nail founder Brandon Ebel. "I think people respect you if you're authentic, and the Underoath guys are authentic in a very unassuming way. You can see this in the way they perform as well as in the way they treat their fans. They're an awesome voice for the gospel."
 
"They have not changed," says Daniel Davison, drummer for label mate Norma Jean and longtime friend of Underoath. "They have remained faithful to God and to their friends. To me, that has a lot to do with their success. When you see them play or hear them speak from stage, you can see that they are genuine people. And you want to be a part of what they are doing. I know that is a big part of why they have done so well. … Every step of the way, they have been content and thankful. Again, the fact that they have remained faithful to God through all of the years, especially in the hard times, speaks volumes on who they are as people."
For Underoath – collectively made up of Chamberlain, drummer/vocalist Aaron Gillespie, guitarist Tim McTague, keyboardist Chris Dudley, bassist Grant Brandell and guitarist James Smith – success is a byproduct both of going against the grain and its ability to create real fans out of listeners.
"I think the whole mainstream process of getting a single and working it to radio and blowing a band up isn't real," says McTague, easily the most loquacious of all the Underoath members. "It's conjuring up false bands and false hype in order to sell a product. Even though that does work a lot of times – and the band will go platinum, double platinum, triple platinum, and be the biggest thing one year – they turn around the next year, and nobody cares about them because the people that bought their record truly didn't want to buy their record. They weren't really grasping anything besides the fact that they couldn't escape it on TV; they couldn't escape it on the radio and were, more or less, force-fed it."
He adds, "We didn't sell records by doing radio shows and being on MTV. We sold records by touring and by kids coming out to see us. The kids that come out to see us – the kids that come out to the shows – those are the real kids; those are the real fans. Those are the people you want buying your records."
Still, they don't let the six-figure success of "They're Only Chasing Safety" go to their heads. In a circuit where image and popularity is everything, the Underoath guys try to remain levelheaded about their higher profile. McTague confesses the most "mainstream" thing the band has done is buy a tour bus, and, even so, that was a decision that didn't come so easily.
"We didn't [buy] a bus until we were over 100,000 or 120,000 records [sold]. That was our goal, our rule," he says. "Until we made it to the level where we could afford a bus and not go home broke and starving, we weren't going to have it. We'll tough it out as long as we need. It's all about making smart, grounded, humble decisions with the way you do your business. It's not about looking cool or looking rich or looking big."
Numbers also can be deceiving, which is why Underoath has made it a point not to rest on its laurels and to make the album of its career with "Define the Great Line," which released in June just as the band took the main stage at this summer's "Vans Warped Tour."
From an outsider's point of view, Underoath could easily be lumped with countless other bands in the ever-growing emo/post-hardcore canon – screamo staples such as My Chemical Romance, Senses Fail, A Static Lullaby, From Autumn to Ashes or many of its "Warped Tour" contemporaries. The good news is, "Define the Great Line" is the farthest thing from an emo record. If anything, its 2004 predecessor sounds puny next to it.
McTague calls it the album where Underoath finally became men.
"One [album] sounds like a bunch of teenagers who are still looking to discover themselves," he says. "And [the other] sounds like real dudes who know what they want, [who] are actually executing finally what they've had in their brain and the back of their heads for years but have never been able to express."
He isn't kidding. By comparison, the new album sounds nothing like the previous one. Co-produced by Atlanta-based producer/drummer Matt Goldman and Killswitch Engage guitarist Adam Dutkiewicz, the album is rawer, more complex and more visceral than the relatively tame "Safety." And, like many bands who graduate to the big leagues, Underoath enlisted the help of mixmeister Chris Lord-Alge (P.O.D., Hoobastank), who gives the proceedings a larger-than-life feel that was absent from the band's earlier, thinner output.
"This is the record that, since we joined this band, we knew was possible, but we didn't know how to get there, how to do it," adds McTague. "Now, we finally did. This is the record that Underoath was made to make."
The growth isn't just musical. Vocally, also, front man Spencer Chamberlain has come into his own. In 2003, he replaced Underoath's founding vocalist Dallas Taylor (who has since formed the increasingly popular band Maylene and the Sons of Disaster) amidst doubts that he'd be able to fill Taylor's shoes. Chamberlain passed the test satisfactorily, but he still wasn't what he is now. Whereas "Safety" found him content screaming in monotone while Gillespie sang the melodic lines, for "Great Line" he clutches the microphone like never before – screaming, growling, yelling, bellowing and, yes, singing as well.
But beyond any sonic evolution the band members may have experienced, they want their faith to remain front and center in everything they do. Unlike other bands in its scene, Underoath voluntarily excludes itself from all the wild partying and debauchery typically associated with the genre. And those they come in contact with know better than to invite these guys to things that would belie their beliefs.
"I tend to think that we're extremely honest with people," says Gillespie. "God gave me my very life and breath, so why wouldn't I be honest? That's the way I kinda view it. Jesus is the reason that I walk this earth every day. He's the reason that I wake up every morning, the breath in my lungs, my beating heart. Why wouldn't I give back in that sense?"
Underoath isn't trying to proselytize. Though outspoken, they're more interested in impacting people in their everyday interactions than with their words from stage.
"We're not here to hype kids up and have a big ol' Jesus [rally]," says McTague. "We want to be real with kids. We want kids to see us for who we are, to see that we're not perfect and that we're just dudes that play music that have found something greater."
"I'm a really messed up person sometimes," adds Gillespie. "I do stupid stuff; and I say stupid stuff; and I fall on my face every day, a hundred times a day. But I want kids to know that Jesus is the reason that I'm able to do anything."


© 2006 CCM Magazine.  All rights reserved.  Used with permission.   Click here to subscribe.