Valentine's Day with Watermark
Janet Chismar

Senior Editor, News & Culture

2003

14 Feb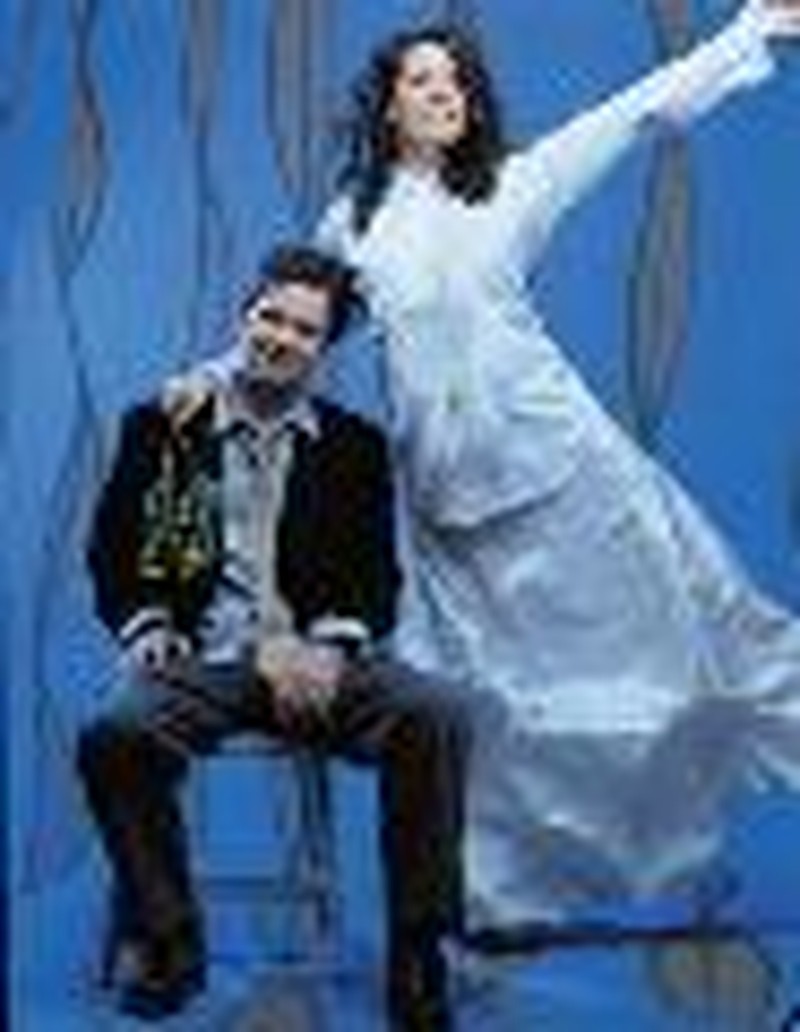 For Nathan and Christy Nockels, the husband/wife duo known as Watermark, this Valentine's Day will likely be spent changing diapers and rocking daughter Elliana Noel to sleep. Elliana, born December 18, and brother Noah Luke bring tremendous joy to their busy parents. With Valentine's Day in mind, we asked Christy and Nathan to share their love story and thoughts on marriage and parenting in the public eye.


Crosswalk.com: The first thing I wanted to start with was finding out how you met.
Nathan:  We were acquaintances in college in Oklahoma, probably around '92, but we became friends at a summer festival in 1993. When we met, it had nothing to do with music and we were both there by chance. Christy was on vacation and they were just coming in the evenings to watch the concerts, and a friend of mine and I were just camping. After that we started dating pretty quickly. She lived in Tulsa, Oklahoma, and I lived in Oklahoma City, so we spent the first year of our dating relationship about two hours apart, which was good. I was still going to school and we got married in '95. So that's kind of how that all happened.
Crosswalk.com: What was it that first attracted you to each other…when you looked at her, what first drew you to her?
Nathan: Oh personality (laughing). I mean she was beautiful, man she was gorgeous. But I just thought she was way, way out of my league. And I'm not saying it because she's sitting here. Getting to know her, it was really strange to me to be able to hang out with someone and talk to someone and feel so comfortable, just like I was talking to one of my best friends.
Crosswalk.com: Christy, how about for you?
Christy: I thought he was very handsome. I loved the way he dressed and everything. In college, we had some mutual friends, but we both were dating other people. A year before we really met out in Colorado, I would always look at him and think, "He is so cute." He has a very gentle and tender look about him, and his personality is the same. So I always just thought I would love to get to know him, but he was always… you know, I was either dating someone, or he was dating someone.
Crosswalk.com:  Can you tell us a little bit about your wedding?
Christy: We got married in Broken Arrow, Oklahoma, which is right outside of Tulsa, and that's kind of where I'm from. I'm really from a lot of different small towns in Oklahoma because my dad has been a minister all my life, so we moved around a lot. My dad married us and it wasn't too small of a wedding; it was medium size and it was a wonderful day. It was very traditional and very special. His dad was involved as well, so it was very personal.

One of the neat things about it, we wrote a song together -- a few months before we got married we worked on it. They had a big black grand piano and we had that as the whole centerpiece; the décor and the candles were all around that. And Nathan played at the very end. Right after we lit the unity candle I sang and he, of course, wrote the music and I wrote the lyrics, and it was just a very special thing. We really wanted the song to be to each other, but also just to be a testimony, because I knew that there were a lot of people that weren't married in the congregation that would be… just able to minister to them about waiting for the right person.

I really didn't know if I was going to make it through it, especially with my dad reading the wedding. I'm close to my family and I knew if my dad broke down, I was going to break down. And right at the moment that my dad got choked up and I was thinking, "Oh great," Nathan's little brother, Ben, who at the time was about 15 years old–he passed out. We each had eight attendants and so Ben was kind of off the stage a little bit, which was a good thing. Nathan and I didn't know it was going on, but my dad was distracted enough to pull himself together because he could see what was happening. Poor Ben… he was so tender and sweet. He was so broken-hearted that he thought he had ruined our wedding!

Crosswalk.com: What are some of the challenges of maintaining a marriage in the public eye?
Nathan:  I think probably the first few years of us traveling full-time and doing this, we 

had to learn to have lines where Watermark stop and Nathan and Christy begin.  That was a very hard thing to get established in the beginning. We'd be saturated with, "We've got to write, we need to tour, we need to travel, we need to do this." Our jobs don't really start at 9 a.m. and end at 5 p.m. It's an all-consuming kind of a job. So, I think it took us a few years to really try to place those boundaries around us and draw those lines. Now, if we go on a date, we don't talk about any music or anything like that. Our talk has to be outside of music. Having Noah two and a half years ago–that really made us set up some boundaries as far as where our family begins, too.

People always say to us, "Gosh, it would just drive me nuts if I brought my spouse to work with me." I can understand what they're saying, but I think to us, it's kind of all we've ever known. It just seems natural. It seems odd when we are apart or if I'm working here in town without Christy -- that seems out of the ordinary instead of the other way.

Also, having to be on stage and to sing songs and to minister together as a couple, I think it makes us have to talk about stuff more. We have to make sure that there's nothing in between us before we go on stage, because we're the kind of folks–we're not real good entertainers, so on stage, we're just kind of who we are. We're maybe a little too honest. And Christy, if she's not real happy with me–she could mention it that night. So anyway, that's kind of a double-edged sword there; it's good that we have to talk through stuff every night before we go on.
Crosswalk.com: Would you say that having children has improved your marriage, or changed it in any way?
Christy:  It's definitely improved it because we've grown up so much. We're not allowed to be selfish. We definitely did get to a place with Noah where we would carve out our date night every week, which we were able to do because we had a nanny for the road. So we had somebody to help and that was a huge deal and proved to be very helpful for our marriage, you know, to just go out and eat and talk. And also, we've gone out with other couples a lot, which has been incredible and we learn from them and get involved in their lives too. 

We hope to get to that place with the new one, and I know we will. It's just right now we're still kind of in survival mode. But the children have definitely caused us to grow a lot with each other. I think I fall in love with him all over again when I watch him be a dad and bless his heart, he has to be a dad and a mom sometimes because he's at home a lot more than other dads. It's kind of tough right now. He's kind of itching to get out of the house and work.
Crosswalk.com: Do you have plans to resume recording?
Nathan: I think that we actually want to do some dates this spring. We started traveling with Noah, our two-and-a-half year old, when he was about seven weeks old, so traveling to him is just another part of his life. It's not a big shock to him to go jump on a bus. We haven't been on a bus probably in four months, but still, probably every other day he'll say, "Go night, night on the bus?" It's part of his thing and it's part of his little groove, so we want to make sure that we set that up with the new baby, with Alley, to where it's just kind of part of her life as she grows up. But yeah, we'll probably do a few dates this spring and then…
Christy: Kind of ease into it (laughing)
Nathan: Yeah, we'll probably ease back into it and then this summer we'll record and hopefully, we'll kind of be back in the swing of things by the fall.
Crosswalk.com: What are you going to be doing for Valentine's Day?
Nathan: Our biggest challenge is we've got to find a couple to take care of the kiddos for a few hours (laughing).
To keep up with the latest news about Watermark, visit their website at  http://www.watermark-online.com