Why Should the Church Have All the Good Music?
Mark Joseph

Author of Rock & Roll Rebellion

2005

20 May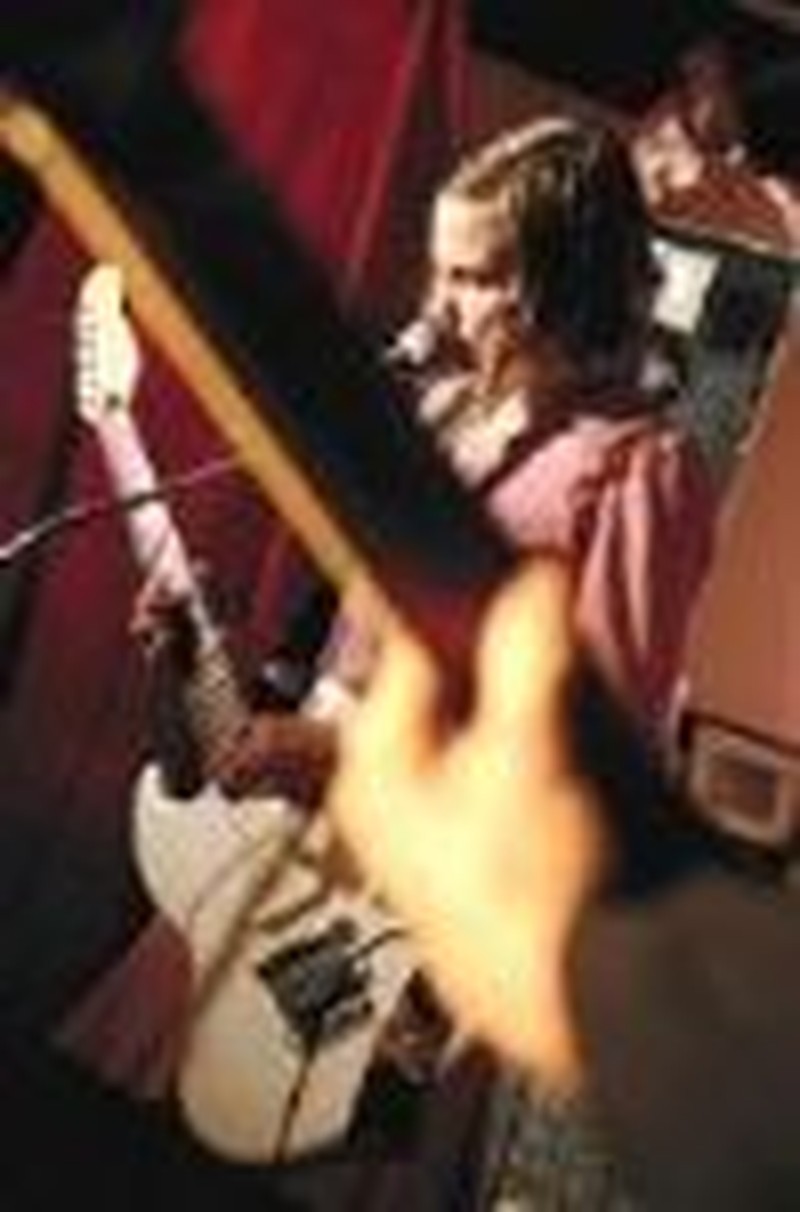 When the "Jesus Music" movement of the late '60s and '70s grew into a bona fide industry by the 1980s, few could have imagined the current influx of artistic believers into mainstream music. Yet, today, groups such as Switchfoot, MercyMe and many others are embodying the dreams of Christian music's pioneering artists. Who knew? 
From Edwin Hawkins' "Oh Happy Day," to Amy Grant's "Find A Way," from Jars of Clay's "Flood" and Bob Carlisle's "Butterfly Kisses" to Kirk Franklin's "Lean on Me," for years now artistic Christians have occasionally appeared on the nation's pop music charts with songs that, to varying degrees, reflected their beliefs.
But what was once a trickle has become a steady stream over the past three years, as numerous artists who profess faith in Christ and Christian-flavored songs have been consistently emerging on the pop music scene. Many artists heretofore only known to Christian music fans such as Switchfoot, Skillet, Smokie Norful, Stacie Orrico, Pillar, MercyMe, Thousand Foot Krutch, Natalie Grant and Daniel Bedingfield suddenly appeared on the mainstream charts, while others like Evanescence, Kanye West, Mindy Smith, Lifehouse and Dana Glover went straight to mainstream labels. And then there was the equally fascinating prospect of watching musicians who had been popular in the mainstream experience conversions and completely change their artistic perspective. Among these were Dave Mustaine of Megadeth, rapper Mase and, most recently, Korn co-founder Brian "Head" Welch.
By mid-2004, amid Switchfoot's challenging "Meant to Live," MercyMe's blatant "I Can Only Imagine" and Kanye West's unflinching "Jesus Walks," it seemed the dreams of those artists who had begun performing "Jesus Music" in the late 1960s and early '70s were finally coming true: Christians were making music about their faith in God and finding an audience for it among Christians and non-Christians alike.
That '70s Show
In the 1970s the hotbed of the Jesus Movement was a Southern California church called Calvary Chapel. The church produced Saturday night concerts that featured up-and-coming "Jesus Music" musicians, created a record label called Maranatha! Music and even had a bustling bookstore where the music from this emerging group could be purchased. Dozens of bands emerged from the movement with names such as Love Song, Sweet Comfort Band, Mustard Seed Faith, The Way and Parable.
The church's concerts were intentional, evangelistic events, and these artists had high hopes that their music would be heard by unbelievers. Furthermore, they intended to be proactive, taking their music beyond the confines of the church itself. While this was in many ways new territory for rock artists of faith, Christians in other genres had been steadily making significant in-roads.
Consider the legendary Statesmen Quartet and the Blackwood Brothers. These two southern gospel groups regularly made forays onto high-profile television programs during the '50s and '60s, even starting their own nationally televised shows at one point. In addition, the Statesmen Quartet anchored multiple motion picture soundtracks. And then there was Johnny Cash. The maverick Christian not only incorporated hymns and gospel songs into his regular repertoire, but he went so far as to openly discuss his faith on his own network television program, "The Johnny Cash Show," which aired for three seasons on CBS beginning in 1969.
But Calvary Chapel wasn't sponsoring southern gospel giants or the king of country music; it was helping introduce "Jesus rock & roll." This was the 1970s, and Jesus and rock didn't mix – at least, not as far as most gatekeepers in the American church and in entertainment were concerned.
One of the artists hoping to take songs of faith into mainstream rock was the band Love Song, led by popular musician Tommy Coomes. "The minute the members of Love Song were awakened by the truth of the gospel, we knew we had to make an album to tell our generation," Coomes remembered. "We were artists and songwriter – that was our skill and trade. It was natural to continue in but now with new meaning and focus. Maranatha! was an upstart label out of our church and did not have the funds to make the kind of album we envisioned, nor did it have the mechanisms to get it out."
If Calvary Chapel wasn't equipped to help artists such as Coomes and Love Song fulfill their mission, neither were its mainstream counterparts, leaving Coomes and hundreds of other Jesus Music era musicians in a bind.
"There was no contemporary Christian music industry in 1970. The only kind of gospel music we could find was either southern gospel or black gospel," he recalled. "We instinctively knew that we had to find another path. We spent the first two years doing concerts, writing songs and learning more about the Bible. We did showcases for Columbia and Atlantic Records and finally signed a deal with a new label that had funding and distribution with United Artists Records. The mainstream media was hip to spiritual themes and looking for artists who were compelling. The frustrating thing was that they didn't know how to promote the music. It was too close to the culture for religious radio and too gospel for regular radio."
In the words of the late Mark Heard, one of Christian music's prophetic voices: "We were too saved for the sinners, and the saved didn't want us around."
The Butlers Did It
Parable, an early Jesus music favorite led by a talented musician named Chuck Butler, released its debut album in 1977 on Maranatha! Music with dreams of affecting rock fans with its faith. But the label, like most other fledgling Christian record companies, was simply not equipped to take the artists on its roster out into the mainstream music world. Functionally, it was music by the church made for the church. Butler's dreams of reaching out into the world of rock with his music on the same level as the Eagles or Led Zeppelin died as his band faded from the scene.
Or did they?
Nearly three decades later another Butler, Chuck's son Chad, better known as the drummer of a dynamic rock band named Switchfoot, hit the top 5 of both the alternative and pop radio airplay charts with a song called "Meant to Live." As the group approached rock star status, Chad's band mate bassist Tim Foreman offered perhaps the most succinct quote of the last 30 years to clearly represent believers who intentionally create music for the world at large:  "We are Christian by faith, not genre," he first noted in a 2003 interview with Rolling Stone.
Of course, during the last three decades, others have attempted to say the same thing, but the words never rolled off the tongues of these artists as smoothly as they did Foreman's. Take, for example, B.J. Thomas' tortured attempts to say he was an entertainer who happened to be a Christian and not a Christian entertainer, Creed's denials that it was a "Christian band," even though it filled its songs with tributes to the only Deity who had ever claimed that His yoke was easy and His burden light, U2's endless attempts to explain what they didn't believe instead of what they did believe and Evanescence's plea to be removed from Christian-owned bookstores. Artist after artist awkwardly – and often embarrassingly – struggled in their attempts to be in the world but not of it.
There is little disagreement that for years, mainstream music was not very hospitable to musicians who wanted to sing about religious or spiritual ideas that were orthodox in nature. But by the turn of the century, in the aftermath of numerous artists such as Stryper, King's X and Jars of Clay chipping away at the wall that seemed to keep God's more outspoken followers out of rock music, the wall seemed to be slowly coming down. There was Michael W. Smith's "Place in This World," Kathy Troccoli's "Everything Changes," Newsong's "The Christmas Shoes," Bob Carlisle's "Butterfly Kisses," P.O.D.'s "Alive" and, of course, the song that many credit with finally knocking the wall down, MercyMe's "I Can Only Imagine."
That "I Can Only Imagine" tipped the scale is a historical event riddled with irony. Not only are the song's lyrics so unmistakably "Christian," but the band wasn't even pondering the mainstream market when it was recorded.
"We never saw it coming!" emphasized lead singer Bart Millard, whose band is now enjoying its third major pop radio hit. "All logic says that a song like 'Imagine' should have never seen the light of day on mainstream radio. Having one song played on mainstream blew our minds, but to have 'Here with Me' and now 'Homesick' played as well, we simply cannot explain. We hope that more artists who wear their faith on their sleeves are given this same opportunity. God opened a door that we never thought to knock on."
"Imagine" and other songs showed the dream was indeed possible, and by the time Switchfoot prepared 2003's "The Beautiful Letdown," the mainstream music business was open, as never before, to a band with a clear spiritual vision who knew how to express it with care to a waiting and watching world. Driven by two major radio hits – the second being "Dare You to Move" – "The Beautiful Letdown" took less than two years to surpass the 2 million sold mark.
Stacking the Deck
Mainstream gatekeepers weren't the only ones who delayed the recent emergence of Christians in the world of rock. For decades, believers had all too often circulated stories among themselves about how difficult – indeed how impossible – it was to make an impact in the cultural mainstream.
"Certain spiritual concepts can't cross over," one influential Christian rock pioneer had said. "Talk about God, talk about love – no problem. Talk about Jesus, his death, sin. … Those concepts are very offensive. The cross is still a stumbling block. The mainstream rejects music that is straightforwardly Christian."
The problem with this attitude was that such declarations assumed a static situation and didn't take into account the "X" factor – that as more and more Christians got involved in the mainstream culture at every level, such moves would pave a path for themes which would have once been anathema. Such warnings also had the effect of frightening away those who sought mainstream impact and became a sort of self-fulfilling prophecy. As more young Christians came to believe such statements, they were discouraged from entering occupations where their influence could be felt – radio programmers, deejays, music critics, music executives – and where they could actually play a role in ensuring that such themes made it to the mainstream.
Rapturing Lambs
During the 1970s many Christian denominations, including the principal movements that helped establish contemporary Christian music, were convinced that Christ's return would take place within a matter of months at any given time. Naturally, the notion of the imminent return of Jesus Christ to rapture His church didn't exactly create an environment in which young Christians were encouraged to go into culture-shaping careers: broadcasting, journalism, the music business or other vocations where their impact would be felt not within months, but decades.
In addition to a rapture theology which frowned on higher education and careers that would require planning and foresight, this popular movement of the 1970s all too often encouraged a separatism from the world. This did not result in masses of believers entering mainstream venues from which to affect the larger culture. Thus, when rock stars converted to Christianity, they were often encouraged to leave their careers at mainstream record companies and record for Christian labels.
"We had just left Egypt, and we didn't want to go back," remembered Mike Macintosh, one of Maranatha!'s executives. "A prime example of this was when Leon Patillo, the lead singer of Santana, left the group and began recording solo albums for the label."
The Turning
The theology of separation that profoundly manifested itself during contemporary Christian music's foundational years has been modified by the current crop of artists who appear to reject the notion that physical separation from the world leads to holiness. Rather, a theology of spiritual separation while being physically integrated has taken hold, which has allowed artists such as Jars of Clay to tour with mainstream artists, Steven Curtis Chapman to appear on "The Howard Stern Show" or P.O.D. to regularly take up residence on MTV.
Another factor that cannot be overlooked is a greater openness to Christian ideas on the part of many mainstream media gatekeepers. Part of this is the result of Christians themselves joining mainstream institutions where they have affected change.
Michael W. Smith's top five smash hit song "Place in This World," for instance, came about because a young Christian named Claire Parr (nee West) happened to be working at radio promotions at Geffen Records and insisted on working the single to pop radio on her off hours. Other Christians have gone to work at MTV, VH1, Entertainment Weekly, Billboard, The Chicago Tribune and dozens of other mainstream institutions and have created more accessibility for these artists through their mere presence there.
Key philosophical changes are also taking place in the Christian marketplace. The Gospel Music Association, for instance, made an important change in the group's mission statement. What had traditionally been a declaration that affirmed the group's goal as advancing gospel music, the GMA enlarged to say that the group's goal was now to advance the Gospel in every genre of music – a significant shift that reflected the growing desire of many artists to be identified as Christians who worked in jazz, pop, rock or R&B, instead of "Christian music artists."
The Christian music industry, meanwhile, has helped to galvanize and organize a group of artists and fans who may not otherwise have found each other and enabled dozens of artists to hone their craft and prepare to be salt and light in the culture at large.
"Some good things have happened along the way," noted Love Song's Coomes. "Michael Omartian, Seawind, Amy Grant, Michael W. Smith, Steve Taylor, Steven Curtis Chapman, Steve Green, Dann Huff and Tommy Sims paved a path. Many more opportunities are available today because of artists who've followed their hearts. I rejoice at the success of MercyMe, Kirk Franklin, Mary Mary, Switchfoot and Jars of Clay. They're courageous and confident and have made great records that have connected with millions of listeners. Those who are culturally relevant may always be suspect to some folks, but who did Jesus hang out with?"
Brave New World
The movement of Christians into the cultural mainstream has been slow and steady, with fitful starts and stops; but with a multi-pronged approach, it is attaining significant ground. Between Christians who made their way into mainstream music (Jason Wade of Lifehouse, Scott Stapp of Creed, P.O.D.), artists who have converted to Christianity after achieving fame (Alice Cooper, Dave Mustaine, Lauryn Hill), to those who got their start in the Christian market and made their way across the cultural divide (Switchfoot, Chevelle, Relient K, MercyMe, Skillet, Sixpence None The Richer), the American mainstream music scene is today home to hundreds of artists who are writing and performing songs with a distinctly Christian worldview.
But these artists stand on the shoulders of their forefathers – literally in cases such as the Butler family – a generation of artists whose purpose in creating "Jesus Music" was to have that music heard by a generation of  unbelievers and provide hope and transformation. And today, older and wiser, they have advice to give to their musical offspring:  "It seems like we need to rethink many things," said Coomes who has recently started a non-profit company to mentor artists called Music Compass. "It's time to ask the 5 'W' questions: who, what, where, when and why? We've accomplished a lot over the last 35 years; but, as my friend Reggie McNeal says in his book, 'The Present Future', 'We need to get outside the bubble.'"
Many artists are doing just that. And like Moses who himself never made it to the promised land but was at least given a glimpse of Canaan from a distance, today some of these Jesus Music era artists look on with satisfaction as their children and children's children take their music and beliefs to all, for all to hear.
Church Celebration

Artists of faith in the mainstream may generate that "wow" factor that's something special, but Christian music's blue-chip artists remain those who serve, primarily, church audiences day in, day out — Point of Grace, Nicole C. Mullen, Avalon, Selah and FFH come to mind. They're to this genre what General Electric and Coca-Cola are to Wall Street — symbols of quality, sound investments paying dividends no matter which way the wind blows. And if last year's Dove Awards were any sort of tipping point, a new crop of blue chip names may be emerging.

Making huge gains is Atlanta's Casting Crowns. The Dove-nominated, seven-piece outfit packs churches coast to coast. It touts a platinum record, three No. 1 singles, a platinum DVD — plus 3 CCM's Readers' Choice Awards in major categories, to name a few.

"Our passion is to see the body of Christ both walk with God and use the gifts He's given them to bring glory to Him," says Casting Crowns lead singer Mark Hall when asked about being called to "build up the saints." "Our ministry is no more noble or spiritual than anyone else's. We glorify Him when we bloom where we're planted."

And Jeremy Camp's high-stakes decision-making appears to be paying off. Though he accumulated six No. 1 singles with his rock debut, Stay, Camp chanced a career identity crisis by following up with "Carried Me: The Worship Project." Image czars cringed; the church cried hallelujah. Insiders are whispering Jeremy — both a Dove Award-winning "New Artist of the Year" and "Male Vocalist of the Year" — is as versatile as one Michael W. Smith.

Still cultivating its initial public offering is BarlowGirl. The band's self-titled debut has traded hotly over the past year, spinning off the breakout single "Never Alone." This month it hopes to make good on at least one of four Dove nominations — all while being an all-girl band, the rarest of species in Christian music.

Give 'em all an "Amen."

— Gregory Rumburg

© 2005 CCM Magazine.  All rights reserved.  Used with permission.  Click here to subscribe.