"Wide-Eyed and Mystified Likely to Become a Favorite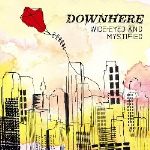 Artist: downhere
Title: "Wide-Eyed and Mystified"
Label: Centricity Records
If you've ever watched a child grow up, you'll understand the concept of amazement. Since everything is still new and waiting to be discovered, even what we would consider the simplest events of life are captivating and exciting.

Watching a grasshopper navigate the blades of grass in your backyard, seeing your driveway fill up with snow for the first time, or chasing down bubbles hoping to catch one before it pops can entertain and inspire a young child. There's something magical about the unknown that makes life special. Over time, as the mystery begins to fade, we become calloused to the excitement we once knew.
Our Christian walk can be like that too as our view of God becomes increasingly comfortable because we haven't sought out a deeper relationship with Him. Canadian rockers, downhere return from a nearly three-year hiatus from recording to encourage us all to remain "Wide-Eyed and Mystified" when it comes to God. The album addresses the simplistic view of God and expresses a desire to realize the true depths and layers to an active relationship with Him. "Dying to Know You" speaks to this desire to get to know God better each day, while lead single, "The More" explains that as we learn more about Him we are compelled to continue our journey, knowing that there's far more to be learned. The album also discusses our need to relinquish control of our lives to God ("Surrender"), the powerful message of the Gospel ("A Better Way"), our need to reach out and positively affect our culture ("Stir"), and to recognize and follow our shepherd ("I Will Follow Your Voice").
Musically, the album offers listeners a healthy dose of rock without abandoning the reflective ballads for which the group is well known. The current singles ("The More" and "A Better Way") are representative of this balance, which continues throughout the album. Some of the clear rock songs that stick out from the pack include "Dying to Know You," which has a great tempo and melody, and "Stir," which features a driving rhythm and an interesting intro which is reminiscent of the band Queen. In fact, there are several moments on the album where the group could easily draw comparisons to Queen. On the softer side, listeners shouldn't miss "1000 Miles Apart," a song about reconciliation that features a stripped down sound and a nice sound, and "Remember Me," which talks about the importance of communion and has a great pace and structure.
Overall, "Wide-Eyed and Mystified" proves to be a remarkable album, a listen that's both enjoyable and compelling. Though the themes and topics covered are far from ground-breaking, the conversation takes on a new life with well-crafted lyrics and a splendid soundtrack. It may take a little time to grow on you, but downhere's latest will likely become one of your favorite releases of the year. A superb album.


© 2006 CMCentral.com. All rights reserved. Used with permission.

Visit CMCentral.com now and join the single largest online community of Christian music fans on the internet. CMCentral features daily music news, exclusive interviews, album reviews, weekly devotions and feature articles written by some of your favorite Christian artists, and much more. CMCentral is also the home of the most popular Forum for Christian music fans that you'll find anywhere on the Internet. Come see what all the buzz is about!

Check out the latest Downhere music videos at Godtube.com!