"With All of My Heart" A Crash Course in ZOEgirl History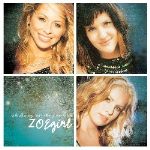 Artist:  ZOEgirl   
Title:   "With All of My Heart:  The Greatest Hits"
Label:   Sparrow Records

When asked which commandment was the greatest of all, Jesus quickly responded with the well-known answer, "Love the Lord your God with all your heart, soul, and might."

Loving God is the cornerstone to following the rest of the commandments and living the Christian life. In fact, the Bible states that obeying is the outward sign of this love. This level of love instinctively implies a total commitment to follow God no matter where He may lead. This becomes easier the more we get to know God and the greater our realization that He remains faithful and constant through anything we encounter in life.
Over the course of the last five years, ZOEgirl, a group named after this type of love, has kept busy recording and releasing four full-length albums and a remix album. This year, "With All of My Heart" adds a greatest hits release to the list, boasting 13 of the group's best-known tracks, pulled evenly from each of the four releases, as well as two brand new songs ("One Day" and "Unchangeable"). The songs discuss a range of topics, but generally focus in on important factors of leading a Christian life.
Included on the album are "With All of My Heart," naturally, a song which speaks of the devotion necessary for following Christ, "You Get Me," a song that expresses the comfort of knowing that God understands us like no one else ever can, "Dismissed," a song that discusses the importance of "dismissing" the negative influences in our lives, and "Scream," which explores the concerns we may have when we feel as if God's not listening. "One Day," the first of the two new songs, compares the frustrations of life with the glory that awaits us in heaven. The current single and second new song is "Unchangeable" which mixes the sounds of the group's early pop days with their current and more mature pop-country sound a la Shania Twain while discussing the unchanging nature of God.
ZOEgirl is one of Christian music's more popular groups and a greatest hits album will likely be as well received as can be expected. The group has been steadily improving their sound with each release and this comes through clearly with songs from each release appearing together for the first time. For fans who have just recently gotten to know ZOEgirl, "With All of My Heart" offers a crash course to catch up on the group's history, for long-time fans, it's perhaps a chance to catch up and get your hands on the two new tracks. Either way, if a greatest hits project is what you're looking for, this one shouldn't let you down.

© 2006 CMCentral.com.  All rights reserved.  Used with permission. 

Visit CMCentral.com now and join the single largest online community of Christian music fans on the internet.  CMCentral features  daily music news, exclusive interviews, album reviews, weekly devotions and feature articles written by some of your favorite Christian artists, and much more.  CMCentral is also the home of the most popular Forum for Christian music fans that you'll find anywhere on the Internet.  Come see what all the buzz is about!