"Worship at Red Rocks" More Trend-Following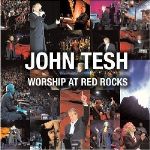 Artist:    John Tesh
Label:   Word Entertainment
Red Rocks, a geologically awesome, naturally formed outdoor concert venue just outside Denver, Colorado, has provided the setting for famous live recordings from notable rock acts such as U2 and Dave Matthews Band.  In 1995, John Tesh, a television newscaster turned serious musician, recorded a concert album there, "Live at Red Rocks," which would seal his reputation as a respectable performing artist.  Since that time, Tesh has transformed his musical focus from spiritually vague, progressive pop-rock instrumental works to an overt Christian praise and worship style, complete with vocals.  As such, his return to the picturesque locale for a new release, "Worship at Red Rocks" (on CD and DVD), is most interesting for its then-and-now intimations.
Today, Tesh's music sounds similar to many of the recordings coming from Vineyard churches worldwide and Australia's Hillsong congregation, where Darlene Zschech's "Shout to the Lord" originated.  An ambitious keyboardist at heart, Tesh heads a note-perfect, prone-to-jam contemporary worship band that also includes two female singers and a quaint violinist.  What tunefulness Tesh lacks in his starched vocal delivery (think former newscaster), the band mates are usually able to provide.  Altogether, there is no shortage of talent, sincere reverence, or energy in the performances; that sensation of "having church" happens.
But if there is a gripe, it must be in the area of originality.  True, the same handful of popular modern worship songs seem to be showing up on every other new release track listing, but with John Tesh's set list in particular, there is too much similarity to Michael W. Smith's recent "Worship" blockbuster projects.  Among the DVD's 18 tracks, out of the 14 non Tesh-written ones, eight have been recorded by Smith in a very comparable style over the past three years.  There's nothing inherently wrong with two artists covering the same songs, but combined with some other Tesh choices ("I Can Only Imagine," "God of Wonders"), "Worship at Red Rocks" feels more trend-following than trailblazing.  It's not what one might expect from such a seasoned performer.
Nevertheless, it is extremely significant that Tesh, once a steady Hollywood figure (Entertainment Tonight), took the so-called risk that comes with proclaiming his faith to the mainstream entertainment industry yet can still pack a full-sized legendary concert hall.  He seizes and honors a ministry opportunity and different type of crowd that most core-Christian artists cannot claim.
Considering that, "Worship at Red Rocks" works best on DVD, where consumers get six more songs than on CD, plus the visual impact and extra footage that tells the complete John Tesh story to date.  On "Full Moon," he looks back at life since 1995 and the original Red Rocks concert.  Then, his daughter was an infant on the front row.  Now, she is onstage with her dad, singing in the praise team.  It provides a warm testament to his growing faith and the direction in which he now leads his family and his audience.
Other key tracks include rocked-up renditions of "You Are Good" and "Open the Eyes of My Heart" plus a meditative, Red Rocks-inspired performance of "Awesome God."  Each is featured on DVD as well as CD.  On CD, the only exclusive material comes via studio versions of Tesh originals, "Voice of One" and "Always Forever," which are played just as well live on DVD.