7-Year-Old Sings 'How Great Thou Art' In Church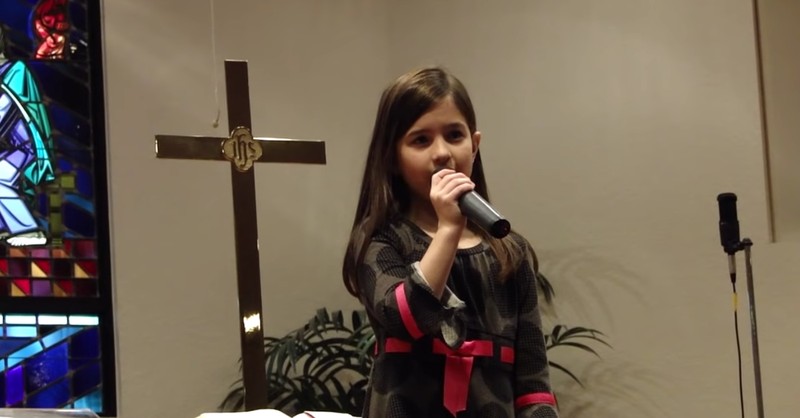 Marleigh Miller has such a lovely and powerful voice for a young girl. While she is singing 'How Great Thou Art,' her voice fills the room and you can really feel her emotions as she performs. There is a maturity that she carries and a reverence that she holds for the lyrics. She sings the powerful words of the song with such conviction and strength.
"When Christ shall come,
With shouts of acclamation,
And take me home,
What joy shall fill my heart!
Then I shall bow
In humble adoration
And there proclaim,
'My God, how great Thou art!'"
This hymn was originally written in 1885 by Swedish evangelist, Rev. Carl Boberg. He set the words to a Swedish folk melody. The hymn became translated to German, then Russian, and then into English. An English missionary named Stuart Hine was responsible for this while he was working in Ukraine and heard a congregation sing the song in Russian. However, 'How Great Thou Art' did not gain worldwide popularity until it was performed by George Beverly Shea on a Billy Graham crusade in 1957.
'How Great Thou Art' was also a song that Elvis Presley loved to sing. He won his third Grammy in 1975 for a live performance of the song that was on his album Elvis Recorded Live on Stage in Memphis.
'How Great Thou Art' is a song that has continued to be a favorite for people throughout the ages. And this hymn is continuing to be sung by the younger generation, like we see here with Marleigh Miller. May she continue to use her beautiful singing voice to praise God and inspire others with her talent and passion.
How Great Thou Art Hymn Lyrics, Story and Meaning
Credit: Godtube
Source: Joni Miller