8 Shows on Netflix You Don't Have to Fast-Forward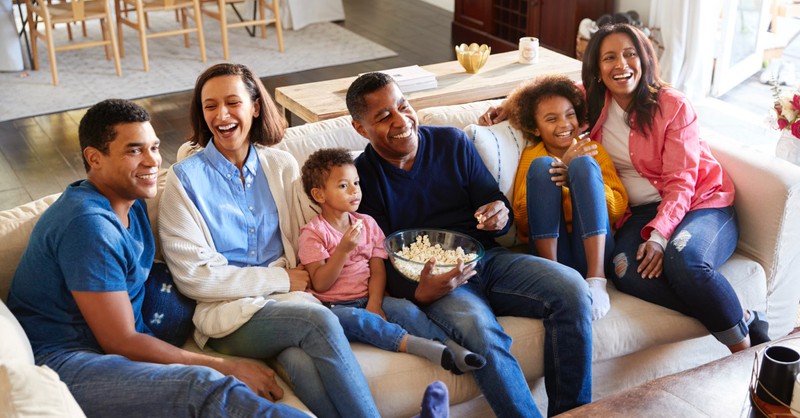 There are numerous shows to fast forward on all streaming media platforms. Many of us have potentially worn out our fast-forward buttons long before we've needed to replace the remote's batteries. But there is hope! Some shows don't require calisthenics for your fingers, and I'm here to give you a list of ones to try.
While choosing a show, the important thing to consider is not so much whether you need a blindfold or earplugs, but rather what type of popcorn you prefer, which soda you want to accompany it, and whether your choice of sweets is chocolate or fruity. Isn't that a conundrum worth consideration? Far more than the struggle to find decent entertainment that doesn't scar you for life.
So let me give it a go on your behalf, and you can figure out your snacks of choice while I lead you on a tour of recommendations.
The Guernsey Literary & Potato Peel Pie Society – 2018 – PG
Starring Lily James & Michiel Huisman
For those of you who love period dramas, if you haven't already treated yourself to this movie, you're in for a special one. The premise of the movie is simple: a writer visits a book club that came to be during the WWII German occupation and becomes completely enamored with its members and their stories. There is romance and emotion. It showcases a lot of depth, as you also see the impact of the war following its end and how it has changed the lives of the book club members. It also changes the life of the writer who comes to find them all beloved.
Enola Holmes – 2020 – PG-13
Starring Millie Bobby Brown & Henry Cavill
This movie was thoroughly entertaining. The rating of PG-13 might be because of the elements of murderous implications? I'm not entirely certain why it was rated such, but I did watch it safely and without concern with my ten-year-old daughter.
It is the story of Sherlock Holmes' (Cavill) sister, whose name alone implies her existence. She states very clearly that "Enola" is "alone" spelled backward. When the Holmes' sibling's mother goes missing, Enola (Brown) is determined to find her, much to Sherlock's amused attention and brother Mycroft's chagrin and criticism. This movie is delightful and humorous, and while there are some darker mysterious elements, they are handled more with humor and fun than terror. Millie Bobby Brown shines in this movie, and it's one that will resonate with adults and pre-teens+.
Riding Faith – 2020 – PG
Starring John Schneider, T.C. Stallings, & Grace Van Dien
Riding Faith is an all-around feel-good movie, fraught with the struggles and hardships of a beloved father's passing and the bond between a girl and her horse. Viewers will instantly bond to the family and the culmination of their dream to own a ranch, followed shortly by the untimely death of their father. Left to make it on their own, as in every good horse story, our heroine goes through the ups and downs of grief while receiving comfort from her four-legged friend. But hardship hasn't left them, and the loss of her father is only compounded by the inevitable loss of her horse as well.
Movie watchers will be able to kick back and rest easy knowing this is a family movie with a happy ending. Horse lovers will enjoy the equestrian elements, the acting is solid, and if you love a good Hallmark movie, this takes that element and steps it up a notch in my book.
A Week Away – 2021 – PG
Starring Kevin Quinn & Bailee Madison
This movie is basically a Christian version of Disney's High-School Musical. Major props to Netflix for buying the rights to this movie! Families will adore this fun musical with a sound storyline. Join Will, a troubled orphan facing jail time, who is sent to Camp Week Away. Here he comes face to face with grace, accountability, and friendships.
Is this movie just for kids? Absolutely not! In fact, anyone who grew up in the nineties will smile and sing along as the movie incorporates clever and super-catchy remakes of 90's hits by Stephen Curtis Chapman, Amy Grant, Big Tent Revival, and even some current tunes by For King and Country. Cheesy? Absolutely not. This defies the cliché that Christian films are B-flicks worth fast-forwarding because of shallow storylines. Netflix offers a great film for families, and as an adult, even I love to listen to the soundtrack!
Love, Guaranteed – 2020 – PG
Starring Rachael Leigh Cook & Damon Wayans Jr.
Romance lovers? This one is for you! It's the RomCom that totally avoids language, sex, and innuendo. Instead, the focus on principles, common decency, and loyalty is refreshing and realistic.
When a bachelor decides to sue a dating site for their guarantee to find love and their lack of following through with that promise, he hires a down on her luck attorney who has little time for the dating scene—or tolerance. Challenged to try the dating site for herself to see how it does (or doesn't) work, what follows is a humorous series of pathetic dates, commiseration with her client, and our beloved bachelor finding that maybe the dating site did pull through after all—just not in the way he expected.
If you haven't prioritized this movie for your next girl's night in, do so. You won't regret it. And, if you're wanting to introduce your daughter to RomCom's without being concerned about content, you can watch this with your eyes wide open!
The Flash – 2019 – PG-14
Starring Grant Gustin, Candice Patton, & Danielle Panabaker
Admittedly, it is difficult to find content for avid action flick watchers that don't have much swearing, copious amounts of violence, or sexual content. But if you're a Marvel or DC Comic fan, enjoy a good superhero show, and have tolerance for extremely low-grade sexual content, you will be immediately enthralled with The Flash. Bonus! There are six seasons of The Flash on Netflix currently, so there are hours to keep you occupied.
If you're not familiar with The Flash, you'll meet Barry, who recovers from a catastrophic event only to discover he has obtained super-speed powers. He embarks on episode after episode of battling other metahumans, unraveling the mysteries of what happened in his past, finding how it has affected his future, and even experiencing the future through time travel. The characters in all seasons of The Flash are well fleshed out and enjoyable. The relationships between them that hint toward sexual content are mostly kissing and some scenes after they converse about plot-worthy elements in bed, fully covered.
Teens and adults can safely watch this show and enjoy the superhero/comic book storyline we've all come to love.
MeatEater – 2021 – PG-14
Starring Steven Rinella
Not into fiction? Here's a documentary that may challenge your palette and your physical capabilities. Join Steven Rinella, a renowned hunter, and outdoorsman, as he travels to various places throughout the nation to hunt elk, bear, rabbit, deer, and just about any animal that is licensed to hunt. Taking it a step further, he introduces his rugged culinary arts into each episode as we watch him prepare wild game, waste no part of his catch, and eat the most interesting—and sometimes cringe-worthy—parts of the animal.
If you're squeamish about hunting or bothered by the pastime of hunting, this show may not be for you. It does film the complete takedown of animals (typically by bow/arrow), and there is some minor language in the show. But for those of you who enjoy unique, documentary-style viewing, you will be fascinated not only by the episodic hunting experiences but also by the beautiful scenery and country highlighted in this show.
NCIS – 2017 - TV-14
Starring Mark Harmon, David McCallum, & Pauley Perrette
A list can't be complete without the inclusion of a good-cop versus bad guy show. You will have fifteen seasons at your beck and call if you decide to start watching the popular CBS-produced show.
NCIS will take you on a long journey with characters who become your friends as they solve crimes, mysteries, espionage, and more in this Naval-based show that was a spin-off of the super-popular JAG. The great thing about this criminal show is while crime occurs, it is restricted to television standards, and so the violence is downplayed while the suspense and adventure are emphasized.
You'll enjoy a mostly clean show where the worst issue you'll face is some vague innuendos. All in all, it's engaging, addicting, and altogether time-sucking entertainment that you won't regret watching after you've turned off the TV.
And these are just several to get you started. If you're willing to invest a little time and search methods, you'll be able to find more options that can leave you feeling as though your Netflix subscription isn't a complete waste. Netflix seems to be getting the hint that while there are viewers who still want the raunchy, there's also a large demographic looking for more family-friendly and feel-good viewing. Netflix has been putting out some great family cartoons, reviving some Disney channel shows, encouraging movies that aren't sexual and violent, and, as seen in the recent hit "A Week Away," willing to dabble in Christian filming. We'll see if that continues, but for now, enjoy the show!
Photo credit: ©Getty Images/Monkey Business Images
Jaime Jo Wright is an ECPA and Publisher's Weekly bestselling author. Her novel "The House on Foster Hill" won the prestigious Christy Award and she continues to publish Gothic thrillers for the inspirational market. Jaime Jo resides in the woods of Wisconsin, lives in dreamland, exists in reality, and invites you to join her adventures at jaimewrightbooks.com and at her podcast madlitmusings.com where she discusses the deeper issues of story and faith with fellow authors.
Looking for Wholesome Family Films This Christmas Season? Listen to Our Culture Expert Share Her Top 5 Family-Centered Films - Perfect for Family Movie Night!
The views and opinions expressed in this podcast are those of the speakers and do not necessarily reflect the views or positions of Salem Web Network and Salem Media Group.