4 Things Parents Should Know about the New VeggieTales Show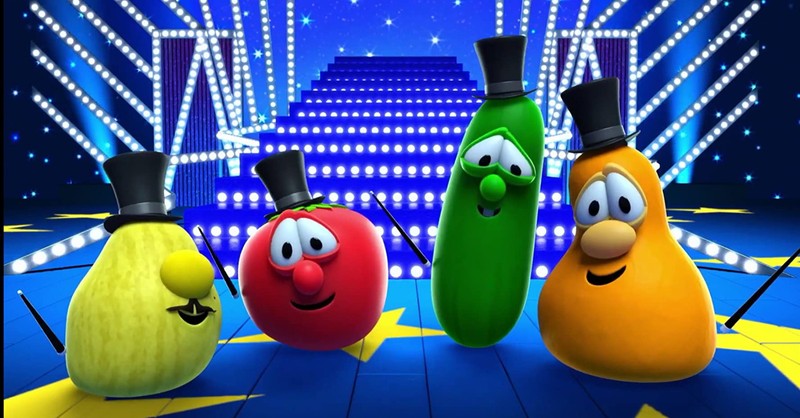 If you're old enough to have owned stacks of DVDs, then you're probably old enough to have had a few copies of VeggieTales in your collections.
Bob the Tomato and Larry the Cucumber taught Bible stories to children in fun and hilarious ways, and also left them singing silly songs. (I can still hum The Hairbrush Song.)
That was roughly two decades ago. VeggieTales then went through iterations on NBC and Netflix that removed nearly all of the biblical plot and left Christian fans of the original series hungry for new, Bible-based content.
Those fans can stop waiting.
TBN and Big Idea Content Group released an all-new series this year called The VeggieTales Show, which includes the same characters and voices while bringing back the Bible-based plots that helped make it famous.
Here are four things parents should know:
Photo courtesy: ©TBN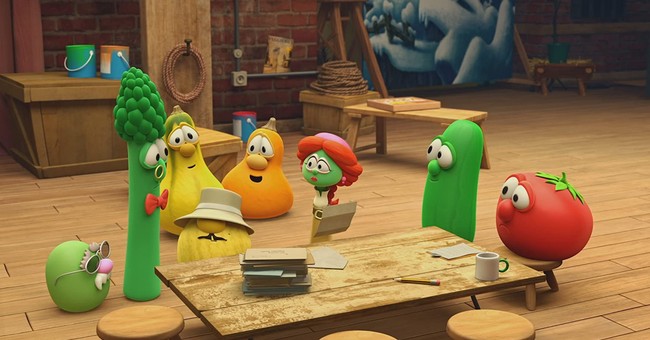 1. It's a Variety Show
If you enjoyed The Muppet Show (1976-1981), then you'll likely enjoy The VeggieTales Show, too. That's because each episode begins with the characters running around backstage preparing for a Muppet-like variety show, even though Bob the Tomato and the others don't know what the show will be about. After considering a few ridiculous ideas – in one episode, Larry the Cucumber proposes that everyone sing songs about a platypus – Bob tells everyone: We need an idea from the Bible.
The episode gradually turns to Scripture when the characters read a viewer's letter. For example, an episode on kindness begins when a viewer asks how she can make the world "a better place."
About half the episode involves the characters performing a skit from the Bible.
Vischer was a fan of The Muppet Show as a child.
"The fun thing about The Muppet Show is you not only see the skits they're presenting, but you get to go behind the curtain and see what's going wrong backstage," Vischer told Crosswalk.
The new VeggieTales series follows a similar format.
"That's what we didn't really get to do in the original VeggieTales, where they're on the kitchen countertop doing the stories [but] you don't get to see what went into putting on that story," Vischer said.
Photo courtesy: ©TBN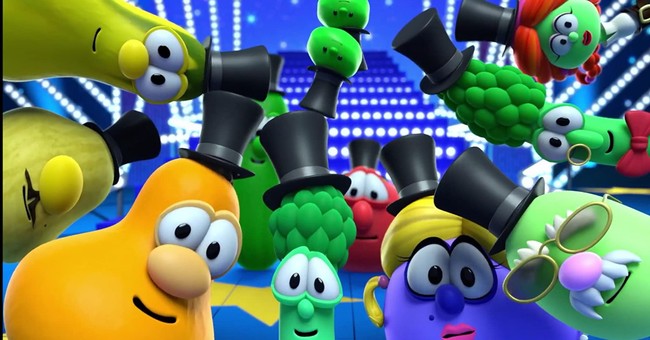 2. It Features Familiar Voices
Vischer is back as Bob the Tomato, Archibald Asparagus, Jimmy Gourd, Pa Grape and Mr. Lunt. VeggieTales co-creator Mike Nawrocki reprises his role as Larry the Cucumber, Jerry Gourd and Jean-Claude Pea. Lisa Vischer returns as Junior Asparagus.
But the series has some new voices, too, including gospel singer and actor David Mann, who voices Mr. Nezzer.
Todd Waterman, who has been involved in such movies as Mulan (1998) and Transformers Prime (2010-2013), is a director and executive producer.
It's the first time Vischer has written VeggieTales material in more than a decade.
"Both Universal and TBN reached out to me and said: Hey, we think these should be more like the old ones. Would you come back and breathe life into it again?"
Vischer was excited about the opportunity.
"TBN already had the idea of: What if Bob and Larry were putting on a show in a theater, like a variety show? I kind of flipped out because I had that same idea probably 15 years ago," Vischer said.
Photo courtesy: ©TBN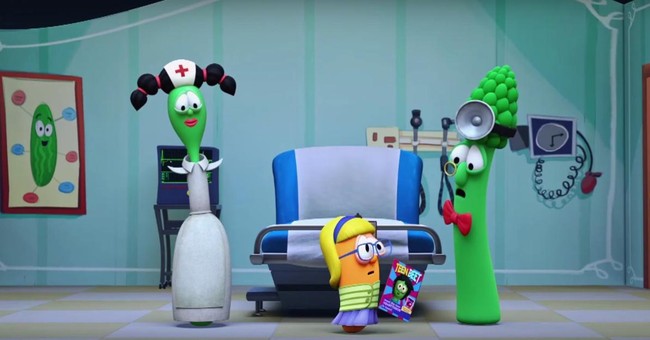 3. It's Still Hilarious
I always enjoyed watching VeggieTales because my children laughed all the way through it – and I did, too. The VeggieTales Show is no different.
We still get to hear Larry's ridiculous thoughts. (If the moon is made of cheese, he asks an incredulous Bob, then is Mars made of strawberries?)
We still get to hear "Silly Songs with Larry." (In one of them, a boy donut falls in love with a girl donut, but – unfortunately – cupid's arrow shoots right through her donut hole, and she breaks his heart.)
And everyone else is still goofy, too. (In the show about kindness, several characters suggest society needs faster food delivery so the world can become a better place; they then develop a disastrous "food blaster.")
Photo courtesy: ©TBN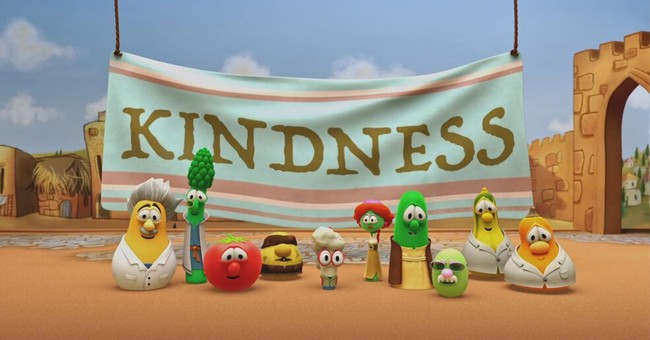 4. It's Even More Bible-Based than the Original
Vischer told Crosswalk he looks back on the original VeggieTales of the 1990s and 2000s with "concern" that he presented "biblical values without really presenting the Bible."
"You know, Christian values but not Christianity," he said.
Part of the problem, he said, is it's difficult to present serious subjects and ideas with "happy, bouncy, talking vegetables."
For those who shared his concerns, The VeggieTales Show is a big improvement. In fact, it's what makes the new series better than the original.
The new episodes thread the needle by being funny while also presenting the core plot and meaning of the biblical stories – and the gospel, too. Some of this is accomplished through song: Archibald Asparagus, playing Peter in a skit based on Acts 3, sings to the lame man: "In Jesus' name, rise up and walk."
Nine of the new episodes examine the Fruit of the Spirit.
"When I see an opportunity … to take a more theologically rich approach to answering a kid's question, I push in that direction," Vischer said.
Each episode ends with a Bible verse and a lesson.
For parents who want a deeper biblical approach featuring animated characters, Vischer recommends his other series, What's in the Bible?
"I feel like there needs to be a human involved when you're really getting into difficult topics," he said. "And so that's why I put myself in What's in the Bible?"
The VeggieTales Show is available at Yippee.TV.
Photo courtesy: ©TBN
---
Michael Foust has covered the intersection of faith and news for 20 years. His stories have appeared in Baptist Press, Christianity Today, The Christian Post, the Leaf-Chronicle, the Toronto Star and the Knoxville News-Sentinel.