GOD'S PROMISES DAY BY DAY
The Year of God's Favor
Luke 4:17-19—He opened the book and found the place where it was written, "THE SPIRIT OF THE LORD IS UPON ME, BECAUSE HE ANOINTED ME TO PREACH THE GOSPEL TO THE POOR. HE HAS SENT ME TO PROCLAIM RELEASE TO THE CAPTIVES, AND RECOVERY OF SIGHT TO THE BLIND, TO SET FREE THOSE WHO ARE OPPRESSED, TO PROCLAIM THE FAVORABLE YEAR OF THE LORD."
The four stages of Christian living are illustrated by Israel's passage from Egypt to the Promised Land. "Going out" is leaving the realm of sin and condemnation, and receiving Christ as Savior. "Going through" is journeying through a wilderness of challenge and testing, producing growth, strength and obedience. "Going in" is making a decision of serious commitment to the Lordship of Christ. "Going on" is receiving, enjoying and leaning upon God's promises. Determine this will be a year of God's favor for you, a year of "going on" in His promises.
Click here to sign up for your free Winning Walk newsletter!
OUR THANK YOU TO YOU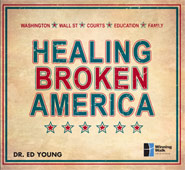 Healing Broken America
CD Series