Where Satan Will Attack First
Yesterday we began a series of devotionals looking at when we can expect Satan to attack us. Revelation 12:1-5 provides insight into the first time he will attack,
Now a great sign appeared in heaven: a woman clothed with the sun, with the moon under her feet, and on her head a garland of twelve stars. Then being with child, she cried out in labor and in pain to give birth. And another sign appeared in heaven: behold, a great, fiery red dragon having seven heads and ten horns, and seven diadems on his heads. His tail drew a third of the stars of heaven and threw them to the earth. And the dragon stood before the woman who was ready to give birth, to devour her Child as soon as it was born. She bore a male Child who was to rule all nations with a rod of iron. And her Child was caught up to God and His throne.
The child in this passage is the Lord Jesus Christ, the woman represents the nation of Israel, and the dragon that wanted to devour the Child as soon as He was born is our adversary the devil.
It was the devil who was behind King Herod commanding that all of the male children two years old and younger be slaughtered. It was only because Joseph was warned by God in a dream that he, Mary, and Jesus escaped from Herod's clutches.
What I want you to see here is that the battle came to Jesus as soon as He was born. And I think we should expect battle as soon as a person is born again, as soon as someone comes into God's family.
We need to be prepared to help protect and defend those who are new babes in Christ.
---
Visit the Answers with Bayless Conley website for more ways to connect with God.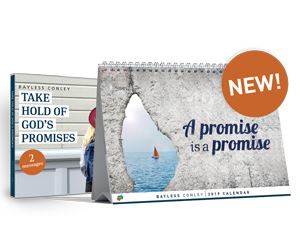 2019 Promises Calendar Bundle
Make God's promises for you a reality!
God's Word is packed with promises He's made to His people throughout the ages. If you find yourself in a time of need, it's time to take hold of a promise and reap the blessings He has in store for you. To do that, you need to understand His nature and your role in the process.
We want to help you experience the blessings of God's promises with the Promises resource bundle. This package includes Bayless Conley's 2019 Promises calendar, along with his 2-disc series messages (on CD or DVD).