You Made it This Far!
In the last couple of devotionals, we saw how the devil will attack a new babe in Christ. Hebrews 10:32 sheds some additional light on what we can expect,
But recall the former days in which, after you were illuminated, you endured a great struggle with sufferings.
When it says, after you were illuminated, it literally means, "After you came to the light." This verse is talking about when the light of the Gospel dawned on you, when you were saved.
And what does it say? You need to recall, to remember, that after you came to Christ, you endured. You went through some battles.
I think we need to remember that. In fact, let me just encourage you today. The fact that you are reading this devotional today says something about you. Did you know there are a lot of people who were saved at the same time you were, but they are not seeking God today?
You made it through the battle! You stood fast. You might feel like you are pretty rickety and ready to keel over, but you are still seeking God! If the devil could get you, he would have gotten you already.
By God's grace you made it this far. Now is no time to quit!
---
Visit the Answers with Bayless Conley website for more ways to connect with God.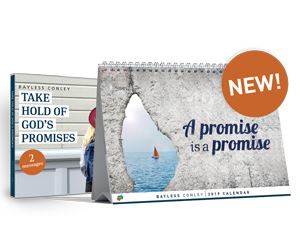 2019 Promises Calendar Bundle
Make God's promises for you a reality!
God's Word is packed with promises He's made to His people throughout the ages. If you find yourself in a time of need, it's time to take hold of a promise and reap the blessings He has in store for you. To do that, you need to understand His nature and your role in the process.
We want to help you experience the blessings of God's promises with the Promises resource bundle. This package includes Bayless Conley's 2019 Promises calendar, along with his 2-disc series messages (on CD or DVD).