Compromise
Today, I want to highlight for you the third area where the devil will seek to cause you to fail when you are on the verge of a breakthrough. It is found in Matthew 4:8-11,
Again, the devil took Him up on an exceedingly high mountain, and showed Him all the kingdoms of the world and their glory. And he said to Him, "All these things I will give You if You will fall down and worship me." Then Jesus said to him, "Away with you, Satan! For it is written, 'You shall worship the LORD your God, and Him only you shall serve.'" Then the devil left Him, and behold, angels came and ministered to Him.
If you think about it, the devil offered Jesus exactly what He had come to this world to obtain. Jesus came to win the kingdoms of this world to our God.
And the devil is saying, "Hey, You can take a shortcut. I will give You what You want. You don't have to do it God's way. You may have to compromise Your integrity, but think of how quickly You will succeed! You can even avoid the whole sacrifice thing! You don't have to do it God's way."
Listen, anytime God has set a goal for you, and you are going to obtain something, the devil will always come and try to get you to compromise and offer you substitutes.
He will tempt you by saying things like, "You can get what you want without living by all those narrow, restrictive rules that God puts on people's lives. You can be dishonest; you can be unfaithful; you can compromise; and you can still be blessed, and you can still be happy."
Do not believe him for a moment. His way of compromise leads only to ruin!
---
Visit the Answers with Bayless Conley website for more ways to connect with God.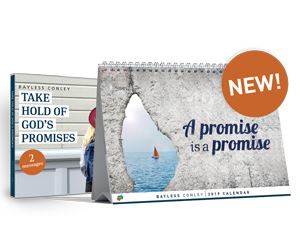 2019 Promises Calendar Bundle
Make God's promises for you a reality!
God's Word is packed with promises He's made to His people throughout the ages. If you find yourself in a time of need, it's time to take hold of a promise and reap the blessings He has in store for you. To do that, you need to understand His nature and your role in the process.
We want to help you experience the blessings of God's promises with the Promises resource bundle. This package includes Bayless Conley's 2019 Promises calendar, along with his 2-disc series messages (on CD or DVD).