Sacrifice?
Matthew 16:21-25 shows us another time in our lives when we can expect the devil to strike, or the third battle we must fight,
From that time Jesus began to show to His disciples that He must go to Jerusalem, and suffer many things from the elders and chief priests and scribes, and be killed, and be raised the third day. Then Peter took Him aside and began to rebuke Him, saying, "Far be it from You, Lord; this shall not happen to You!" But He turned and said to Peter, "Get behind Me, Satan! You are an offense to Me, for you are not mindful of the things of God, but the things of men." Then Jesus said to His disciples, "If anyone desires to come after Me, let him deny himself, and take up his cross, and follow Me. For whoever desires to save his life will lose it, but whoever loses his life for My sake will find it."
The cross is a place of sacrifice. It is a place where you die. In this passage Jesus is talking about the sacrifice that He is going to give, laying down His life for our sins.
Peter is being manipulated by the devil to challenge Jesus. The devil is speaking through Peter, telling Christ to back off a bit, that He doesn't need to sacrifice, that He doesn't need to give that much, or to lay His life down.
Friend, when God is leading you to sacrifice for the sake of His kingdom, count on the devil to be right there doing all He can to stop you. He will make you believe you should let your temperature cool down a little bit, that you shouldn't be so on fire for God. That you shouldn't be that sold out!
Do not listen. Instead, heed God's call to sacrifice. You will not regret it!
---
Visit the Answers with Bayless Conley website for more ways to connect with God.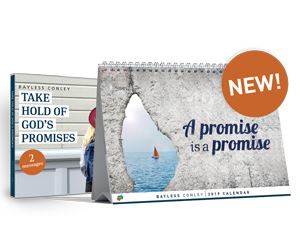 2019 Promises Calendar Bundle
Make God's promises for you a reality!
God's Word is packed with promises He's made to His people throughout the ages. If you find yourself in a time of need, it's time to take hold of a promise and reap the blessings He has in store for you. To do that, you need to understand His nature and your role in the process.
We want to help you experience the blessings of God's promises with the Promises resource bundle. This package includes Bayless Conley's 2019 Promises calendar, along with his 2-disc series messages (on CD or DVD).