Giving to Get?
Any time I give, I expect a blessing to return.  It is a law that we find in Scripture.  It is a promise of Jesus.
But you know what?  That is not my main motivation for giving.  And that should not be our heart for giving.  Jesus says in Luke 6:32-38,
"But if you love those who love you, what credit is that to you?  For even sinners love those who love them.  And if you do good to those who do good to you, what credit is that to you?  For even sinners do the same.  And if you lend to those from whom you hope to receive back, what credit is that to you?  For even sinners lend to sinners to receive as much back.  But love your enemies, do good, and lend, hoping for nothing in return; and your reward will be great, and you will be sons of the Most High.  For He is kind to the unthankful and evil.  Therefore be merciful, just as your Father also is merciful.  Judge not, and you shall not be judged.  Condemn not, and you shall not be condemned.  Forgive, and you will be forgiven.  Give, and it will be given to you."
What is the heart of this whole thing?  Jesus said, "Don't love just to get love back; don't do good just so that good might be done back to you; don't lend just hoping to get something back."
He makes it clear that if you do those things for the right motivation, it will come back to you.  Your reward will be great. 
Do not give with the motivation of just getting something back.  Non-Christians have that motivation!  How does that set you apart from them?  Give out of a higher motivation. 
---
Visit the Answers with Bayless Conley website for more ways to connect with God.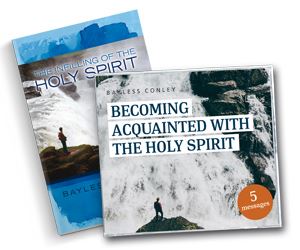 FEATURED RESOURCE

Know God in a deeper way!

The Holy Spirit's presence brings hope, joy, and comfort; and He longs to walk in deep fellowship with you every day.

We want to help you experience a more intimate friendship with God, by sending you the Knowing the Holy Spirit package.

It includes Bayless Conley's The Infilling of the Holy Spirit  booklet and his powerful 5-message series called Becoming Acquainted with the Holy Spirit.

It includes:

1. The Presence, Power, and Person of the Holy Spirit DVD

2. Expecting the Holy Spirit's Help DVD

3. Evidence of a Spirit-Filled Life CD

4. Speaking in Tongues CD

5. The Holy Spirit's Work in Our Hearts CD

Bayless Conley unpacks the benefits and evidences of being filled with the Spirit of God.

Find out what it means to live a Spirit-filled life!