Your Real Adversary
As we continue to think about the reality of trials in our lives, and the challenge it is to handle those trials, I want to point you to another important teaching about trials in today's devotional.
You need to realize who your adversary is.  It is not God; it is the devil.  Look at 1 Peter 5:8-9,
Be sober, be vigilant; because your adversary the devil walks about like a roaring lion, seeking whom he may devour.  Resist him, steadfast in the faith, knowing that the same sufferings are experienced by your brotherhood in the world.
Some of the trials and sufferings that we experience are the direct result of the adversary's work.
Some people want to blame God for everything, but the Bible says it is the thief— the devil—who comes to steal, kill, and destroy.  Jesus came to give us life and more abundantly.
Peter makes this even clearer in verse 10,
But may the God of all grace, who called us to His eternal glory by Christ Jesus, after you have suffered a while, perfect, establish, strengthen, and settle you.
Our God is the God of grace.  The devil is seeking to devour.
Frankly, I hate the middle part of this verse, After you have suffered for a while….   Clearly, God wants us to understand that suffering is going to happen.  Trials are going to happen.  No matter how much you may say, "I don't receive it!", it is still there!  You are going to go through difficult times.  It is part of the human experience.
But when you go through that time of trial, remember not to blame God.  It is the devil who is your adversary!
---
Visit the Answers with Bayless Conley website for more ways to connect with God.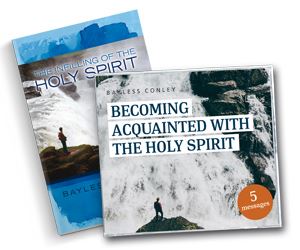 FEATURED RESOURCE

Know God in a deeper way!

The Holy Spirit's presence brings hope, joy, and comfort; and He longs to walk in deep fellowship with you every day.

We want to help you experience a more intimate friendship with God, by sending you the Knowing the Holy Spirit package.

It includes Bayless Conley's The Infilling of the Holy Spirit  booklet and his powerful 5-message series called Becoming Acquainted with the Holy Spirit.

It includes:

1. The Presence, Power, and Person of the Holy Spirit DVD

2. Expecting the Holy Spirit's Help DVD
3. Evidence of a Spirit-Filled Life CD
4. Speaking in Tongues CD
5. The Holy Spirit's Work in Our Hearts CD
Bayless Conley unpacks the benefits and evidences of being filled with the Spirit of God.
Find out what it means to live a Spirit-filled life!