The Path to Maturity
1 Peter 5:10 provides a very critical principle for those times when we are going through trials, a principle that is easy to miss,
But may the God of all grace, who called us to His eternal glory by Christ Jesus, after you have suffered a while, perfect, establish, strengthen, and settle you.
You need to realize that even though God did not initiate your trouble, He can still use it to work something good in you.  What the devil means for evil, God can turn into something good.
Even though the devil's purpose is to destroy you, if you will respond correctly, God can work good things.  Notice the verse says after you have suffered a short season, God will perfect.  It brings maturity to you.
While we might hate it, how we respond in times of trial makes us who we are—and it fits us to accomplish God's will.  I hate some of the things I have gone through!  But you know what?  I would not be who I am had I not experienced those things.  It has fitted me to do the will of God.
And while it may not seem like it, your present difficulty may be instrumental in your future success.
It reminds me of the guy who was shipwrecked on a deserted island.  One day he decided to go across the island for food.  When he got to the other side he looked back and saw a plume of smoke in the sky.  He ran back only to find that his shack burnt to the ground!
It stung him to the core!  Except the next morning a ship arrived and rescued him.  When he asked the sailors, "How'd you know I was here?" they said, "We saw your smoke signal."
Your present trials just may be fitting you for something you would never expect! 
---
Visit the Answers with Bayless Conley website for more ways to connect with God.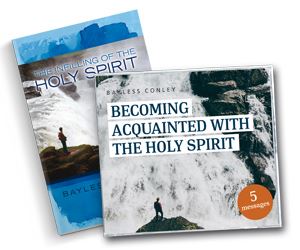 FEATURED RESOURCE

Know God in a deeper way!

The Holy Spirit's presence brings hope, joy, and comfort; and He longs to walk in deep fellowship with you every day.

We want to help you experience a more intimate friendship with God, by sending you the Knowing the Holy Spirit package.

It includes Bayless Conley's The Infilling of the Holy Spirit  booklet and his powerful 5-message series called Becoming Acquainted with the Holy Spirit.

It includes:

1. The Presence, Power, and Person of the Holy Spirit DVD

2. Expecting the Holy Spirit's Help DVD
3. Evidence of a Spirit-Filled Life CD
4. Speaking in Tongues CD
5. The Holy Spirit's Work in Our Hearts CD
Bayless Conley unpacks the benefits and evidences of being filled with the Spirit of God.
Find out what it means to live a Spirit-filled life!