Rich Blessings
Let me ask you a question.  Do you believe God wants to bless you?  You may say, "Yes," but in your heart do you really believe this to be true?
Take a moment to read Ezekiel 34:26,
"…I will cause showers to come down in their season; there shall be showers of blessing."
I believe the Bible teaches us that just like there are seasons of trial, there are seasons of exceptional blessing that come from God.  And those seasons of exceptional blessing should not be taken for granted.  We should capitalize on them and seize the momentum when those seasons come.
Don't get me wrong, God is good all the time, and He is good to all.  His tender mercies are over all His works.  He causes His sun to rise on the good and on the evil, and He sends rain on the just and on the unjust.  The fact of the matter is, God is good even to people who are not good because it is His nature.
However, there are richer, more frequent blessings that come from the hand of God.  And they come to those who do a particular thing.
Tomorrow I want you to look with me in the book of Galatians.  As we look at these verses, we will find that though God is good to all, the richer and more frequent blessings come to those who do a particular thing.  Together we will see what that thing is.
Today, I just want you to grasp the truth that God does want to bless your life in an extraordinary way. 
---
Visit the Answers with Bayless Conley website for more ways to connect with God.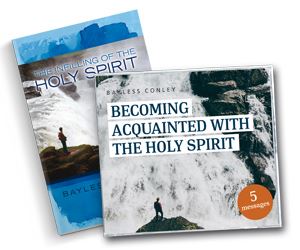 FEATURED RESOURCE

Know God in a deeper way!

The Holy Spirit's presence brings hope, joy, and comfort; and He longs to walk in deep fellowship with you every day.

We want to help you experience a more intimate friendship with God, by sending you the Knowing the Holy Spirit package.

It includes Bayless Conley's The Infilling of the Holy Spirit  booklet and his powerful 5-message series called Becoming Acquainted with the Holy Spirit.

It includes:

1. The Presence, Power, and Person of the Holy Spirit DVD

2. Expecting the Holy Spirit's Help DVD
3. Evidence of a Spirit-Filled Life CD
4. Speaking in Tongues CD
5. The Holy Spirit's Work in Our Hearts CD
Bayless Conley unpacks the benefits and evidences of being filled with the Spirit of God.
Find out what it means to live a Spirit-filled life!