Only Temporary
In our last devotional, we looked at Proverbs 23:4.  Today I want us to look at the next verse.  I will bet you can relate to it.  Verse 5 says,
Will you set your eyes on that which is not?  For riches certainly make themselves wings; they fly away like an eagle toward heaven.
Does it ever seem to you that your money has wings?  That it just flies off more quickly than you would have ever imagined?!
Money can be very temporary, very transitory in nature.  Proverbs 27:24 reinforces that truth when it tells us,
For riches are not forever, nor does a crown endure to all generations.
You need to understand that wealth is temporary just like our time here is temporary.  What are the implications for how we live our lives?  As believers, it is so important for us to have a pilgrim mindset and realize that we are just passing through.
This world is not our home.  This life is a vapor that appears for a little time and then vanishes away.  If you begin to think that somehow things are permanent, and you plan as if it is all permanent, you are going to get off course in your life with God.
Moses is a great example of someone who made a choice to live life with the right priorities.  You can read about it in Hebrews 11.  In that chapter, Moses chose to suffer affliction with the people of God rather than to enjoy all the riches of Egypt.
Moses had everything at his fingertips, but he made the right choice.  He said, "You know what?  There are more important things.  My priorities are different than this."  And his lifestyle changed pretty radically in a hurry.
But looking back, it's obvious that Moses made the right choice isn't it?  He changed the world and right now he is in heaven enjoying the presence of God. 
---
Visit the Answers with Bayless Conley website for more ways to connect with God.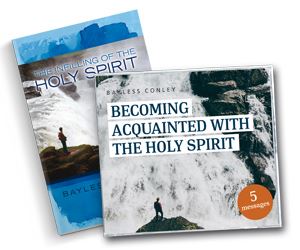 FEATURED RESOURCE

Know God in a deeper way!

The Holy Spirit's presence brings hope, joy, and comfort; and He longs to walk in deep fellowship with you every day.

We want to help you experience a more intimate friendship with God, by sending you the Knowing the Holy Spirit package.

It includes Bayless Conley's The Infilling of the Holy Spirit  booklet and his powerful 5-message series called Becoming Acquainted with the Holy Spirit.
It includes:

1. The Presence, Power, and Person of the Holy Spirit DVD
2. Expecting the Holy Spirit's Help DVD
3. Evidence of a Spirit-Filled Life CD
4. Speaking in Tongues CD
5. The Holy Spirit's Work in Our Hearts CD

Bayless Conley unpacks the benefits and evidences of being filled with the Spirit of God.

Find out what it means to live a Spirit-filled life!